Enigma! Scanlation Group
WarriorKK
Founder
Fans (76)
| | |
| --- | --- |
| Latest Scanlation | Mar 1, 2014 |
| Total Scanlations | 0 |
| Total Downloads | 76651 |
| Pages Viewed | 546415 |
| Demographics | |
| Website | http://enigma.4rumer.net |
Announcement: Due to the current issue on Mangahelpers, for the time being, our releases (especially MSNegima) can only be found here in our forum
Read More
Notices and Releases
Feb 8, 2010
Ahem. Attention please!!
There have been a few questions related to the current "slowness" on the releases of Mahou Sensei Negima! Scanlation, so I've decided to post this new announcement instead of answering one by one.
We are currently short on experienced available cleaner and rebuilder to work on the project (by available I mean at the time convenient for the group as a whole). Also, due to the current quality of the RAW from RP, it requires a lot of work to be done on a chapter before it could be released as a MQ scanlation. As a result, we are still in debate whether we will be working only on the HQ RAW (i.e tankoubon RAW) when they become available or just keep working, as...
read more
"
"
Posted by User
Sep 10, 2009
The recent issues with Kodansha building their new branch in America have been causing quite a bit unrest in the manga community. As the result, most, if not all, of Kodansha releases have been removed and unavailable on MH for the time being.
As for our releases, they will still be maintained in our forum at
http://enigma.4rumer.net
until further notice. Since our base is in Vietnam, a third country, this issue of Kodansha licensing hardly affect us at all. The problem is whether or not we can continue to get our RAWs for future releases. In the mean time, you can just get to our (past, present and future) releases (especially MSNegima! & Negima!?Neo)
here on our forum
.
Hope for the...
read more
"
"
Posted by User
Apr 4, 2009
After joining the new
Mangahelpers
page for 4 months, we've eventually reached the mark of
100,000
page-views!!
Omedetou Gozaimasu!!
Although we're a new group in this field English scanlation, we have received a lot of supports from everyone. Many thanks to our readers, who have been following and giving us your complimemts. Many thanks to our spammers, who have been keeping our forum alive. And many thanks to our lovely members, who've been killing *and killed* almost every days...
====================
One more thing.
As mentioned in the release note of Higurashi no Naku Koro ni - Hinageshi-hen (oneshot), basing on that oneshot's download counts, we decided to work on another project for...
read more
"
"
Posted by User
Mar 25, 2009
One our editor now is doing a project with speed scanlation. That is
cooldaigia
and his
Beelzebub
project.
First 5 chapters have been released under "Cooldaigia" name. Why was that, as you may ask. It is becuz he is so considerate and thought that he would bother us
*cough* me *cough*
since we've only been doing *mostly* Negima! manga sofar.
That saying, from the next chapter on, we - Enigma! - will officially pick up this project!!
To commemorate this event, a new box for this series is now open! You all can visit and discuss anything you-know-what there, with us. Go
here
!
========================================
Another good news.
Last week, we
*cough* I *cough*
banged into
Higurashi...
read more
"
"
Posted by User
Feb 27, 2009
Hello to all Negima! fans out there,
We're scanlators who've been doing our best to bring you all the awesomeness of Negima!, from the weekly speed scanlation of
Mahou Sensei Negima!
to M/HQ scanlation with magazine version of
Negima!? Neo
(because we just can't find tankoubon raw no matter where we look), while maintaining the highest quality possible.
We are not a group of just newbies, but we aren't a group of almighty Gods either! Many of us are also busy with our daily life, leaving only two full-time and three part-time editors remaining active!! As a result, we might not be able to keep our one-chapter-per-week pace for
Negima!? Neo
, or to continue
Hayate no Gotoku!
either... or at...
read more
"
"
Posted by User
Jan 26, 2009
Being quiet recently?
Because most of us Vietnamese are now preparing for our biggest celebration of the year, the Tet holidays.
As I am typing these things, only a few hours left before the watch-night time. Only some people on the streets are hastily going home for their family reunion, or trying to get to city center to see the annual largest exhibition of spring flowers, or joining many preparation activities to welcome the New Year... while waiting for the fireworks being shot, brightening the darkest night sky of the year.
Let us count down to this important moment...
Nine, eight, seven, six, five, four, three, two, ONE....
HAPPY NEW YEAR!!
The first day is the time to wear new clothes, to...
read more
"
"
Posted by User
Jan 2, 2009
We are building a new house for English speaking members to come and discuss about our releases.
The forum is still under construction, but we are welcoming everyone.
Please come and join us here:
http://enigma.4rumer.net/
read more
"
"
Posted by User
Dec 7, 2008
About
Mahou Sensei Negima!
,
~ There would be no chapters in the next three weeks because Shounen Magazine has double issue and the author takes a break.
~ As I check some forums, I see that many don't know why the author sometimes take a break after some weeks. So, let me explain it here:
Mahou Sensei Negima!
is not like other manga; the author,
Ken Akamatsu
, can draw only 2 pages / day (and thanks to that we all have the best quality for each and every chapter). A regular chapter consists of approximately 18 pages. That means he would need ~9 days (more than 1 week) for each chapter. So, his regular breaks are one after every 4 chapters (once every four weeks); or we can say that his...
read more
"
"
Posted by User
Dec 1, 2008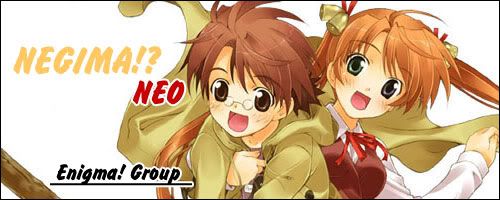 Hi everyone,
As said in the title, we, Enigma! Scanlation Group, are recruiting Japanese translators and, also, looking for Japanese-English translation for our new project
Negima!? Neo
.
We have currently picked up this new project in hope to explore another fascinating side of the famous series,
Mahou Sensei Negima!
. Yet, we have no Japanese translators on our team at the moment and that is our biggest obstacle on the way to bring and widely spread all the greatness of Negima to everyone. Thus, we are looking for any help available so that we can overcome this very obstacle.
Therefore, if you know Japanese well and are interested in joining us, leave us a comment here or PM me or our...
read more
"
"
Posted by User
Nov 24, 2008
Hiện nay nhóm mình đang cần tuyển 1 typesetter cho project Negima!, mảng tiếng Việt.
Yêu cầu:
- Biết sử dụng Photoshop ở mức căn bản.
- Biết ứng dụng cái loại font, style chữ.
- Biết tiếng Việt là một lợi thế.
Lợi ích:
- Được share hàng hiếm, nóng sốt, hay ho... về Negima! trước tiên.
- Được một cộng đồng fan hâm mộ ở Việt Nam tôn sùng.
Liên hệ:
- YM: warrior_kaminari_kemono
- PM qua website này.
read more
"
"
Posted by User
Latest Group Releases
| Date | Manga | Ch | Lang | Translator |
| --- | --- | --- | --- | --- |
Latest Site Releases