Chrono Trigger!
Posting a translation the other day I couldn't help but notice I had yet to explore all the features this site gained on the upgrade. That being the case, I decided to give this little news feature a whirl. So here goes nothin'...
*Ahem* Welcome to my corner. I've been thinking of running a blog for a long while, but am too lazy to go register all over the place, maintain the blasted thing and so on, so I've decided to post my ramblings here at MH. Whether I'll keep doing it or not, can't say, but for the time being let's have a bit of fun, shall we?
For today, I've decided to steer clear of manga and instead talk about video games! In particular...
Chrono Trigger! This little gem got a re-release on the DS quite some time ago, and me being the glutton for punishment went ahead and got it in Japanese. The very cool thing about the Japanese version was that it actually came with a language toggle that was removed in the english version(!). Go figure?
Besides being an incredible trip down memory lane, playing CT in japanese has been great fun. And enlightening. While I haven't played the game through in the revised english translation, I can say it's pretty spot on. There are, however, more than a few places the translation kind of takes liberties. The developer's ending (dream team) readily comes to mind, a few things were kind of ignored in the staff comments, but nothing major.
And speaking of Memory Lane, that's the perfect ending to illustrate my point. In this ending, marle and lucca poke fun at the game's men(?). Here's a few differences I spotted:
1st, steel runner:
Quote:
Lucca: There's the Steel Runner.

Marle: I just don't think I could go for one like that. The armor would poke
you all the time.

Lucca: Forget that! Can you imagine what the inside of that armor must smell
like?

Marle: What a lovely thought, Lucca. Let's get on with the show, okay?
The original actually makes a pun. Marle calls him 固そう, which means stiff or hard, so a "stiff personality". Lucca adds, "He's only running, so wouldn't that armor give him a handicap?" Marle: "Try again some other day, buddy. See ya!"
2nd was the Guardia soldier. In this one, Marle comments:
Quote:
Marle: He was the only one you couldn't bring yourself to shoot with your
Zonker, wasn't he? His name's Peter. He's not really a man, though.

Lucca: I…I knew that!
Lucca's actual reponse is "Bleh!! I'm not into that!!"
3rd was Pierre (the lawyer?) they say:
Quote:
Lucca: Wouldn't want anything to do with someone like that. Obviously corrupt.
Someone ought to put him on trial!
I'm not 100% sure what this line should be but I can definitely say that's got a bit of fudge factor in there. Original line: ぜーったいダメ、こーゆータイプ。もっと正しい裁判をするべきよ! I would've transed this as "No way! This guy needs to go back to law school!!" :P (lit. "should perform a more proper trial")
4th was the hobo? from the future
Quote:
Marle: This next one just doesn't have any spark. Where's the energy? That drive to make the best of your situation! Cheer up!

Lucca: We might not be any better than him if we were in his shoes.

Marle: Well, good luck sowing that seed of yours!
This one's real close. It's just a bit too wordy.
Marle: Hey buddy, don't you have any spark? You've got to get it together! C'mon smile! Smile!! (t/n - "元気をだしてよ!元気!")
Lucca: Given his situation, I think we'd be depressed too. Cheer up, kid!
Marle: I hope...they can keep that seedling alive...
(yeah, there's no condescending tone from marle on the last line. that's the biggest difference. The translator kinda turned it into a joke for some reason.)
4th was the speedbike robo, johnny.
Quote:
Lucca: Theeeeere's Johnny! Mr. Speed himself!

Marle: I don't know about a guy who's greatest talent is being fast…

Lucca: Hey, look close! He's really a tricycle! No, thanks!

Marle: Try again when you learn to ride, buddy!
I think this one's spot on! Love the tricycle gag.
5th, cyrus.
Quote:
Lucca: There's that stuffed-shirt, Cyrus!

Marle: He is awfully handsome…

Lucca: But those clothes have got to go.

Marle: Oh, and did you know he plucks his eyebrows?

Lucca: Ugh, you've got to be joking! Hmm… Still a hunk, though!
Lucca: Well if it isn't that showoff, Cyrus! (格好つける)
Marle: But he
is
really handsome...so like, maybe...
Lucca: But those clothes? Please.
Marle: Y'know, I heard he pencils his eyebrows!! (t/n - 眉をかいている. NOT 引く! Translator took a liberty, again)
Lucca: What!? Geh, gross!! But...he is chivalrous, so I think it can slide!
6th, Toma
Quote:
Marle: Toma! Now he's definitely my type!

Lucca: Aw, he's just a sot.

Marle: Probably has dozens of girlfriends, too.

Lucca: Or boyfriends. Come to think of it, he never really talked about his
love life…
Marle: Ah, Toma! My top pick!
Lucca: He's an alcoholic.
Marle: He's probably a flirt with all the girls, too.
Lucca: He's probably a flirt with all the guys, you never know!
(pretty spot on. lucca's additional line is more for clarification? it doesn't appear in the original text)
7th, kino
Quote:
Marle: What about him? That Kino guy?

Lucca: Forget it. Total Neanderthal!

Marle: But the single-mindedness is kind of cute, don't you think?

Lucca: He walks like a DUCK!

Marle: He was a nice enough guy, though.

Lucca: Yeah, he meant well.
Lucca says he's a "ナヨナヨ", which is weak/wimpy, not neanderthal.
Marle's response is 一途なところ, which is more like "wholeheartedness", not single-minded. Which kind of ties into that whole "he means well."
Lucca's duck comment does not appear in the text. She simply says "But his walk!! What IS that!?"
rest is good.
then chrono's cameo! and only line(s) in the game!?
Quote:
Chrono: This is your idea of a nice little trip down memory lane?
Hm. 反省会 originally is a term that describes a extracurricular club meeting where you get together and talk about stuff you've done. So I think this line would be clearer as "And exactly what part of this had anything to do with our adventures?"
That's mostly it for that ending.
I also also wanted to briefly comment about the new ending (without spoiling anything) was translated fairly well. But in an effort to quite possibly connect Magus to Guile, his dialogue in the ending is simply stupid...don't blame the translation. Blame the writers.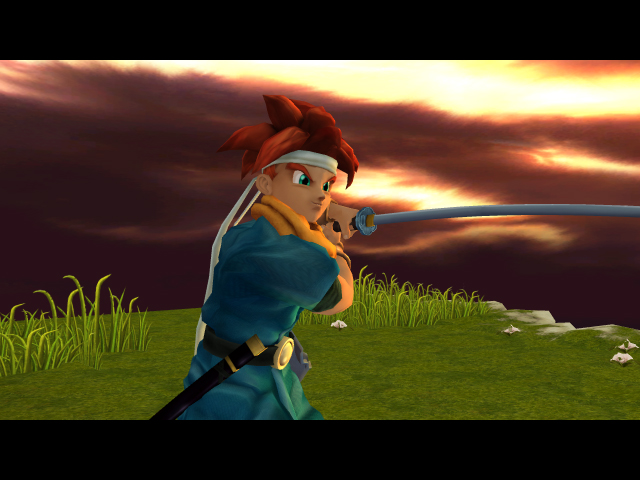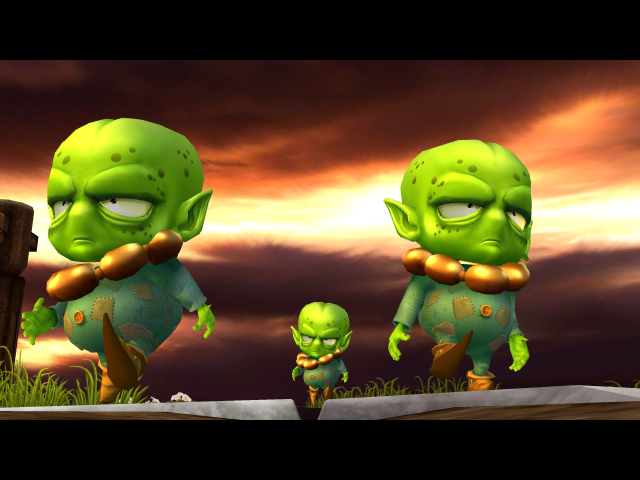 And last but not least, something cool I stumbled upon surfing for CT related resources. Did you know that back in 2004 a homebrew team was actually working to re-make CT in full 3d, but had to quit due to square-enix's cease and desist?
Check out the site here
(it's not much).
Don't miss that trailer
, it's quite impressive for a homebrew. Almost makes you feel cheated that Square didn't make it 3d on the DS, especially since they did such a great job with FF3 and 4.
In closing, I want to give credit to Super Slash, whose gamefaqs FAQ I pasted the english script from. Comments and criticism welcome. Keep in mind these are at most my opinions, and I could have mistakes.
Until next post!
Have you shown your appreciation today? Click the thanks button or write your appreciation below!
4 members and 1 guests have thanked shrimpy for this release
eye_shield, deathwatch2569, Watashiwa7, kakashi919
Quick Browse Translators
Latest Site Releases
Latest Translations
| Date | Manga | Ch | Lang | Translator |
| --- | --- | --- | --- | --- |
| Oct 1, 2014 | Sleipnir | 2 | | shadow-... |
| Oct 1, 2014 | Shokugeki no Souma | 88 | | Eru13 |
| Sep 30, 2014 | Rock Lee's... | 36 | | Aspic |
| Sep 30, 2014 | Chrono Monochrome | 38 | | aegon-r... |
| Sep 30, 2014 | Rock Lee's... | 35 | | Aspic |
| Sep 30, 2014 | 81 Diver | 103 | | kewl0210 |
| Sep 30, 2014 | 81 Diver | 102 | | kewl0210 |
| Sep 30, 2014 | 81 Diver | 101 | | kewl0210 |
| Sep 30, 2014 | 81 Diver | 100 | | kewl0210 |
| Sep 29, 2014 | Mayonaka no X Giten | 5 | | Dowolf |