Registered User
英雄メンバー / Eiyuu Menbaa / Hero Member
Joined

Jul 26, 2008
Messages

2,116
Reaction score

308
Gender

Male
Country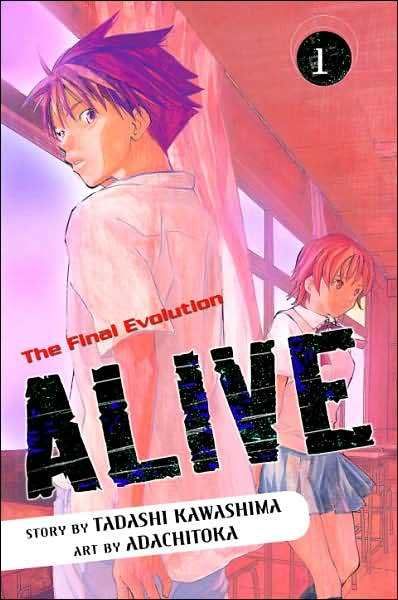 Come here to discuss the Manga
Alive- The Final Evolution
.
Quick Summary:
A high schooler named Taisuke Kanou is living with his older sister, Youko, after the death of his parents. He lives a relatively quiet life until a massive surge of suicides around the world known as the "Nightmare Week" begins.
Soon his entire life is turned upside down and things that only happened in movies are commonplace . His best Friend,Hirose, is accused of killing his classmates and a psychotic murderer is going around calling Taisuke a "Comrade".
Written by:
Kawashima Tadashi Adachitoka
Drawn by:
Adachitoka
The first chapter
Why Should I read this???
I find this Manga to be pretty darn amazing for a number of reasons. Probablly one of the first and foremost is it's plot which while confusing at times is very satisfying and pretty realistic. Another one I enjoy is that battles are rarely(if ever) decided by just brute strength and usually incorporates strategy/intellect/ or just figuring out the enemies ability. I also enjoy the originality a lot.
It really breaks away from Shounen mainstream, in fact throughout the manga I thought it might be a seinen for a while. However it stays very realistic and for the most part you won't see any really weird stuff like a character being represented by a dragon or anything weird like that. It's pretty bloody and if a character is dead they're probablly going to stay dead. Which is a pretty nice change in itself.
The backstories of all the characters are really good and pretty believable. The manga does a great job of parting most of a characters story in a chapter without making it rushed or melodramatic. You'll really get a feel for each of the characters(except maybe Hirose but he's sort of made like that) and get a good idea of weather you like them or not and for what reason.
Having said all that this Alive defintely follows Shounen Cliche's(Adventure, friend goes bad, Happy Go Lucky Main with a Foil that is much more realistic/more vengeful) but at the same time things like "NIghtmare Week" set it apart from everything else.
Will put more details down soon enough, but for now DISCUSS, I COMMAND THEE!!
Some things I'm interested in knowing:
1. Favorite Character
2. Theories on who the "Big Bad" is?
3. Hirose in general.
4. Favorite Battle.
5. Yura like L or not?
6. Favorite Power?
7. Does this Manga feel a little like a Seinen?
Last edited: