Harasho
神のごとし / Kami no Gotoshi / Godlike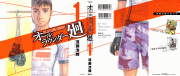 All Rounder Meguru
By:
ENDO Hiroki
Genre:
martial arts, sports
Serialized In:
Evening
Scanlated By:
Kotonoha
RTS
Do not expect the usual shounen sports storyline as Endo Hiroki returns with this down to earth, realistic Mixed-Martial-Arts manga.
Meguru joins a mixed martial arts gym hoping to become stronger.
He meets an old childhood friend who is practicing the same kind of shooto martial arts, and who harbors a dark secret related to their past. -MU
New series by the mangaka of Eden
This is a Kodansha Comic and not available at Mangahelpers.
Last edited: