MH Senpai
英雄メンバー / Eiyuu Menbaa / Hero Member
Joined

Aug 22, 2007
Messages

595
Reaction score

836
Gender

Hidden
Country
Another remarkable work of art that deserves more attention: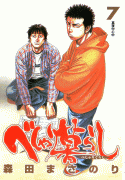 Beshari Gurashi
By:
MORITA Masanori
Genre:
Comedy, School Life, Shonen/Seinen
Serialized In:
Weekly Shonen Jump (volume 1-3), Weekly Young Jump (volume 4- )
Summary and RTS
By the same mangaka as Rokudenashi Blues, Rookies and the author of Hello Baby (with Obata Takeshi as the artist).
Many thanks and kudos go to
shirokuro
for the translations of the first 2 chapters (as it is a real difficult serie to translate).
========================
To shortly summarize, the story is about a wanna be stand up comedian.
"Eh?
Urm?
Hmm...?"
And if that's the reactions you get from hearing this
, I definitely suggest you go straight to read it as the artwork alone proofs it's worth the time giving a look. But for those who've read it, is the story actually as up-in-the-air as it might sound?
What are the things you like and dislike about it so far?
As it's a dangerous step picking up such a comedy serie, is this manga an advancement or a daunting mistake of Morita, from your point of view?
Let's share our thoughts on this serie here, and let's keep it to be further than asking for more trans/scans or annoucing releases, please!
Last edited: