Dearly Missed ;__;
MH中毒 / MH Chuudoku / MH Addicted
Joined

Jun 30, 2006
Messages

5,662
Reaction score

299
Gender

Hidden
Country
Heyas,
yeah, it is out, the raw is there for everyone to grab!
every dl-link is a torrent:
RAW
Freelance Raws
Triumph-raws
Ending only:
Triumph-raws
(video)
MP3 192kb/s
||
SendSpace
||
RapidShare
English Sub
DatteBaYo
I will start doing here some summary and screenshot posting like i do for D.Gray-man
just to get some life into the theater
and just like with dgm, i will post the notice that the raw is out before i finished downloading myself - i will work on a summary and comments as well as screenshots as soon as i saw the episode
a warning,
there is an excessive amount of screenshots and a long summary behind the spoilertags...
sry for those that will have longer loadintimes, but i already cut the number down >.<
so, here we go with the summary
first notion,
the badass movie-cuts are away as opening/ending animation *sniff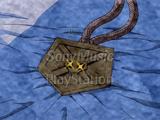 but then again, we get a nice sponsor-screen
It begins with the same scene as the orihime ep, we are in HM and
see some weird rockformations and spreading shadows...
then some bandaged plagued figure comes into the screen - wonderweiss like.
(if you wanna picture the sounds the "thing" makes, think of someone having problems taking a shit... it really sounds like it)
braking the bandages free, arrancar-grand fisher emerges.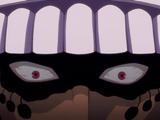 -ep number splash screen-
back at school, we get the fun scenes with keigo and mizuiro,
and the group of chad, orihime, ishida and ichigo...
more dumb rambling by keigo.
then, shock, big breasts and our read haired yuri-fan comes into play
and gets a kick for what many man out there wouldve loved to do to orihime.
tatsuki and ichigo engange in conversation
then, the charm-scene - a bit too funny told...
question about shinigami-sign, then class starts,
and we get the explanation why ichigo is shocked about tatsuki seeing the badge.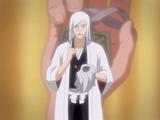 - hollow alarm!!!!!!!! -
*ichigo runs to fight, tatsuki is a lil bit shocked*
- COMMERCIALS -
*cool music starts*
*badly animated fightingscene begins*
*bad fight ends*
(didn't want to waste screens for such a bad scene >.< sry.)
nyahaha, more pics of hirako
the first in this episode
*scene switch to urahara shoten*
RIRIN IS STILL THERE!
Kaizo konpakutai is still alive
i didn't grab the convo... sadly >.<
*scene back to school*
hirako introduces himself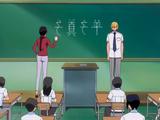 ichigo is in deep thoughts.... then hirako gives ichigo a hint about comrades - not that ichigo can understand the hint right there.
*timeskip to evening, at the kurosaki hospital, ichigos room.
kon cries ;___; talking about rukia again xD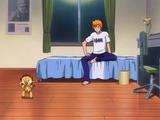 here we go, ichigo starts off heading for the hollow
afro shows up
daiko-badge shows uselessness.
hirako makes his fair entrace,
he really looks like a freak xD
the attack starts,
we get short glimpses on the attackers
*switch to ishida
ishida evades the first attack
*switch to kon/ichigo
kon nearly gets hit
*urahara shoten,
we see urahara standing there... much info huh?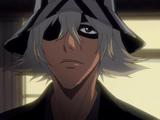 *hirako vs. ichigo
afro is scared....
hirako noticed something... ichigo doesn't.
ichigo inquires about what hirako is and hirako doesn't hesitate to show us
a totally white mask - damn, they should've added at least SOME color >.<
we get an explanation for dumb ones...
"Ore wa vaizaado."
"come with me, you don't belong there"
*ishida fight...
he mumbles something and attacks, we get to see the regeneration ability...
ishida makes a lil plan but is stunned, those are 2 hollow working together!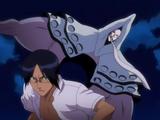 and we see a foot.
and someone steps into the picture!
ishida calls him "Ryuuken" and his father tells him to be not so disrespectful...
A new ending song is the lateset new thing we get
the song is nice and slow, all in all it's really good
Sakura​ Hiyori​ by​ Mai​ Hoshimura
shows us new characters, from fathers to vaizards....
and some nice scenes that will come soon
the preview just shows us more ryuuken.... not that impressive i would say >.<
over all i would say, they did a fair job, not perfect, but not much to blame them for either...
i'd give it a 8.0/10 for the general episode, a 9.0/10 for being the beginning of the vaizard-arc