Registered User
初心者/ Shoshinsha / Beginner
Joined

Nov 3, 2006
Messages

6
Reaction score

0
Gender

Hidden
Country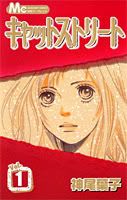 This is a new manga by the author of Hana Yori Dango (or other wise known as Metero Garden). It's about a former child star, Kaito (Kate) who becomes a social recluse after the betrayal of a friend. She develops a form of hikkikomori and ceases nearly all social contact with the outside world. That is until one day a man approaches her at a cafe and offers her to attend his school El Liston. It's a free school for kids like her who are, for various reasons unable to attend regular school. Along the way she meets and make friends with Momoji, a gothic lolita girl, Rie and former high school soccer star and Kouichi a computer genious. So begins Kaitos road to rediscover herself and those around her.
This is a really nice manga and it's worth a try, even if u don't like shoujo. It doesn't have complicate love-hate hexagons (so far anyway) and the problems it deals with are quite real.
So far this series is 5 volumes and ongoing, it's serialised in Magarate-Cookies. It is currently scanlated by Condensation and they have got up to volme 3 chapter 10 as of now.
Downloads:
http://www.condensation.us/