Manga Editor
英雄メンバー / Eiyuu Menbaa / Hero Member
Joined

Jul 23, 2006
Messages

505
Reaction score

454
Gender

Male
Country
Hey all. I am CupofDice, and being a pretty big Naruto fan, I decided to give a review of Naruto 382 chapter.
Thanks to Kylara for the raw, HisshouBuraiKen for the trans, and Franky House and AOM for the Edited Manga.
1. True Identity???
These were my original views on who Pain is.
I am thinking that those nail stubs? are important to Pein's jutsu (stating the obvious

) and signify that the body we first saw him in was Yahiko's, which could mean Yahiko is probably dead or maybe in a sort of coma. If he is dead then there would be a personality gap because this chapter makes it seem that Pein's ideas started with Yahiko, not Nagito. If we remember the jutsu Pein used on those two bodies Itachi and Kisame used, it seemed that the two bodies didn't die until the jutsu was done, which could mean their personality was subdued by the jutsu, not destroyed. It also makes sense that Nagito, being the sensitive one, would have thought that inhabiting the body of Yahiko would be keeping the 'family' together if Yahiko did die. If Yahiko is alive in some form, maybe Pein has some control over how much the subconscious is subdued, and chooses to meld his thoughts with Yahiko or maybe Nagito is the one who is subdued inside of Yahiko's body. Either way it seems that Pein is a melding between Nagito and Yahiko. I am thinking that if both are indeed alive, then one had a sick body, though this chapter didn't hint at that.
Well we already know that Pein CAN transfer to other bodies and I think all of those 6 bodies have bloodline limits. I think that Yahiko had the ability to control rain. On page 14 of this chapter he gives a hint to that by saying that he hates rain, and that could be the reason why it rains only once a week. I was thinking that he creates bodies, but that doesn't makes much sense because he could have created bodies for Kisame/Itachi. He may be able to modify dna with his bloodline ability as long as it is connected to the former jutsu. That could be possible because the body he is in now looks like Deidara's, but he knows that Dedi lost, so why use a loser's body?

Another question is why do the bodies stay connected to that machine? I think there may be a time limit on that jutsu and the key to destroying Pein is destroying the bodies and not allowing him to get another body. He probably has to change often. That is the real reason why he lets no one see him because his enemies would know that he changes bodies and could arrange to fight him when he is in a body which is weak to the enemy's jutsu. Of course the body he is in now seems to be the best.
The way things have been going though, it seems that my thoughts on the matter were too simple. Lets think about this. Ma Frog left with the information that Pain was indeed Nagato, and the reason that Jiraiya forced himself back alive was to reveal to the true identity of Pain, which means Pain is not Nagato. This also means that he probably isn't Yahiko or a mixture of both since that does not change the fact that Pain is still Pain (whether he was once Nagato or Yahiko doesn't really matter). This brings up the question of why is it important that the Head Sage knows who Pain truly is. I am guessing that the Head Sage knows the 'other' identity of Pain. Of course this is complicated by the fact that Konan is obviously Konan and why would she follow someone who was neither Nagato or Yahiko. I am going to go out on a limb and say that Pain is the original Rikudou sennin. If Nagato was simply the reincarnation of the original Rikudou, imagine that once he reached a certain age his personality was taken over or merged with the Rikudou. It is this way that makes sense that Konan would follow Pain, and my original theory of Yahiko dying is still valid. Of course this doesn't quite fit with the last chapter that Jiraiya's book has something to do with Pain.
2. Remembrance
I really liked Jiraiya's musings on what it meant to be a shinobi. We rarely get to see any of the characters really think about that. The fact that Jiraiya looks at himself as a failure is definitely interesting, and not something I would necessarily disagree with. He had so much talent, yet failed to really make a difference in the world around him. Minato was a genius, and probably would have been a genius without Jiraiya as his sensei. If Nagato would have died, everyone would have been better off. We have yet to see what 2 and a half years of training have done to Naruto. Jiraiya is a favorite character of mines, so I am not trying to be harsh, just noting that he really has failed at a few key things. I do disagree with his own views of failure though. It was not his job to protect his teacher or student, and there was nothing he could do about Orochimaru choosing his own path. I wonder how Jiraiya's life would have turned out if he never received the prophecy. Was it in his nature to wander the world, or would he have become Hokage in his own right?
3. Sakura's image?

Seeing Kushina was a very nice surprise. I found the picture above to be the most gentle and saddest part in this whole chapter considering that both of them died shortly after this (and yes I am ignoring the Kushina is alive theories). As noted in the forums, Kushina bears a striking resemblance to Sakura, which in manga terms probably means Naruto and Sakura will hook up. Also I found it pretty cool that Naruto was named after the main character in Jiraiya's first book, and interesting that his first book was serious in nature. I ignored the theories that Pain's identity had something to do with Jiraiya's books, but now that we know his first book wasn't comedic in nature, there probably is some secret in that book. I wonder if Pain has read it. Hmm.
4. Jiraiya is STRONG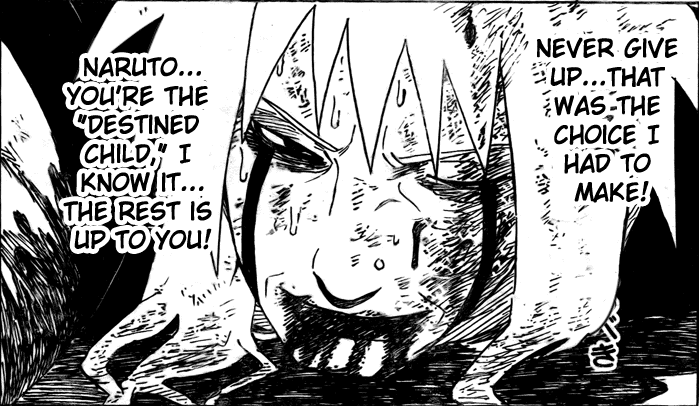 There have been some complaints that Jiraiya did not receive the heroic death he deserved, but I disagree because such deaths don't happen in real life. I love the way Kishi didn't make it easy on his readers, and showed every gritty detail in Jiraiya's death. Jiraiya is the man, and it is hard to see him suffer that much pain, but I rather have this than some watered down manga where deus ex machina comes to save the day. If you think this is hard to stomach, go read 'A Song of Ice and Fire' by George RR Martin. That will toughen you up. I also love how Jiraiya had the strength to come back alive to save his pride as a shinobi and give the message to pa frog.
Rating: 4/5
It was a pretty good chapter, and I love the flashbacks of Jiraiya, Minato, and Kushina, but some of them were there just to fill up space. Of course it's Jiraiya's death and he has the bloody right to have whatever flashback he wants, but I wish Kishi was a bit more creative in creating some new ones we haven't seen before.
Prediction:
I may be hoping for too much, but I am thinking Naruto and friends get the news that Jiraiya is dead from the frogs. No doubt Naruto will go berserk on the closest Akatsuki there (Madara), and Madara's 'control' over the Kyuubi will be revealed.
Hope you enjoyed the review and sorry about it being pretty short (not much to talk about). All comments appreciated. Cheers.