Registered User
下級員 / Kakyuuin / Jr. Member
Joined

Feb 1, 2008
Messages

54
Reaction score

0
Gender

Hidden
Country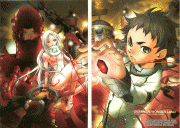 Deadman Wonderland
Written By:
KATAOKA Jinsei
Art By:
KONDOU Kazuma
Genre:
Sci - fi
Serialized In:
Monthly Shonen Ace
Scanlated By:
SnoopyCool
,
I Eat Manga
RTS
By the Artist and Writer of Eureka 7 and Livingstone
---
A relatively new series. Is that why there are no threads opened for it yet?
Still, though it's only at volume 2, I've grown to love this series already!
The setting is very unique, and there have been signs of a new plot development
the REAL Deadman Wonderland being an arena for fights among Deadmans!
What are Deadmans exactly and how were they 'infected by the Branch of Sin'? Why are the Deadmans being used for experiment? (refer to the latest chapter)
All these intriguing questions + the strange characters + gorgeous art all add up to the awesome series that is Deadman Wonderland.
[kaiten]Edited for info[/kaiten]
Last edited by a moderator: