Harasho
神のごとし / Kami no Gotoshi / Godlike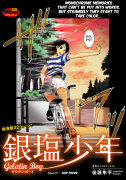 Ginen Shounen
By:
GOTOU Junpei
Genre:
School Life, Romance, Supernatural
Serialized In:
Shonen Sunday Super
Scanlated By:
Black Wing
Matataki is a high school student who enjoys photography. One day, he finds out that he can see the future when he looks through the viewfinder of his camera upon seeing the girl he likes, Mirai, kissing a stranger under a bell that is rumored to bring two people together for eternity...
By a former assistant of Hayate the Combat Butler mangaka Hato Kenjiro.
Nice series; a fairly standard romance/school life series but makes a nice emotional connection after just one chapter. What could have been a corny twist (can see the future through his camera) instead adds tension and suspense to the love story. It is handled more as magic realist than manga supernatural ability. I'm looking forward to more chapters being translated.