Registered User
有名人 / Yuumeijin / Celebrity
Joined

Jan 22, 2006
Messages

2,505
Reaction score

81
Gender

Male
Country
Glasskatana's Alchemy in Action Review​
Hiya. This is my first review…ever. And I've decided to make it of my favorite on-going manga (if not favorite manga ever) FullMetal Alchemist. I'm going to start with chapter 61. For included pics I'll be using scans provided by the group
www.zomgfta.com
For those of you that don't know, I'm working very hard right now to try to get FMA to become a separate section here at mangahelpers. To do that I need Manga Editors and translators. I've already got a trust-worthy Edited Manga team, but I have yet to find a definite yes from a translator. So if you would like FMA to become a separate section here, voice your support. My quest never ends.
So here we are…allow me to set the mood. We join our heroes during the War in Ishbal.
1.)
Colored Pic Hooray!!
Right off the bat we get a colored pic of Kimbley in his insane glory. Lately, he's become a more interesting character, and one that, if he wasn't completely insane…and evil, would be one of my favorite characters. He's still the source of many a good quote and scene though, and I felt it was appropriate that he get the colored pic. There will be more comments on Kimbley later.
2.)
Even without his right arm of destruction…
Scar kicks ass.
Look at him taking out all those soldiers.
I loved how different his fighting style appears to be when he isn't aware that his right arm is a powerful killing machine. He uses a lot more elbow and leg action for one. Of course, he won't be fighting like that for long. Cause Someone's here to ruin all the fun of Scar and his non-lethal attacks.
3.)
Mr. Crazy.
You know, if Kimbley's parents had made him take up an instrument, none of this would have happened.
The fact that Kimbley Kills for nothing more than the sound is creepy, even for an audio learner such as myself.
But seriously, Kimbley's eyes in this shot are what got me. Something about them is just…unreadable. I can't tell if he's actually suffering, if he's going more insane, if he's overjoyed. Nothing, all I can tell is that something inside of him is working overdrive.
If you look to the right of the panel though, it would appear that Kimbley blew everything up in a straight line for miles. Think how many thousands of people he must have killed with that. How many unexpected deaths, how many people would never see the light of day again. Makes you wonder how they ever managed to catch him later on. It also makes me wonder…
4.)
How did Scar's brother managed to survive?
He was in point-blank range of Kimbley's attack and all he got was a minor head wound? And, how come Scar got such a major wound when his brother was protecting him like that? But I digress, the true point of me posting this pic is this.
When I saw the close-up of Scar's brother and his arms, it made me wonder. How different would Scar's life had been if Kimbley had blown up his left arm instead of his right? How would scar have functioned with an arm of creation. I suppose the fact that he got his weapon of vengeance is what he would call "Ishbala's divine will". Still, Scar should really think about why his brother willingly gave up his life. He obviously did not want Scar to continue on the road that he's on now. Scar is not using destruction for it's true purpose. In alchemy, one must destroy to create. So naturally, to create something, destroying is a necessary evil. I have always thought that Scar's brother intended For Scar to use his arm to protect his fellow isbalans' and to use it's destruction build a new era of peace. Using it for vengeance goes against the laws of alchemy and the will of Ishbala. Doesn't stop Scar from being a total badass though.
5.)
Uh-Oh.
Oh man, I would give the same reaction if I found my brother's arm on my body. Something's always bothered me about this though.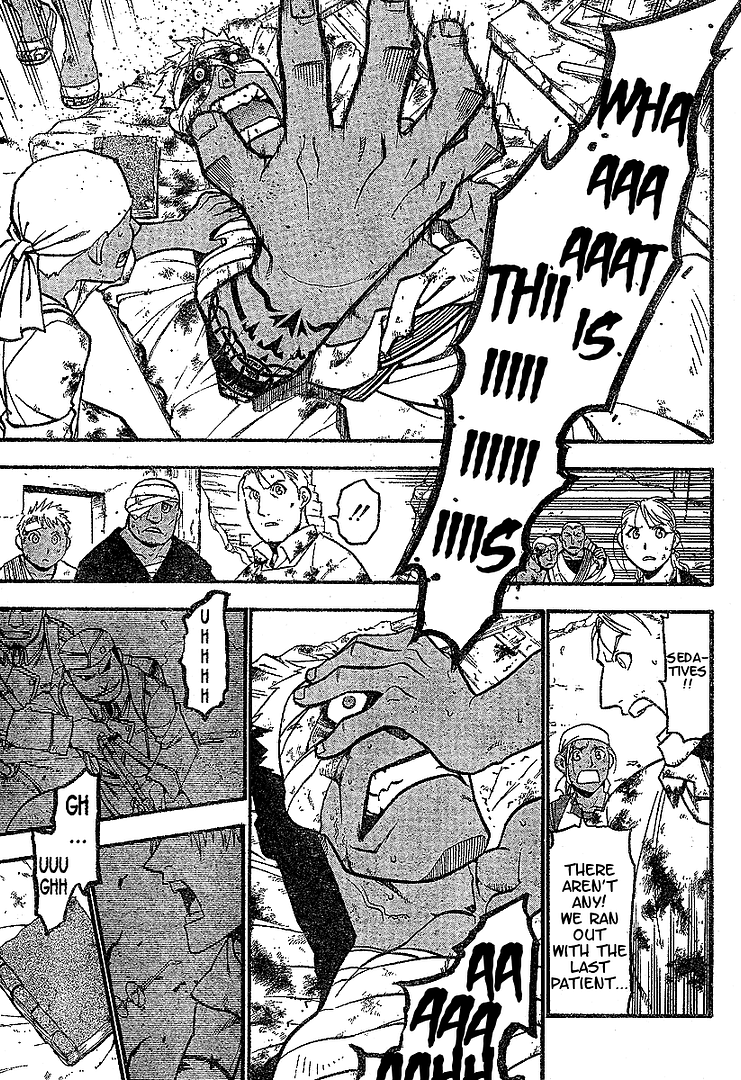 Is Scar's brother the same height as him? Cause his arm fits
perfectly
. Either that's an amazing coincidence, or Scar's brother's alchemy is just so good that he gave the arm the ability to conform and adapt Scar's body. I would say that Scar's brother was a great loss to the world of alchemy.
In the next page Scar goes on his killing rampage and ends up destroying Winry's parents. When I first read this I was confused. I couldn't figure out a good reason for why he did that. He obviously regrets it now. At first I thought it was for revenge and that he was just killing any amestrians that appeared in front of his eyes, but then I thought of another reason. What if Scar thought that it had been the Rockbells who had put his brother's arm of sinful alchemy onto his body. I don't know what he was thinking but it was a pretty stupid move. Scar's gonna have to pay for killing the absolutely innocent Rockbells sometime in the future. I guarantee it.
6.)
Kimbley again.
You know how I was saying that Kimbley is the source of a lot of good quotes. This is one of them.
There's not much to say here except that I agree with him. His crazy logic is very compelling. And I like his tired-looking eyes in the top panel. They won't be there for long though.
7.)
Nice last lines.
What a way to go out. I would not want those to be my last words, though I guess if his goal was to scar Roy for life he was a bit late. Roy's reaction after he burns him to bits is priceless. I also found it ironic that Roy, who obviously had some serious problems with the war and with killing, was the one responsible for killing the
last
of the Isbalans'. And just look at his face, it's so sad. Not at all the Roy we've come to know and love.
8.)
Ah, there he is.
That's the Roy we're used to. His goals already set, his eyes strong, his friend at his side and his state alchemy title in the text bubble next to him. He seems very majestic in this pic. I just thought it was appropriate for someone who would eventually become hokage I mean furher.
Still, Roy developed quite the philosophy on life. You serve to protect those below you and in turn they protect those below them. I wonder how long he thinks he would be able to keep that philosophy up in a war-time when he was the fuhrer.
9.)
Back with the crazy again.
HA, little does Kimbley know that we the reader know of his dastardly plot to swallow the philosopher's stone. Oh, and about that, this scene confused me to know end. I thought if the stone was absorbed into your body the souls would compete and if you survived you became a homunculus and if you didn't you didn't. But Kimbley has remained Kimbley, and he doesn't seem to have regenerative powers. And he certainly isn't dead. Just what the HELL is going on here. Oh, and Kimbley's crazy eyes are back again. Also I can't gauge Envy's reaction on the next page. Is she happy that the philosopher's stone has been swallowed by the Crimson Alchemist? I assume she is. Can someone try to explain this to me?
10.)
Happier days.
We get a look into the skill-sets of the team who would serve Roy until…now. Rather strange that now we get their background considering they've all been strategically re-assigned by Wrath. Still I enjoyed this little flashback to a time when everyone was together, Havoc could walk and smoke, and…well you get what I mean. I will sorely miss team Roy, and I hope something will make them come back together soon.
Well that's all for now. I hoped you enjoyed my look at this chapter. You can find the entire thing at
www.zomgfta.com
and if all goes well, mangahelpers will be supplying you with the future chapters in it's own FMA section.