Manga Editor
有名人 / Yuumeijin / Celebrity
Joined

Oct 15, 2006
Messages

3,233
Reaction score

1,616
Age

31
Gender

Male
Country
Hey all! Making a nice fresh thread for the underloved gem in Shueisha's Jump line-up, Grand Jump! (and it's spin-off magazine GJ Premium). Mostly just gonna be me sticking up covers, colour pages, announcements and the like when I can, and discussing anything from it if other people here read it. First though, a little context.
Grand Jump is Shueisha's Jump title aimed at older readers, similar to the 'businessmen' demographic of one of its predecessors, Business Jump (the other predecessor was Super Jump). It comes out on the first and third wednesday of every month, and has a print circulation somewhere above 100,000 copies per issue. It runs a mix of continuations of classic Jump titles (and one Weekly Shonen Magazine series, peculiarly), series by veteran manga creators, and new series from creators better served by the older demographic. The series don't really hit oricon charts or the like often (save for Jump sequels like Captain Tsubasa: Rising Sun, Hell Teacher Nube Neo, and Play Ball 2), but perform decently on digital platforms, and often receive drama adaptations, such as the recent ones for Adultery Restaurant and Impossibility Defense.
GJ Premium is Grand Jump's sister publication, often running series or shorts by creators associated with the Grand Jump brand, as well as the occasional notable serial all its own. It comes out six times a year, every other month, and whilst not a huge publication, still has its moments, such as its huge Jump 50th anniversary issue about a year ago, featuring special stories from Yudetamago, Masanori Morita, Yoichi Takahashi, and that bizarre Yoshihiro Togashi-written two-parter about a card game thing between good and evil.
I'll follow up with some stuff about each series and some notable past series in a hot minute, but for now here's the cover, table of contents, colour pages and more from the latest issue, out... like 75 minutes ago.
GRAND JUMP 22/2018
Cover and opening colour (Sundome!! Milky Way by Kazuki Funatsu) (
NSFW!!!
)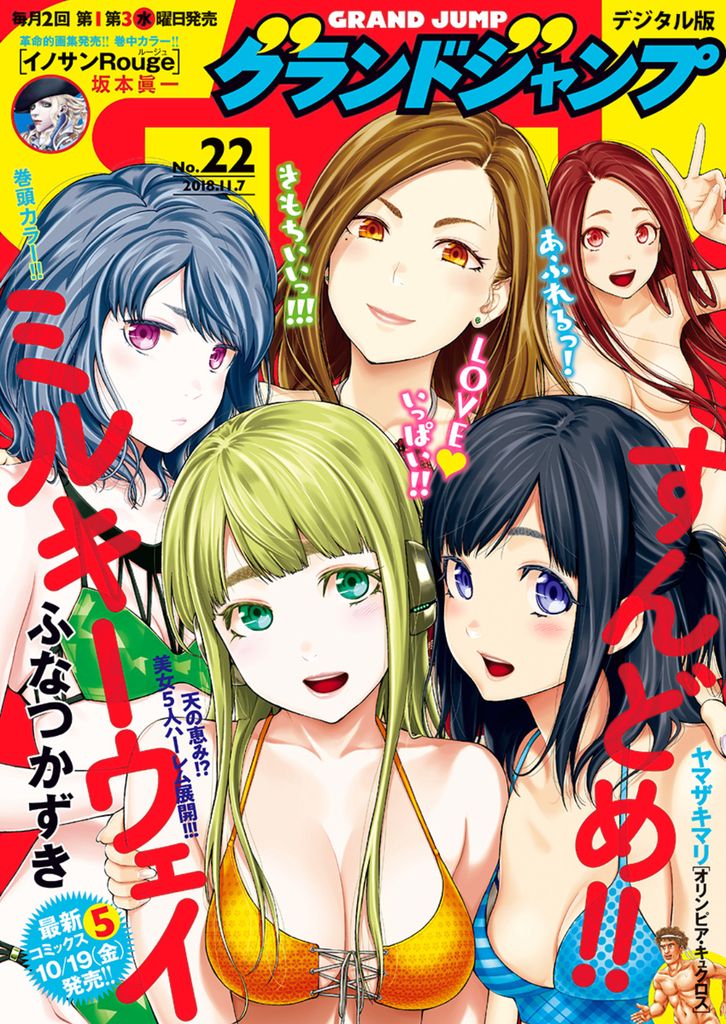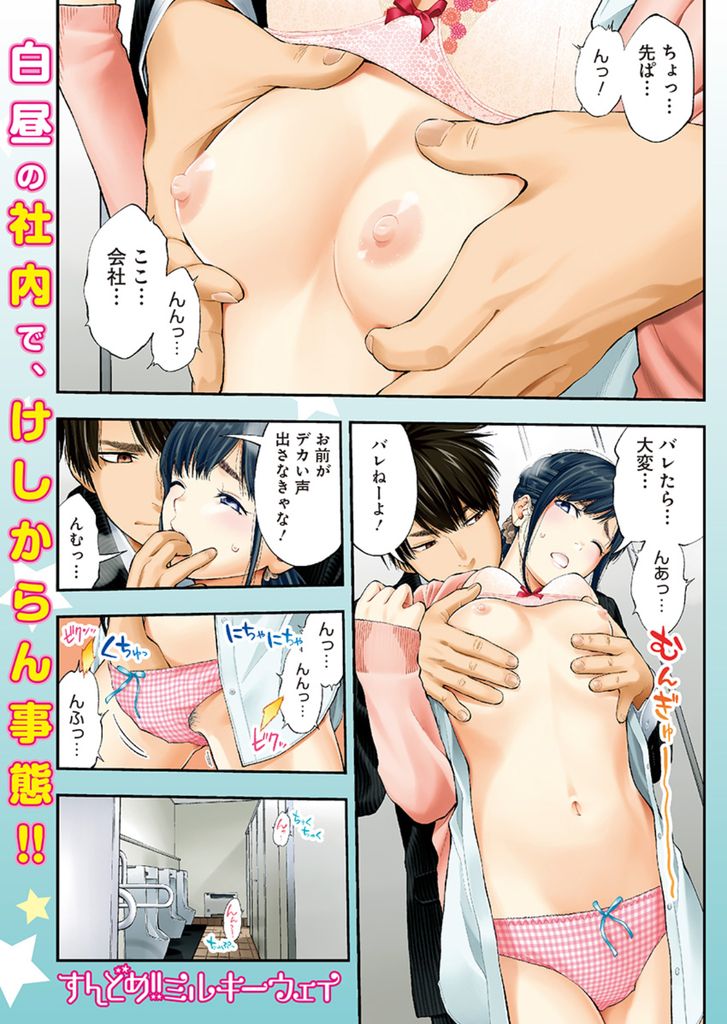 Innocent Rouge (Centre Colour & digital artbook annoucement)
TOC & Next Issue Preview:
TOC:
Sundome!! Milky Way (Kazuki Funatsu) (Cover and Lead Colour)
Captain Tsubasa: Rising Sun (Yoichi Takahashi)
Radiation House (Tomohiro Yokomaku, Taishi Mori)
Play Ball 2 (Yuuji Moritaka, Jokura Kooji, based on the original by Akio Chiba)
Amai Seikatsu 2nd Season (Hikaru Yuzuki)
Yutori Yakuza (Hayasaka Keigo)
Kōun Ryūsui 〈Jofuku〉(Hiroshi Motomiya)
Strike or Gutter (Yuu Andou)
Olympia Kyklos (Mari Yamazaki) (MONTHLY)
Innocent Rouge (Shin'ichi Sakamato) (Centre Colour and annoucement)
Uramiya Honpo WORST (Showshow Kurihara)
Adultery Restaurant (Masakazu Yamaguchi)
Champagne (Araki Joh, Kenji Nagatomo)
Ou-sama no Shitetaya ~Shitamachi Tailor~ (Ton Okawara)
I Will Do It Properly in the Afterlife (Itsuma-chan)
Kurogane-Kai (Kei Toume) (MONTHLY)
The Naniwa Kinyudo (Aoki Yuji Production)
Hell Teacher Nube Neo (Sho Makura, Takeshi Okano)
Next Issue:
Black Tiger (Osamu Akimoto) (Cover and Lead Colour, resume)
Matataki no Sonja (Hikaru Yuzuki) (Centre Colour, resume)
Impossibility Defense (Shin Miyatsuki, Yuuya Kanzaki) (MONTHLY)
Noise (Tsutsui Tetsuya) (MONTHLY)
Preview for GJ Premium 11/2018: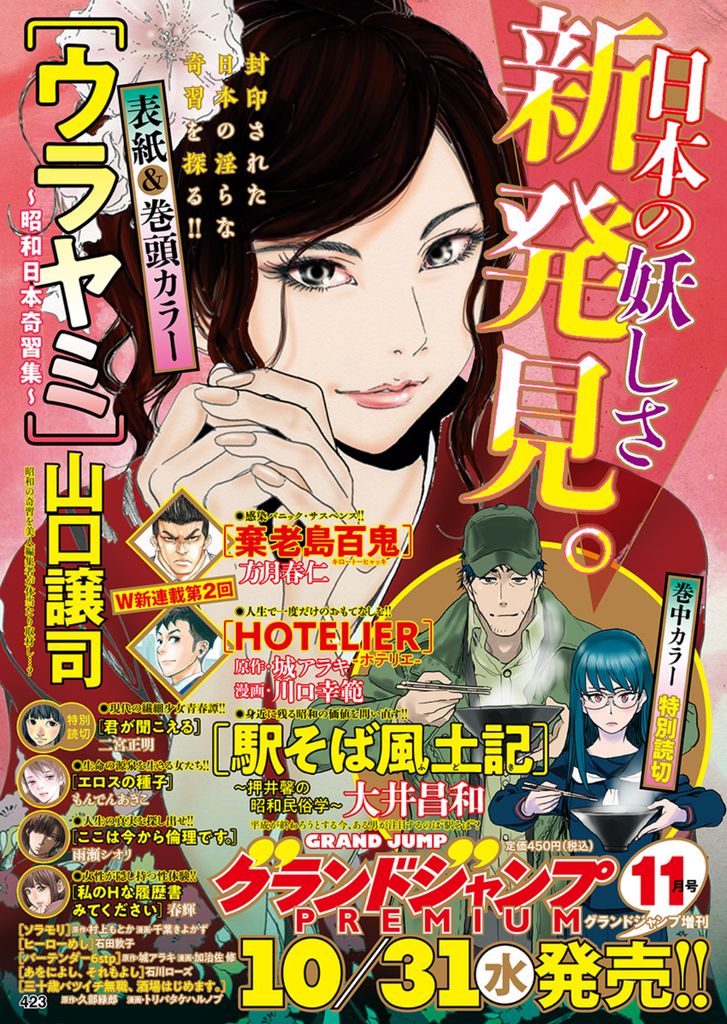 Lead Colour & Cover: Urayami (Masakazu Yamaguchi)
More to come with quick summaries of current Grand Jump/Gj Premium titles.