Registered User
上級員 / Jyoukuuin / Sr. Member
Joined

May 16, 2015
Messages

498
Reaction score

262
Gender

Male
Country
To be honest, I don't really know. I have gathered though some interesting connections and I was hoping that I would find something if I discuss it with you guys.
So let's state the obvious first: Furuta and Kaneki resemble quite a bit, at least as far as their appearances goes but also for their love for books. That is something that Ishida himself chose to point out when Furuta made his very first appearance as an unknown character back at part 1 and even Touka mistook him for Ken.
However, the more interesting part comes if Furuta is indeed Souta. Because if Furuta is indeed Souta, well things get a bit more complicated.
This is Souta: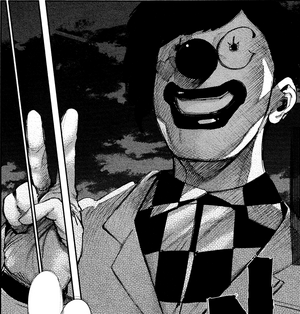 And this is Kaneki from the one shot: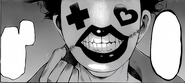 Do you see anything strange? Both Kaneki and Souta have as a design one heart with the difference that each of them has it at the opposite eye. Kaneki's eye has itself the heart design whereas Souta has a similar heart design under the opposite eye. What makes it though more interesting is that "coincidentally" the heart at Kaneki's mask has replaced his ghoul eye. Could this imply that Furuta is also an one-eyed ghoul but has it from the opposite eye? After all, working at CCG while being a ghoul cannot be easy since they have the rc detectors, which HOWEVER do not work on one-eyed ghouls (Kaneki, Eto).
In case you're about to say that the one shot is not a big deal, let me first say that this one shot mask has been canonized:
Another thing that I would like to point out about the above page is that the middle "line" of it is composed by 3 different panels from which the first two show 2 masks per each. My guess is that they represent some sort of duality but I don't have great knowledge in that field so you're welcome to enlighten me. However, isn't it a bit strange that Ishida chooses to show at each of the other 2 panels, 2 masks and then at the third one, Kaneki's one shot one alone? Where is its "counterpart"?
I would also like to point out a little interesting detail about Kaneki's one shot mask: it has stiches around its mouth, similar to the ones Eto sewed to Karren, a bizarre coincidence based on its oddity. We've also seen that in one of the cards of the limited edition, Kaneki is a Joker, green hair (who knows, Joker from the batman maybe lol) and a Joker is also a clown...
But wait, there's more.
Souta was the one who was responsible for Kaneki surviving Rize's attack. That could have simply been a coincidence, let's say, however it is worth of being taken note that immediately afterwards, Kanou coincidentally was ready to take care of Kaneki's transplant. And Kanou is Aogiri's associate while Furuta is CCG's associate. Correct me if I'm wrong but we haven't seen "Souta" since "Kaneki's "death". And that one time that Furuta was seen in part 1, it was at Kamii university. Could it be that Furuta was keeping track of Kaneki all this time? Isn't it a bit bizarre that this strange fellow appeared as a CCG member when Kaneki finally joined the CCG as Haise? Seems like the Clowns never really lost interest in him.
As for that duality part, I would like to point out something, the first hybrids who were introduced after Kaneki were Nashiro and Kurona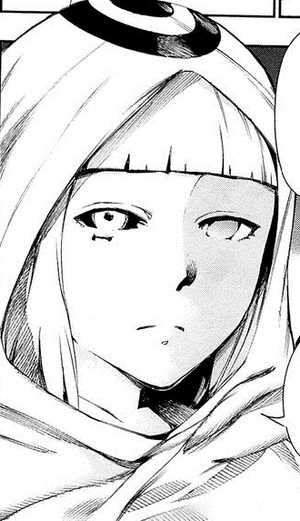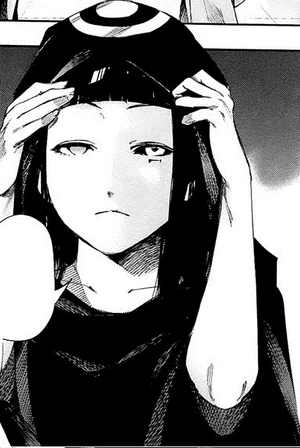 Just look at them, aside from their eyes, even their whole appearance is characterized by the typical black and white and yin-yang. Could it be that, while taking into consideration Kaneki's one shot and Souta's mask, that Kaneki is as well a part of a different duo? One last thing that I would like to point out is that while Kaneki seems pretty sane in the TG manga, well, at least compared to how he could have been, in the one shot his eyes give out a pretty ominous feeling, maybe it's only me but I feel like he's a madman:
And we've seen that Furuta is rather unstable despite how he looks. I don't know what to say, Furuta is his alter ego maybe?
What do you think guys?
Last edited: