Registered User
中級員 / Chuukyuuin / Member
Joined

Apr 1, 2019
Messages

183
Reaction score

158
Country
I think the Sins have a lot of potential to develop if they used more teamwork or figured out how to abuse their powers more. Since I know not everyone will want to read this much text as I have in the spoilers below about each character and potential teamwork strategies, I will summarize a few above the spoilers for each sin/team. I don't think this really fits in the 'What would you want to happen before the series ended' thread since some of it, particularly theorizing how OP a broken character already is, isn't exactly about what I want, so I just put it in a new thread.
For one example of a team strategy not used yet, Mael could team up with Meliodas, with both of them using their Full Counters to create an unbeatable double layered defense of Full Counter spam, with Mael nulling all physical attacks, and Meliodas nullifying magic with his clones and counter spam. They seem like a stupidly broken team defensively and even if they are forced to attack an enemy team of two, they seem like they'd be able to cover for each other very well. Granted, neither Full Counter is foolproof even against the type of attack it counters, but they are still very op abilities.
Another example is the Mael/Zeldris brother duo team, although it requires Zeldris to not be stuck to one repetitive method of AOE gravitic pull(AKA if Ominous Nebula is really the only way to use it). In this 2 person team tactic, Zeldris uses his gravity magic to inescapably pull an enemy in, forcing them to physically attack , and Mael then just Full Counters them easily the moment they get near Zeldris. If they don't attack, then they just get rekt as they are pulled in. Lose-lose situation. It would be even better if Zeldris had his 'Demon King' power of Magic negation, which would make them most likely an almost invincible duo, but oh well.
The 7DS current level of thinking is too often like this IMO: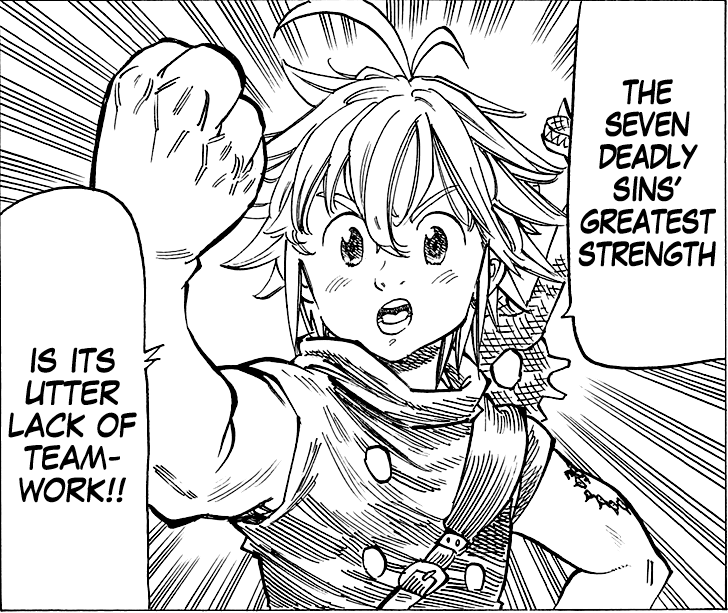 7DS is usually a good manga for fights but I still think there is a lot of room for them to grow, and a few recent fights in particular have been really bad, even if it's because Nakaba is in bad health.
Anyway, here are some ways I think each of the characters could get stronger/more skilled/etc, or just be explored in depth more than they currently are. Like with King only having 8 chastiefol forms out of 10, or Mael not showing his noon state and how limited he is at night, or Nakaba not trying to give a clear summary of all of Merlin's endless abilities.
First off, the next two forms of chastiefol are needed. But as an overall analysis, King is clearly the most versatile member of the Sins besides Merlin, he is strong in essentially all categories except bodily durability, as you might imagine he will work incredibly well in combination with Diane or other defensive teammates(although she synergizes with him the best) who can protect him from attack.

Offense:King has lots of powers in this area. With Chastiefol, whether he's using Increase or the spear form, or Guardian, all of his standard attacking styles keep the opponent attacking Chastiefol, which he can casually regenerate from mere pieces, so as long as he keeps them busy they can do zero damage to anyone while he keeps getting chances to harm them more. Speaking of regeneration, King is a counter to many tanky opponents because he can just use Fossilization to petrify them as long as he is able to pierce their skin with it. Demons and Goddesses could probably survive even a direct fossilization hit piercing their chest(assuming their defenses fail to block or they can't evade), since if they pull it out in time, they might get away with only some skin or part of the chest petrified, which they can then simply regenerate. Overall, his way of attacking enemies is a major annoyance as it is completely non linear and they have to try to get past his weapon and reach him. Now that he can use multiple spirit spears at once he can just always have one near him ready to defend with, so he has few weaknesses in attacking. He even has many times attacked opponents who tried to get close, so it's not like he's less capable of manipulating the spirit spear if you're near him.

New developments in this field could include maintaining full focus on continuously attacking two enemies at once with separate chastiefols in a multiple vs one battle, having the Guardian form wield the Fossilization spear so its melee is more dangerous, just doing something as simple as attacking with multiple spirit spears from multiple angles continuously so it is very hard to evade/guard, or trapping someone inside a Pollen Garden while they are busy fighting a Guardian. Defeat the Guardian->A ton of Increase swords fly from the Pollen Garden from all directions in an impossible to dodge way. Destroy all the nearby spirit spears, and he just begins attacking at range again with the spirit spear he left behind near himself. Basically, his style is to keep the opponent constantly overwhelmed by his variety of magic manipulation so they can never directly fight in melee. In addition, his existing spirit spear forms have new applications that may have never been explored. The "Luminosity" Form could possibly be used like a flash bomb, or as a radar that lets him sense where enemies/attacks/etc are. He could learn to use Sunflower in a more versatile way, like keeping a Sunflower around so he can fire a beam for it whenever he wants without the prep time normally required in creating it. Right now, Sunflower doesn't seem incredibly useful compared to "Increase" or the standard spear form, which seem better right now just because he can move them around however he wants. His "Yggdra Cloth" might be especially dangerous if he combined it with actually wielding a Chastiefol in hand. For example, he could use the speed of Yggdra Cloth to stab the enemy with Fossilization.

In fact, the ultimate fighting style I think King could use would be one where it is as if his opponents are in the FKF itself, and potential attack can come from any direction.

My idea for Chastiefol Form 10 is an area control move, "Sacred Grove", wherein he sends Chastiefol into the ground and sends roots throughout the area which can create a temporary artificial forest(or interface with an existing one, which would be stronger, especially if it's the FKF or the Fairy Realm forests). It would require some set up time to get to a really large scale with Disaster, but basically, by making Chastiefol somewhat omnipresent throughout the area he fights in, he makes it easy to attack enemies from any direction. If he wants to hit them with "Increase", he could summon it as leaves from a tree right behind them instead of sending it out towards them, or have actual Sunflower chastiefol forms in the area which he can use at will, or turn large branches into the spear form, etc. And since the forest is still Chastiefol, it can regenerate from damaging attacks quickly, although it would depend on the scale. Lastly, if he sets this up and connects with an actual forest, he can boost his energy supply essentially by using the power of the forest against the enemy.

Defense+Evasion:
He has a lot he can do here too. Whether it's direct barrier defense with Pollen Garden, blocking melee attacks with Spear or Guardian form, attack clashes with Sunflower against beams or Increase against projectile spam, there are few things he can't guard against, and he's very good at guarding for allies due to how many forms he can use. Combined with how his attacks often just make the enemy unable to directly aim at him as they're focused on Chastiefol, and has good evasive abilities with his natural flight and the boost that Yggdra Cloth grants, his defense covers mostly everything now that he can use multiple forms at once. One idea for how he could improve in this area would be through using his Pollen Garden barriers more offensively, trapping his enemies while they are busy fighting Chastiefol or a Guardian, or just one of his allies. He already did it once with the triple prison technique. The simple fact that he can infinitely regenerate Chastiefol from nothing essentially means that he can mimick the regenerative capabilities Ban has, so long as the enemy never directly hits him. If he becomes able to reliably blind people with "Luminosity" on top of his fast evasion with Yggdra Cloth, it would just get that much worse. And of course, let's not forget about his ultra long range capabilities with Chastiefol, which can render him immune to all attack simply by virtue of distance. Meanwhile being able to fly is mandatory if you want to kill him in any extended battle, that is, if he has the option to escape and is in a situation where he would realistically choose to do it, there is simply no way to stop him from escaping if he rapidly flies up into the sky and out of all attack range for grounded fighters.

One new technique he could use by just using Increase a new way would let him easily attack and defend at the same time, even though he can already do that by just using 2 forms. Basically, King creates a swirling vortex of Increase swords around himself as he has done in the past with its knives version, to defend againist attack from any angle. Then he can use the centrifugal force this creates and have some of the swords launch off from the vortex as they are at a point where this would make them fly at the enemy. That way he can barrage the enemy with an attack while also having a really strong defense, where attacking linearly is a bad idea as that would easily get overwhelmed by the rotational force, but attacking from another angle is probably impossible when he keeps on barraging you with swords. It would make sense now to be doable since he has much more control over Chastiefol.

Support:
Unsurprisingly, as a mage type character, he's also really good at support, whether with Pollen Garden's healing+defense of allies, or just overwhelming an enemy's ability to react with forms like Increase that use multiple hits or multiple angles. Fossilization falls under this as it gives him status effects that help bypass regeneration. My best idea right now for how his support could get stronger would be if he revealed a new form capable of boosting someone's strength and magic, some sort of "Nectar of Invigoration" similar to "Drop of Life" but without the healing. The reason he hasn't used it much so far would be that he's usually fought solo, where there would be no time to self-buff, or fought against enemies like the Vampires who were easy to beat either way.(He didn't ever use his full power back then since he always took his "Regal" fat form that is stated weaker than his true form, same principle as Helbram's human disguise) In the few team battles he's been in(Helbram and others vs Diane), he ultimately ended up fighting alone anyways or using Pollen Garden for healing a wounded ally. In the Chandler team battle he was the strongest one so support wouldn't make sense. Against Hendrickson they were all just spamming attacks while Meliodas fought in melee. Against Mael, Diane was unable to fly and get close to him, and due to King only having 1 form at once back then it might have seemed not worth using. So overall I think the addition is justifiable due to his new powerup making forms that might have been useless before now useful.

Adding on the fact that he can attack at long range, we also know he can observe through the spirit spear at long range, so he may be capable of remote viewing style support in a similar fashion as Merlin is, knowing what enemies are where is always important so this seems good.

Finally, he can read minds, but I am just going to assume he does not literally read their next intended attack/body movement and instead just reads their general thoughts about the situation, or that they can avoid having their thoughts read if they are not insane like Estarossa was, as otherwise, this is way too op in utility and would let him dominate opponents in terms of evading their every blow while easily countering back.

Hax/Cheese/Deception:
Luminosity is one key example if its true spirit spear form will let him blind opponents with it. With the Pollen Garden barrier he should be plenty capable of blocking visibility. He can create powerful explosions with chastiefol's first form to block vision, although this could become obsolete if opponents in the future just learn to sense the presence of nearby enemies effectively. But since visibility has been surprisingly relevant even in super high tier battles in this manga, I will still mention it. Beyond visibility, let's say he wants to avoid revealing the presence of his allies at start of battle so someone like Ban can get a sneak attack. He could start a ranged assault from beyond the horizon with his ultra long range capabilities, and as his allies conceal their presence the enemy cannot confirm if there is anyone other than King attacking. Enemies think King alone is not going to be strong enough, they go in to attack him where they sense his location, he possibly lures in enemies into a dangerous ambush. However, it is debatable how much people can really conceal their presence in this manga, so beyond Ban's clear capability in that department, I won't assume this is a great strat for others.

Overall Analysis:
With his new powerup he has practically no weaknesses, all he really needs is proper support from someone defensive like Diane and he's good to go, I'd say his vast number of weapon forms means there are probably many combinations of using his ability that haven't been discovered yet and would make him stronger, he has a lot of development potential.
Now, her Dolor Dance apparently only boosted her to 48'000 when she had her PL recorded after using it, but for all we know this is not her max potential, and she could receive a boost like how King got his op power up. Dolor Dance is a good move, but let's just go over her options as a fighter.

Defense:With her giant size this and her strength are the most obvious things that come to mind, it's hard to imagine her easily dodging if someone small goes up close to her. However, we've seen Diane has some good options in this department. Heavy Metal is good against any AOE attack, and on top of this she has Gideon's ability to redirect damage to the earth. This combined with heavy metal would be some serious defensive power. If we also keep in mind that Diane can outmatch Dolor and Dolor created a vast auto-regenerating stone maze, she could also likely repair the earth even she was cratered into the ground by using Gideon's ability. In other words, ranged attacks she can block with gideon are probably going to be incredibly ineffective most of the time. The main weakness for her would be enemies who can get past her guard, but against them she would use her offense. The worst situation they can put her in is most likely throwing her into the air to combo her to death while she cannot use the power of the earth with Dolor Dance, but Heavy Metal and her natural weight seem to be pretty strong countermeasures against that.

Offense:Due to her recent earthbending improvements she really has an abundance of options here. Melee attack is clearly damaging, but she can also easily restrain enemies with earth, or trap them in sand. I'd imagine one very deadly strategy would be burying someone in the ground below her, and continually hitting them further underground as she bends the earth around them and just compacts it onto them, leaving them stuck in place so she can smash away with Gideon. She has more than enough ranged attack options against a grounded enemy when the whole landscape is basically her weapon to wield. The weakness would be enemies who can fly far into the air and stay away from her attacks, that's where allies like King and others come into play, her ideal situation is keeping the enemy grounded where she can hit them or just bury them into the ground.

Her Golems don't seem to be of great use, since she can earthbend from a long distance to shield her allies or attack already, and unlike King, has no need of a Guardian-like minion due to her own high physical capabilities, but they at least open up some new options for her and potential minor benefits.

Support:
Her powers would seem too simple normally, but Diane is surprisingly capable in the support department, which was first shown when her Dolor Dance greatly boosted King's speed as he used Chastiefol's armor form. This could have great potential to assist King but I will go over that in the King/Diane team section. On her own, she can still do quite a lot with Dolor Dance allowing for self and ally buffs while also allowing her to easily earth bend.

She doesn't have much in terms of observation capabilities right now, but if she learned a similar style of clairvoyance as Dolor had through her attunement with the earth and prior experience using Dolor's body(in which she might have been able to use his sensory abilities and remember them for later), that'd help a bit in identifying the location of distant enemies.

Hax/Cheese/Deception:
One notable cheese she used in the past was sinking enemies into the ground by turning it into sand so they have no leverage, but against largely flying forces like Demons/Goddesses this is largely obsolete. Nonetheless, Matrona showed that digging underground is an effective escape tactic, albeit against someone with 0 Magic like Garan who probably couldn't sense presences. The recent 3v3 involving Chandler/Cusack shows that visibility obstruction still matters even now, so creating smoke clouds of the earth's dust could be an effective strategy, especially since she can sense through the earth and ignore visibility problems. But overall her cheese capability is not too high and it shouldn't be her main focus.

Overall Summary:
Diane's not the best physical fighter. Even if we ignore the bs powerscaling with Ban 1v1ing the DK, he simply seems to have too many more options in a 1 on 1 situation with invisibility and strength-stealing. What gives her an advantage is her far longer range and versatility with earthbending compared to Ban who merely has melee alongside stealing hearts. She also seems to fare a lot better against ranged attacks and AOE than Ban via Gideon's ability and her earthbending's high level of variability.
Ban seems like one of the most OP characters in this manga, and that's not just because of his power level, but his sheer number of good abilities. Starting off with his offense:

Offense:
Ban is mostly a melee physical fighter, because while he might be able to steal hearts, realistically that is not going to work when his opponents are on guard if they are not fodder. So, usually he fights up close, this is no problem for Ban though. Snatch is a broken ability, as it allows him to vastly increase his power while decreasing the enemies, and it's his main way of increasing his physical damage. Beyond that he also has his "Zero Sign" invisibility which can easily let him get sneak attacks, although it seemed strangely under-used after the single time he tried to save Meliodas with it. Overall his damage potential is extremely high and Nakaba allowed him to body even the Demon King of all people, somehow.

Defense:
Ban used to be far more broken in this area, but even without immortality, using Snatch to drain any enemy who melees you basically means you punish the enemy for doing damage, and can cheesily auto win against melee attackers often.

Support:
Now this is where I think Ban becomes utterly broken. While he can't gift life force infinitely with it due to losing immortality, it is not much of a stretch to say he could learn to gift the stolen strength of "Snatch" to an ally. Let's just say he learns to do that. If he does that, he completely removes the weaknesses of "Snatch" where his stealing cap is limited and he eventually runs out of stamina due to the overload. Not only would letting allies siphon it off reduce the burden on his body, so that his 'consistent steal total' is allowed to be much higher when he distributes it to allies as buffs, but it would increase his 'maximum stealing cap' by a lot too, in letting him reduce the enemy strength by way more than he should normally be capable of doing. Considering how much strength he stole from Garan of all people when he was several times weaker, this could be an immensely useful boost.

Hax/Cheese/Deception:
Ban is very good at this, he can already use "Zero Sign" to give no signs of his presence, it seems like it is a completely flawless invisibility skill. To me it does not seem like a stretch that he could go further with this, and learn from his foster fox dad, and try a new technique, "Fox Illusion", where he just leaves behind an illusion of himself before turning invisible, similar to how his dad tricks Garan into eating the wrong soul. It'd make his invis cheese just that much better. For some reason, he has never used his invis other than the one time, but it seems like he never had to put much effort into any of his later fights anyways. If he did the invisibility would be of great use both for offensive and defensive purposes. It also seems like he has no way to turn an ally invisible, but who knows, that could change, although most likely at most only those he can be physically touching in a given instant, since he's not a mage.

Potential Sacred Treasure Corechouse Abilities:
There is nothing to do here but speculate, but I know of some that would be incredibly useful. Allowing Snatch to absorb magical energy would let him defensively tank against ranged magic the same way he does against physical hits by absorbing strength. Simply increasing the cap of strength he can steal would be useful but a bit boring. If it let him have a ranged energy whip like his heart-stealing seems to utilize, and grab enemies at range and throw them around with it along with draining strength from a distance, that could liven up his fighting style while also increasing his capabilities, maybe let him grapple enemies to himself too. It'd be a similar concept to Gowther's sacred treasure.

Overall Analysis:
Ban is among the most overpowered Sins, I would say his general utility simply due to how OP snatch is, may surpass that of King, Diane, Gowther, or even Escanor, when it's not noon. The downside is he is almost completely a 1v1 fighter, even with the theoretical support methods i thought of he does not have anything in the way of defending AOE attacks for the team or doing much else besides 1v1 melee. Also, he can't fly, and that's a big potential problem if his enemies actually abuse flight correctly in combination with ranged attack. Nonetheless I would still rate him top tier among the Sins even with the huge power level inconsistencies he introduced against the demon king put aside.
This guy has been OP for 80% of the manga. But when i just look at everyone else's skill sets, his variety of options seems mediocre to be honest.

Attack:
He has ranged magic but all he really does is slash at people with his axe and throw Cruel Suns at them. Bonus points for "Pride Flare" allowing him to detonate a Cruel Sun he sends someone off into the distance with, but he still lacks attack variety compared to King and Diane for example. He's similar to Ban in that way, but unlike Ban, he lacks control over his power up methods.

He passively harms everyone nearby with Sunshine, but realistically, this does nothing to majorly important villains, it is his actual attacks that make a difference.

In terms of air combat, he is able to propel himself by shooting a cruel sun, as he did against Estarossa i believe to pursue him after sending him away, but he just hasn't ever been in a situation to use this in a strategic way. He fought Assault Mode Meliodas, and his fight with Mel is an example of how Humans in this manga can be pretty limited sometimes. AKA, Mel was trapped in Perfect Cube, while also being way too overconfident, and thus did not get a chance to do anything like stall out The One by keeping a multiple kilometer distance in midair since Escanor cannot fly like Mael can. Nonetheless with the right support(Diane, Merlin) his damage potential is still going to be extremely high.

Defense:
Basically, he's just a physical fighter in this, he doesn't have any complicated magic like a barrier spell or anything. Maybe he could clash with enemy projectiles using his magic, but that seems to be about it. His giant build is problematic for evasion when it seems like he would always just tank through everything with blocking or direct defense, and it makes his fighting style a bit too repetitive for my taste, while nearly every single other melee combatant: Arthur, Ban, Gilthunder, Howzer, Meliodas, and even Diane of all people, are capable of evading attacks to mix up their options and overall be more useful without having to rely on overpowering their opponent through brute force. This is another area where unfortunately Mael simply seems way better as he has the option to block hits, rapidly evade in midair, or even regenerate from lots of damage, so even if they were the exact same power level at the same time of day, which they definitely aren't, the gap in their overall usefulness is already significant. And this is not even adding on the OPness of Mael's Full Counter in defense.

Support:
Mostly non-existent, unless you count burning everyone nearby to death. He does have some self-support options though, as if he figured out how to draw on his Sacred Treasure's reserves at the right timing, he might even be able to ignore True Night for a limited period of time, as long as he switches his power source before his main one of the Sun is cut off.

Hax/Cheese/Deception:
Surprisingly he can do this, creating smokescreens with Cruel Sun like in chapter 288 or so. But it's not his main strategy for sure, and with how uncontrollale his power level is, he certainly can't stealth his way around without someone else like Merlin helping.

Overall Analysis:
Simple in fighting style or not, he's still overpowered with the right time of day. It just doesn't seem like there's a lot of potential to form any complex strats with his power set, besides hitting the enemy even harder than usual. All the while, Mael seems to surpass him in pretty much every way as a better user of Sunshine. If there's anything that can make this old man useful again it would be some sort of original magic which he discovers after losing Sunshine, but sadly I don't see him surpassing Mael in any way to the point where he would be a more useful Sunshine holder, and he will become even more useless if a newly reincarnated or resurrected Elizabeth needs to absorb the graces, while Mael could probably fight decently well even without a Grace.
He hasn't even used anywhere close to his full potential tbh. I would rate him top tier in skill set, comparable even to Ban in how overpowered his abilities are. Sunshine's time of day gimmick doesn't affect his actual combat options in terms of his skill set, so I will just describe its OPness here. In any offensive invasion against enemies they can set the time of day, and while attacking near noon could let enemies predict this and send right forces to the right location, it nonetheless is a massive power boost. At night he can't fight that well compared to day, making him more of a liability when the battles last a long time, especially trying to siege the enemy fortress/city/military base or something, and in a war that would be the one thing that stops him from being completely broken. However, now he has the melee version of "Full Counter", so he's probably just broken all day every day.

Attack:
First off he can fly. That's already very good for attacking, it means you can attack from more angles or knock enemies into the air. He's basically a DBZ fighter with how he can use Sunshine. Air combos, rapid energy blast barrages, probably even a kamehameha, I think he could do all of these things if he felt like it. He could probably do an explosive energy wave AOE around himself similar to DBZ once again as that would fit "Sunshine" incredibly well. As an added bonus, since he has natural control over his Grace he probably can stop himself from accidentally burning allies, we saw him using Sunshine against Zeldris but it didn't seem like anyone was being burned. Maybe they just were too far away or were too strong compared to Holy Knights, though.

Mael has not displayed any super complex magic like King, and Diane might have more versatility in attack angles than him while on the ground, but when he can fly and do all sorts of ranged attacks it is not really a big deal. His general Goddess Clan abilities like creating blades of light, using "Ark", and other things are already pretty good. Also, he seems to have more precision control over his magic than Escanor with his "Arrow of Salvation" move that lets him do precision piercing attacks at range.


Defense+Evasion+Regeneration+Full Counter:
He has not displayed the same levels of defensive magic as Ludociel, although the one time he seemed to need it(Vs King), he was too enraged and crazy to think clearly. And against the Demon King, Zeldris already showed up to save the day. Nonetheless, even if he is incapable of using Sanctuary, other Archangels like Sariel and Tarmiel were capable of using generic "Ark" magic that seems common among the clan and might allow him more defensive barrier options than Escanor has.

And then there is just the fact that he flies and seems fast, this is almost always a good thing. He can also regenerate pretty much any wound, although we have yet to see the full limits of Goddess clan regeneration. Tarmiel can regenerate from even having a head chopped in half or getting split vertically by Garan, but he may be an exception due to his Intangibility granted by Ocean. We have not seen any of them regenerate from having heads chopped off as Demons have done before, or being directly chopped in half from side to side like Garan once was, but it's probably safe to assume they ca. Their regeneration is still not omnipotent, just as with Demons if you actually destroy their head they will still die just like anyone else. It would be weird if they couldn't regenerate a destroyed heart despite in all likelihood only having one, as that'd make them greatly inferior to demons, so chances are they can regenerate their hearts if not too deprived of energy, and are instead just slightly superior at self healing compared to demons.

Also, his Sunshine power courses within him, and this destroyed Zeldris's sword when he pierced Mael apparently. So basically stabbing him with weapons is often ineffective, you could say the same about weapons with special statuses like King's Fossilization form of Chastiefol, the petrified flesh would just be incinerated away.

Finally there is the ultimate ability he gained as Estarossa, Full Counter physical. This is one of the best abilities in the series IMO, even enemies that are significantly faster and stronger have to be cautious or else their higher power will be used against them. It fits his melee fighting style very well, and while he can't force mages into melee like Mel can with his magical full counter, it fits the 'overwhelm the enemy at close range' method of attack which I think he can definitely achieve. He might not have learned a melee-type "Revenge Counter" from Chandler, if Revenge Counter was Meliodas's original technique, but if he did, or learned it by imitating Meliodas(if Meliodas invented it before betraying the Demon Clan) it'd just be icing on the cake.

Support:
Not much is known here about Mael's individual capabilities due to a lack of feats, but it seems that all Goddesses know healing magic, so he can probably heal allies too. If he knows a spell that lets Oslo and Derierre consciously reincarnate then it's not a big stretch to say he knows healing. That also means he may know the Breath of Bless brainwashing technique, although it is unlikely to see much use in the future for obvious reasons.

Hax/Cheese/Deception:

Maybe he can use "Ruby Shine" like Ludociel if that is a generic goddess clan technique, and blind enemies with it. Sunshine also seems a viable grace for emitting a lot of light and making enemies unable to see anything. He certainly doesn't have anything like "Invisiblity" though, that would be very unfitting for Sunshine. Overall this is just not his style of fighting so it's minor at most.

Overall Analysis:
With Full Counter, Sunshine, and the Goddess Clan's innate powers, along with his probably innately high power level, he's incredibly op, and could outclass most other melees in the series in his sheer number of options, and this guy doesn't even have a Sacred Treasure. Imagine if he had one that did the same as Meliodas's ST lol and used that against multiple vs one encounters where many rush him down in melee. He would operate best with teamwork from certain other OP allies like Meliodas, though, if he purposefully cheeses enemies through using their Full Counters together against whatever attacks might come.
Best boi has been putting his A game in recently. It's OK Zeldris we forgive you for leading the mass genocide of humanity, you were just waiting for your moment to turn the Demon Clan into good people who wanted to live in peace and harmony and all that. Well, not really, he is still pretty evil for doing all that, but who cares, he's cool.

Anyway, Zeldris has finally done things recently that let us know how he even fights, so let's get to it.

Attack:
Like all other Demons and Goddesses he has the great advantage of being able to fly around. In fights with similarly strong enemies he tends to just use melee as his main attack, but if he gets to do a 1 vs multiple or 1v1 fight, he is just going to stand there in an Iai stance and wait for people to get drawn into his Ominous Nebula and shredded to pieces. It's a pretty effective strategy, and he is capable of melee even without that in his own right, but it sure does make his original magic awfully limited. My personal recommendation would be to say Ominous Nebula is simply his strongest technique with his original magic, but he can use a 'gravity' type effect to pull individual enemies towards him even without it. For example, Zeldris prepares his Iai stance with one hand, points the other palm at the oppoent and activates his power, they are suddenly dragged in towards him by gravity if they fail to get out of the way before he activates the gravitic pull. Ominous Nebula would just be easier to use because it affects all directions and is thus undodgable. But basically his fighting style seems very defensive overall.

There are also the standard demon offensive measures like Purgatory Flames, but we have never actually seen those deal permanent wounds on Goddesses or Demons, so it is questionable how useful they will really be in the future.

Defense:
He has the standard demon defenses. Power of Darkness, dark armor, dark weapons, flight, regeneration, all that. His main uniqueness right now is Ominous Nebula as a defensive barrier, since he no longer has the "God" magic immunity power. I'd say it's a pretty good barrier, although it's debatable how much of that was just because of the "God" power boost. That's about it.

Support:
Mostly non-existent, as with most demons. If he learned to use gravity on specific targets and pull them towards himself it would help for keeping enemies focused on him while not getting in the way of his allies, as Ominous Nebula is basically unusable if allies are nearby. Could also be a good rescue move on an ally who is about to get hit by a ranged attack.

Hax/Cheese/Deception:
Doesn't fit his personality at all and he essentially has none. His only hax was "Piety+Ominous Nebula" which would have been way too op to beat normally unless you overpower him outright, but he doesn't have that anymore.

Overall Analysis:
I guess he's alright, but he no longer even has a Commandment let alone the "God" power up, and he used to just be at 60K even with a commandment, so it isn't looking so good for his usefulness against specific OP enemies like the Demon King or the Supreme Deity, even though his abilities are alright. If he is really stuck with "Ominous Nebula" as the only way he can use his magic then that would be kind of disappointing and render him too gimmicky of a character that has to have multiple vs 1 or 1 v 1 to use his ability.
He may have a power level of just 40'000 or so, but his ability set still has great potential. He seems a bit hax focused in lacking direct damage options compared to other characters, but it's probably possible to work around.

Offense:
His main attack method is his twin bow and its mind altering attacks. One odd thing I don't think we ever got any confirmation of is if defensive walls and such actually block them. But either way, he usually fires enough that people are forced to evade. He once essentially one shot Garan indirectly by hitting with this, and I've never actually seen an instance where someone simply 'blocked' his attack, so standard defenses don't seem too helpful. Being way more powerful does mean you can just evade though if he's too slow to hit. Since he at least didn't demolish the demon king with it, and OG Gowther had to sacrifice his life to mind-alter the Gods and many others, it seems at least implied that power level has some importance in resisting. Even then, he can inflict a variety of disabling conditions like paralysis through nerve overload, and at melee it seems to be even more potent, what with how he fully paralyzed Dreyfus for a significant time. Hitting the head is probably the most effective for sensible reasons. I don't know what it's supposed to do against people like King who just use big barriers that could block all attacks, but he doesn't seem to be a fully combat focused character in the first place, not one who's meant to fight 100% independently at least.

Defense:
Pretty much non-existent in terms of direct defense and evasion, he has nothing special beyond his own reflexes and the durability of his doll body, the most he could do is boost the reflexes of himself or his allies potentially through his mind powers.

Support:
In terms of actually providing beneficial effects on allies, he has close to none, other than curing mental effects. But he seems able to do a whole lot else. His mind altering effects produce a whole lot of utility that nobody else can do. Against fodder enemies he can mind-control large numbers of people, he can even do mass knockouts on a wide area. Even strong enemies could be mind controlled in the right situation which means Gowther can potentially become far stronger than he is on his own via mind control. Then he also has mind reading, even if it is conditional on hitting enemies with his light arrows, he could probably combine this with his memory erasure anyways to make people forget he just attacked them. There is a lot of potential for growth here:If he can do mass knockouts now on fodder enemies with "Blackout", he could probably learn to make himself and his allies become 'invisible' to them by making their minds unable to realize they're present. The sheer amount of info he can gain with his mind reading alone is already a huge out of combat threat, "Nightmare Teller" showed he can definitely probe far into someone's life history if he wants. Finally, the history of OG Gowther showed that he can achieve ridiculous feats with his memory alteration, and because it's memory alteration, it doesn't need to be continuously re-applied even against a strong enemy unless they discover the inconsistencies in their memories.

His potential for support if he develops more seems pretty decent. He could learn to set up a consistent telepathy network rather than sending messages in singular bursts, this would potentially help team coordination more. But rather than have them try to share every thought, he would just link those who work closely together more, like making King/Diane work in a group of 2 and hear more thoughts, and only send to others what they need to tell everyone, same with others like Mel/Elizabeth, and so on, whoever happens to be working in a group of 2 at the time and needs to coordinate attacks/defense better. He could even create countermeasures against the 10 commandments by doing consensual mind alteration on allies that helps them avoid breaking the commandment. Some key examples would be the Love commandment which is incredibly hard to obey in certain situations.

Hax/Cheese/Illusion:
For one he is capable of producing physical illusions without attacking the enemy's mind, as shown with the two team magics he's done(King+Gowther, Gowther+King+Diane), that's already a pretty big advantage in getting them to aim at the wrong target. Meanwhile his entire fighting style is basically based on hax and deception, so he has more than enough.

Overall Analysis:
Not exactly that strong in a direct fight compared to others, but his utility is still invaluable, he will always be good no matter how much power creep there is.
Her potential is nigh-infinite, to be honest. If Merlin had used the full potential of infinity from the start of the series, well, there probably wouldn't be a story at all lol. I guess I will describe two possible versions of Merlin as unlike the others who I think should have their powers explored more, she needs a real nerf, "Infinity" seems so OP already even when she doesn't seem to be abusing it to the max amount she could and just low-diffs everything with no effort.
Offense:
Her current offense is already broken, but like everything else she does it could be 10x as strong easily. Let me explain, her offense against Chandler and Cusack abused debuffing their resistances to the max after spawning an infinite number of automated invisible attacks which hit their weak points. And she did all that setup in just a few minutes. Sounds bad enough already, but guess what, Infinity lasts for all eternity, not just a few minutes. What that means is we have no indication she couldn't have set up 10 times as many spells while they were preparing to invade the cocoon. Or, worst case scenario:She prepares a ton of overpowered magical spells far before any fight ever begins, and simply brings a massive arsenal of them to every fight she participates in. Even if it would take her years to set up enough, she has had eons to do this. Moreover, there really seems to be no upper limit to how far "Infinity" can increase the power of a spell, the closest we got was her saying the Sinner was too strong to defeat. But that was probably just because she was too busy casting Time Stop for 10 minutes on Meliodas when she likely could've rekt the sinner with another swarm of overpowered spells.
TLDR:Her offense has no weaknesses, it will home on all enemies, it is invisible, she can spawn as many attacks as she wants, Speed Blitz is irrelevant because her attacks home in on enemies on their own and will prevent enemies from blitzing her, and she can exponentially increase her damage capabilities by increasing every single relevant possible weakness an enemy can have infinitely. And of course her "Infinity" setup means she could just cast all the spells she'll ever need far before the fight begins. Most likely she is also capable of extreme long range combat by simply leaving OP spells at the site of battle and then leaving, letting her automated magic do the fighting for her while she moves away from battle, no longer being needed. For all we know she could also remotely teleport an arsenal of her magical nukes onto the battlefield from an unknown safe base. Even if you kill her in battle or knock her out, due to Infinity making spells last forever, whatever offensive magic she set to kill you will still continue to attack after she is dead/unconscious, in all likelihood. It is just stupid, she has no limits whatsoever that can really be seen. She could even use normally un-usable elements like Purgatory Flames by stopping their time and storing them with "Infinity", only to teleport them onto opponents in combat. Also, since she has been alive for thousands of years, she has had endless centuries to produce an infinite arsenal of eternally lasting magical spells she can call upon in any situation, making it so she never has to cast any magic whatsoever if she doesn't want to and never needs to get anywhere near her opponents.
Defense+TeleportEvasion+Long Range+Spell Automation+Illusions+TeamwideInvisibility+A million other things:
Starting off, we all thought she was weak to Speed Blitz despite all her cheese, back when Garan nearly blitzed her. Except, her "Infinity" means that is most likely not the case, all she has to do is set up one barrier around herself and have it automatically create more for her like she did earlier with attacks. Right now she is nowhere near her potential with barriers IMO, even though Perfect Cube seems to be an ultimate defense that works in nearly every situation, even against far stronger enemies than her. Nonetheless her invisible spell setup feats show she could create lots of invisible barriers either in battle, or just prior to battle, making her totally immune to attack and only increasingly invincible as more time passes.
Then there is the fact that her teleportation was fast enough to stay away from Zeldris' ON, that's a pretty extreme feat. It also is extremely good at helping teammates evade on top of that. But even if she wasn't fast enough to cast the spell in time she could most likely set up an auto-teleport spell on herself or others which will activate if an enemy gets near her, bypassing her own slower reflexes.
She turned lots of spells invisible, and once refracted light with some 'Aqua Dress' skill in a side story, we have every indication she could also turn herself and other people invisible. Actually, that seems to have happened in Arc 1 when she makes other people only able to see her as a shadowy cloaked figure. Invisibility that works on even high level fighters is incredibly OP. If you are a supposedly squishy mage who uses automated setup spells that don't even reveal your location, invisibility is a quite powerful tool to have.
Merlin also floats, which no non mage-type humans can do for some reason, and this is a big advantage of its own against any Human or Giant who can't fly, allowing her to quickly escape attack range into the air even if she wouldn't survive a drawn out fight. Given her teleportation magic and general omnipotence in magic versatility, she could probably also teleport herself and some oxygen deep underground and create a tiny base underground where nobody will find her or be able to deal damage lol.
Even if her teleportation has a range limit, which has to be incredibly high when she teleported Meliodas back from camelot in just 10 seconds of charge, she can also create a portal network around Britannia. In the side story of Vampires of Edinburgh she is shown to have a portal between Liones and a place near edinburgh 186 miles away, and there's no reason she couldn't just create several more, so basically she could bypass all distance limits for moving armies and OP groups of individuals like the 7DS around with the proper setup. The only excuse I can think of that stops her from doing that is 'enemies will use the portals', but that seems like a mediocre excuse given all the BS merlin is capable of with her automatic spells. She could probably make it so if an unauthorized person tries to use it they are instead teleported into a cell or a volcano.
She also has a large variety of supportive tools in a fight including but not limited to AOE Timestop which seemingly ignores enemy power level, Transmutation that could turn an enemy to candy even if they regenerate from a single cell, teleporting an enemy directly into a volcano or to a distant location where she has prepared an ultimate death trap with "Infinity", easily teleporting herself or allies to safety, or a million other things. Since her magic has almost no inherent limits, chances are if someone can think of an ability and it is not an inherent logical impossibility, she can use it.
Merlin's Information Gathering Abilities:
Merlin has a lot of redundant ways of monitoring things from a distance. Her crystal ball based remote viewing seems to have no noticable range limit in what it can see, and even against Merascylla's Dimensional Distortion that covers all of camelot and prevents teleportation, she can use a remote controlled tiny floating eyeball-monster to remote view Camelot, albeit with a potential drawback that she can receive damage through some sort of feedback effect when Zeldris attacks the monster. She could probably bypass this weakness, though, if she found a way to control a minion at a distance without being directly connected to it and thus not being vulnerable to feedback attacks anymore. Most likely through another "Infinity" automatic spell, where the eyeball sends what it sees to some automatic hologram Merlin watches and records. Her eye of balor magic item lets her detect power levels when normal people can't do that precisely, while her "Location" spell even works on physical objects and lets her instantly scan a city for an object she wants to find. In all likelihood, if she really wanted to, she could monitor everything happening on the continent at all times with little drawback, by just setting up spells that record everything and last forever due to "Infinity". On top of all that, as previously mentioned, she is capable of creating vast portal networks that last forever, and could most likely create tiny invisible ones just in case someone might get through a normal one, infinitely extending her remote viewing range even if that spell has a range limit, by just looking through the portals she creates. Given that she has spells which last forever and can be invisible and undetectable and automated to an extent, she also has incredible tracing abilities in tracking down where an enemy goes, by ordering the invisible undetectable orbs to follow an enemy around or attach to them. And even if she can't detect where they are past a certain range due to the magical energy only being able to transmit so far or something, she could still have them leave behind a trail of magical energy which only she knows how to detect, that lasts forever due to "Infinity", letting her figure out where the enemy went at her leisure. She could also just use this as a precaution on allies in case they get kidnapped and go missing, or have to pursue an enemy beyond the range that she is able to monitor with her crystal ball. For example, imagine if she had used that type of spell on Elizabeth in Arc 1 lol. Most likely she could also make a tracer spell like that not only track location but also record audio/video/etc and scan everything in a wide area so it is essentially like she is there using her remote observation magic, and she gets all that information once whoever it is comes back/is rescued.
Why didn't she find Fraudrin over a thousand years back and eliminate him? Who knows. Is Merlin able to distinguish Demons from Humans through her magic? If she could, she probably could have found out Fraudrin's secret plan even though Dreyfus wasn't biologically a demon, but who knows, let's assume she can't because it's convenient for the plot, even when she can already reveal the forms of curses inside people, or put her own soul into a Sacred Treasure(thus seeming to show some degree of soul manipulation abilities), or detect power levels, which I suppose Fraudrin was able to suppress while possessing Dreyfus.
So, in conclusion, Merlin is essentially Omniscient if she tries her best, given how Infinity currently works. The only things she doesn't know how to do in terms of information gathering are reading minds, or seeing into the future and past, and that's about it. Even seeing the past to some degree is realistically possible for her if she set up a surveillance network around the whole continent with "Infinity" and recorded all the observed data. And i don't think it's much of a stretch to say she can record things she observes with magic.
Healing Support:
You might be surprised since Merlin said she can't cast healing magic, but indirectly, she can, through the 'Magic Beads' she creates which are able to store it. So, if she brings enough of those to a battle, she can effectively become a healer by distributing them to allies. Not that this is necessary as she could distribute a few of her easily created infinite barriers to them anyways so they never take damage.
Playing Sid Meier's Civilization:
Apparently she can restore a vast number of destroyed buildings in Liones in one night. Does this mean Merlin can easily construct cities via her advanced matter transmutation abilities? If so, looks like she's even more omnipotent than I thought, she could practically obsolete everyone in a civilization this way. I guess she can't cast 'create food and water', that is at least one limit. At least, she can't cast it yet....
Merlin's Infinite Hax/Cheese/Deception:
She has so much in this area that I'm going to give it its own spoiler.
As if all her other abilities weren't enough, Merlin seems infinitely capable of haxing opponents. She is able to do any type of magic, so all sorts of light manipulation, including blinding, invisibility for self or allies, blocking visibility, illusions of all sorts, and so on should be possible. She already refracted light once and has also made attack spells invisible before, so it's clearly doable. She can cast a spell that mimicks the magic power and appearance of a giant army of Camelot Holy Knights, so she could do the same when creating illusions for allies so the enemy doesn't know what to attack, sensing the same magic power from both. Even if it is hard to do on super strong allies, it would be easy for her to do for illusions of herself. She has even combined attack and illusion magic in the movie and I doubt she lacks the ability even if the movie is not canon, so fake attacks, fake barriers, etc, are all possible. Since her attack methods can all run automatically, she doesn't actually need to be on the battlefield or reveal herself when she attacks, she could also just cover the area in 100+ illusionary Merlin doubles. She could even combo illusions and invisibility, by making herself and illusion copies of herself invisible, so even if someone can sense presence regardless, they might sense an illusion, attack it(and then get hit for free by automatic attacks), only for the real merlin to be far away out of detection range. Or, if invisibility is obsolete, she can still make countless illusionary clones of herself that all have the same weak power level of 4710, so that enemies can't tell unless their sensory abilities can discern an illusion from a real body.

As for illusionary attacks, they wouldn't work if enemies can directly sense the magical energy of all attacks, as the illusion would have way less power in it than a real attack, but it could still work if she's at a long enough range that they can't detect her attacks when they are first fired. And even if it becomes an obsolete strategy it doesn't really make a big difference, considering that rendering infinite illusion/invis hax useless is probably just one step of many needed to even attempt to fight a serious Merlin.

In addition, she could even use her hax with illusions/invis to do things like fake the death of herself or an ally, against a powerful attack and make it seem as if they were vaporized, all the while having the real one escape and be invisible. If she teleported in a fake corpse that looks somewhat similar to whoever was killed or is too burned up to be discernible from them(depending on type of attack) she could fake deaths in a few more types of situations.

Due to her invisibility powers combined with teleportation, and Absolute Cancel to get rid of magic spells, there are almost no areas she can't scout out or infiltrate. It's to the point where every other antagonist group has needed to have a field which distorts space and prevents teleportation just to justify why Merlin doesn't easily dominate(Vampires of Edinburgh, the Ten Commandments left in Camelot, and Meliodas's Cocoon). This part is just speculation, but it's possible she could even capture an enemy through remote teleportation while making it look like they're still there via an illusion designed to look like them, although this strategy is probably obsolete when she can just teleport them through one of her infinite portal networks anyways so that they can't be tracked down. Most likely she could also disguise her physical appearance as someone else through an illusion, although it's unknown if she can really go as far as to manipulate sound so she sounds like someone else too. She might have learned this through experimenting on Grayroad though.

Beyond invisibility/remote observation/illusions/freely manipulated smokescreens/teleportation/portal networks/etc, she has a few more ways to avoid detection. Her shrinking magic means she could shrink herself and others to a size where they're invisible and put themselves in the pocket of another ally, or just teleport them around undetectably while too small to see. For example, even if Ban's Zero Sign is far better than her invisibility powers, she could just make everyone on the team small and teleport them into ban's pockets. Of course this has severe weaknesses like getting one shot due to tiny size, but it's still potentially useful, and of course it is a humiliating way to render an enemy permanently useless once they are weakened enough to be shrunk. Also means that enemy can't be rescued by their allies without still being shrunken and useless forever.

We don't know if Merlin can use pocket dimensions like the AA's can, but she has sealed Meliodas's darkness in Goddess Amber which is capable of "Sealing" demons inside a small material without physically destroying their bodies, so it stands to reason that Merlin might be able to 'Seal' allies inside of a pocket dimension linked to an object without physically shrinking them. This may have some extra use in hiding allies from any possible detection even if they could be detected while physically tiny. Also, as a side note this seems capable of halting aging while you're inside, based on how the Demons were sealed for 3000 years but never died of starvation/old age. So, "Sealing" might be an effective healing strategy if someone is about to die and Merlin needs time to find the means to save them, as long as she can do this to non demons.

Based on the "Curse Ring" magic item she made that auto-kills the wearer if they try to attack the other wearer of the ring, she can probably use advanced pseudo mind-control strategies even on powerful opponents once she captures them. Plant some kind of kill switch spell that lasts forever with "Infinity", and just set the conditions you want for what causes it to activate. The only ones I would assume she can't set are ones that would require reading their thoughts, at least she is not that OP yet.

Finally, as the last thing to mention now, even though this is probably just the beginning of the amount of BS she can do in this department, Merlin can store her soul in Sacred Treasure Aldan to survive while unable to use her body, and she may even be able to temporarily stay conscious and able to fight with her remaining magic energy supply if her body dies and she has already shifted her soul to her Sacred Treasure, similar to how Ludociel does this in spirit form.
Overall Analysis:
Merlin is clearly God tier in her current abilities and also her potential to get far stronger. She has no real notable weaknesses since she can easily circumvent them all, becoming practically omniscient and omnipotent were she to fight to her full potential. Effective potential attack range with proper setup through portal networks:Planetary, lol, as she can set her spells up everywhere on the planet or have a portal network going everywhere on the planet. Maximum potential attack/defense power:As much as she can generate through creating endless "Infinity" spells for 3000 years straight lol. In other words, she could have spells like the ones able to fight Cusack/Chandler distributed invisibly throughout the world or waiting high up in the atmosphere to drop down on any poor unsuspecting foe who dares challenge her infinite arsenal of magical nukes, she most likely could destroy all life forms on the surface of the planet if she so wished, with a bit of set up. The only real limit I can think of on her maximum amount of setup is perhaps the amount of magical energy existing on the earth that can be safely harnessed, that is about it.
A lot of her abilities are the same so I won't make this one an essay. However, the fundamental change is that "Infinity" will be greatly nerfed and given a more clear logical explanation. First of all, it does not simply defy reason and produce infinite energy like it can now, even though its actual effects when used are the same. Instead, the reason Merlin can use it is that she gets as a power source lots of magical energy that normally goes completely to waste. This would also have something to do with her title as the Sin of Gluttony. The end result is that even Merlin has limits on how many automated spells she can create with "Infinity". The reason she is capable of making spells on the level to harm the 10 commandments or even Chandler and Cusack is that she spends lots of prep time creating spells on this level. It might take her an hour to make one Monspiet-tier fireball, but she has had plenty of time to build up an arsenal in preparation for the potential return of the Demons. However, that arsenal ultimately has a limited size because there is only so much magical energy she can get away with stealing, without ultimately having to kill lots of people, which she wouldn't be willing to do. While she would store several overpowered spells like this in multiple of her labs in Britannia, she couldn't just carry them around everywhere, because she has to use her time-stopping abilities to keep them in stasis, lest they just explode due to decay, since they are far beyond her ability as an individual mage to contain if she messes up. So she can only use them in missions where she has preparation time to safely un-seal these spells, and knowledge of where they will fight the enemy, and usually can only use them in a situation where if something goes wrong, she can just evacuate the Sins via teleportation and no city will be exploded by her mistake. So for example it would have been unwise to do this against Hendrickson since he was in the city when they fought and Meliodas already was going to win, Garan would have attacked too suddenly for her to be ready(while also attacking when they're in a city), although other situations may sometimes be much harder to explain away. But, it at least presents a good explanation why in many battles she would not be capable of facing a Commandment while in others she might suddenly be completely dominant, like vs Grayroad.

This can also finally explain why Merlin is capable of avoiding speedblitz against fighters as OP as chandler and cusack who should be 20x faster than her reaction speed, she would just have automatic barriers she brings with her to the fight that render reflexes unnecessary. She would also still have limits even when using spells like this, since she can only make them so intelligent with automation, so she'd prefer to trap enemies in an infinite combo with the spells after a good opening instead of giving them a chance to escape or outmaneuver them.

And even with all this, Merlin would still have maximum limits to how strong of a spell she can create with her magical energy no matter how much time she spends preparing it, so there is no massive power scaling problem where it seems like she could defeat even God-tier enemies. For example her spells would cap out at being Monspiet level in force/speed, while to defeat enemies like Chandler/Cusack she'd have to greatly reduce the enemy's elemental defenses with Double Impact.
Elizabeth has basically never had a chance to be that strong, most likely because she's a Human and just has vastly limited potential compared to being part of the Goddess Clan, although she may regain a Goddess body in the future. As her human strength is relatively obsolete against the manga's current threats, this is just going to be discussing her potential if she had the base PL of a Goddess along with all the associated abilities.

Support:
Now this is clearly Elizabeth's forte, as even while she probably has usable offense capabilities in her Goddess body, she definitely tends towards support. Even in a human body she seems incredibly good at healing. She restored Meliodas's destroyed hearts while his body was dead, and chances are as a Goddess her abilities would be even stronger. Mass-healing of whole armies at once is a good healing feat overall when those armies are composed of Holy Knights who have nowhere near the natural regenerative capabilities of the GC. She seems able to cure most statuses like with Merascylla's poison or even the Silence curse Mael used. Overall her healing abilities aren't too complicated, while her self regen would also be very good with her Goddess body.

She can use "Purification" on darkness and miasma, although this is not really a support ability when realistically she's only going to use it on Demon antagonists. It just isn't something that can really be classified as an attack. Overall, there isn't much to be said about her healing, she just heals and removes statuses and tends to do so extremely well. As a Goddess she could probably also ressurect the dead like the Goddess in the Horn of Cerrunous promised to, but in all likelihood with limits attached like 90% of ressurection techniques in this series.

Defense:
She mostly just uses "Ark" magic here, although she's never used a high level barrier like "Sanctuary" on panel. Overall there isn't anything complicated here, she can fly and evade, defend with magic, regenerate, and potentially even block physically, as she's shown to use some sort of light-blade from an orb in her palm in one flashback. However, magic defense/evasion seems to be her go to method. We have not seen much in terms of her defending allies at range, but her "Trials of Jonah" summon shows that she can create defenses of a sort and most likely is capable of making barriers for allies while at a distance. As with all other flying combatants, she has the option of escape against people limited to the ground or just moving out of their effective range.

Offense:
Very little so far. She mostly just uses "Ark" and does not have much unique in this area that other Goddesses cannot do, and overall has not had many chances to use offense in a one on one situation or any situation where she is consistently attacking and defending. Nonetheless, it really just depends on her magic stat how effective her "Ark" will be, I don't see any indications that she is actually weak at offensive magic, she just never seems to be a consistent fighter in any way so far, probably due to her human body.

Hax/Cheese/Deception

Essentially non-existent, I have never seen her use this type of strategy in the manga, or show anything unique that facilitates it.

Overall Analysis:
She may not have a Goddess body, but neither did Ludociel, and he had a power level of 200'000. She might be a special case though, because she's a reincarnator and is not possessing a vessel, so her overall feats have not been too extreme in any combat role. Overall, she has not been much of a fighter so far, but if she got a Goddess body she probably would have much more potential to be one, given how Mael rated her level of strength as on par with his and Ludociel's back during the Holy War. Back then, with a purification attack or not, she still 1v2'd two Induras who are probably 100K PL or above, who had lost all sense of reason and obviously wanted her dead, so her prior power level at the least can be confirmed as high. Ludociel probably could have eliminated them on his own with his 200K power level if he went all out, but nonetheless, it's pretty significant that even without a Grace she is able to do the same feat, or an arguably harder one of aiming to incapacitate rather than kill 2 powerful enemies, when incapacitating usually requires holding back so as not to kill your opponent on accident. To me it simply seems like it would intuitively be far harder to "Purify" like that than to blow them up with "Ark", when Darkness is their main life force and "Purifying" it the wrong way should kill them just like stopping someone's heart or bleeding them dry could kill them. She basically did a complex surgery and defeated an enemy at the same time the way I see it. TLDR, Elizabeth could be pretty strong if she got a Goddess body again, and of course, due to having the blood of the Supreme Deity she would be a great candidate to absorb the Graces. It's debatable if she is compatible enough to use 4 as a Human when Escanor could barely handle one, even if she once was a Goddess in a past life and possesses the Druid's healing powers, but she definitely would be if she had a goddess body, considering her relation to the SD and her overall power level. And obviously, should she get the Graces she would be one of the most overpowered fighters in the entire manga, possessing superspeed from Flash, Sunshine's pure power with magic, Ocean and its elemental intangibility, along with Tornado's defenses.
Forgot to add him, but I'm not writing another essay, he is too broken already, with Full Counter, his OG magic which seems to bypass defense, him now also having good magic on top of everything else, etc. Everyone knows Meliodas is OP, he does not need further power ups. All he could get at this point would be somehow obtaining the 10 commandments again anyways.
Now that I listed a lot of their individual strengths and some of their group strengths it's time to just list a few bullet points of what teams of them could do.
-King+Gowther:They already used Celestial Arrow once, but Gowther could try firing Invasion into a pollen garden that cages the enemy, then just have it feedback through the Pollen Garden into a Chastiefol fired from Pollen Garden at the enemy trapped inside, and finally into the enemy. TLDR:Chastiefol could count as a nervous system and he can thus abuse this with Invasion, whether defensively or offensively, if an enemy attacks Pollen Garden or Guardian in melee and Gowther shoots it with chastiefol he can feedback it into them for a free hit too. Maybe Gowther can even make the Invasion effect continue to circulate inside Chastiefol for a while so all melees are paralyzed if they touch it, or vice versa, Chastiefol inflicts the mind alteration the moment it hits.
-King+Diane:Have the theoretical Chastiefol Form 10 I mentioned absorb the excess energy Dolor Dance doesn't utilize into its roots, allowing Diane to support King much more than before. Obviously Diane would be good at tanking for King too while he covered magic and aerial enemies.
-Mael+Meliodas:Broken, they can both use Full Counter and nullify lots of attacks of physical or magical nature. Good luck attacking the two of them without getting Countered. 100x worse if Meliodas also uses his ST, also, Bartra should order a second Lostvayne produced for Mael to abuse lol.
-Mael+Zeldris:Also broken, if Zeldris gets the boost to his gravity powers described above, Zeldris pulls enemies in while Mael full counters whatever they throw at him. Doubly broken if Zeldris has "God" and magic immunity.
-Meliodas+Zeldris:Not as broken unless against magic users.
-Meliodas+Mael+Zeldris:Extremely broken. Full Counter of both types and someone who can pull the enemy in in an unavoidable fashion.
-Ban+Meliodas:Broken in the same way Ban+Any Melee is broken with the buff i mentioned he could gain via Gift giving away his stolen strength, but since Meliodas nullifies magic, it plays to Ban's strengths a lot.
-Ban+King:King can cover for Ban's lack of air combat while Ban covers for King's lack of melee ability. Ban could even theoretically boost King by feeding his stolen strength to Chastiefol just like he used to feed the Fairy Tree his blood, this seems like a great way to offset Snatch's weaknesses even when King cannot use physical strength personally.
-King+Merlin:Assuming this is Nerfed Merlin and she is thus not god-tier OP, they have alright synergy, but nothing extremely special that I can think of. If she can make enemies increasingly weak to King's attacks it would help.
-Merlin+Gowther:Layer their hax with illusions and mind alteration, have Merlin make gowther's arrows invisible if she can and use "Bend Room" so he always hits.
-Mael+Ban:Physical combatants will get fodderized, nuff said. Mael can also heal Ban so he is able to spam "Gift" without losing too much life force, making them both capable of healing each other while also being tanks.
-Merlin+Meliodas+King+Ban+Diane+BetterEscanor+Gowther, vs someone OP(Like the Demon King):

What you do is you play to the strengths of the whole team. Have Diane and King trap the combatants and their enemy in a large closed off earth dome(similar to the Ore Tree), so that the op enemy can't escape into the air and evade Ban/Diane. You have Gowther and Merlin stay outside of the arena because they're too physically vulnerable/slow, and this strategy lets them easily attack anyways from a safe position so nothing's lost by doing this. With Merlin's magic you set it up so enemies cannot teleport outside either. While an OP enemy could easily break a barrier like this, it would probably take at least one strong attack or two, and in theory this means they don't have a chance to take their focus off the enemies in front of them and do that. Then to avoid letting the singular strength of the enemy kill people one by one, you have people work in small groups. King and Diane are one obvious team, King would have Diane do the direct tanking and would frequently use buffs on her along with healing when necessary, overall making her individual strength much stronger than normal. Ban+BetterEscanor are group two as they synergize well, being able to heal each other, while Ban can steal strength from BetterEscanor if the enemy is too strong for either individually, or even Gift strength to BetterEscanor so he has the reaction speed to use Full Counter in time. Meanwhile his invisibility powers give him a great option to use to avoid getting picked off should he donate his strength to BetterEscanor and thus become vulnerable to attack.

Meliodas can choose which melee group to work with depending on the situation, although he'd generally work incredibly well if he coordinates with BetterEscanor and thus makes their Full Counters all the more frustrating to deal with.

Now while they all proceed with this, King has set things up so Chastiefol has roots below the ground, leading to the outside area where gowther and Merlin are. Gowther doesn't even need an opening to shoot at enemies through, he cheeses by sending Invasion through Chastiefol(using it like a nervous system) and hitting enemies with mental effects when they smack into the walls lined with it or when King hits the enemy with some root of chastiefol from the ground. Merlin has zero reasons to be inside when she can cast magic at long range anyways, and since this is Nerfed Merlin she cannot infinitely spam new attack/defense spells beyond those powerful ones she has brought to the battle. Meanwhile this situation makes the standard Sins+Meliodas Revenge Counter strategy where they blast him and his opponent as he 1v1s an OP enemy which they used on Hendrickson just as viable as ever especially since the enemy probably doesn't have a chance to escape once they realize what he's doing. Also if BetterEscanor can use Revenge Counter too, you can have him join Mel in such a 2v1 scenario in keeping an op enemy busy in melee. Ban is a possible substitute as if Corechouse works the way I guessed, he could still absorb magical energy from the projectile spam and later on transfer it to Meliodas when he's about to use revenge counter, on top of just being naturally tanky anyways as well as being able to absorb strength from allies before going in if they are not going to help in melee, thus preventing a wastage of strength. In an ideal situation if BetterEscanor and Meliodas both know revenge counter you could see some DOUBLE REVENGE COUNTER action going on lol. Meliodas sends them into the stratosphere and BetterEscanor follows up with melee revenge counter to send them into space or something lol.

The fact that there are several healers in the party including Ban who can heal Meliodas the easiest("Gift" doesn't conflict with Darkness) on top of his natural regen make the drawbacks of Revenge Counter a lot less severe too. And even if you cannot restrain the enemy boss in one battle location, forcing people like Diane and Ban to potentially become unable to attack, their synergy as a team still seems extremely good, so long as they stick to the aforementioned melee groups and do not all charge the boss at once on their own, instead using this buff-stacking strategy.

I am sure there are a lot more overpowered combinations but overall they all seem like they could get vastly more OP with their current skill sets if they worked together in just a few of these ways.
Edit:Let's not forget this guy:
But srsly tho, Hawk needs to just stop breaking the tension. Stop. No more of this Nakaba: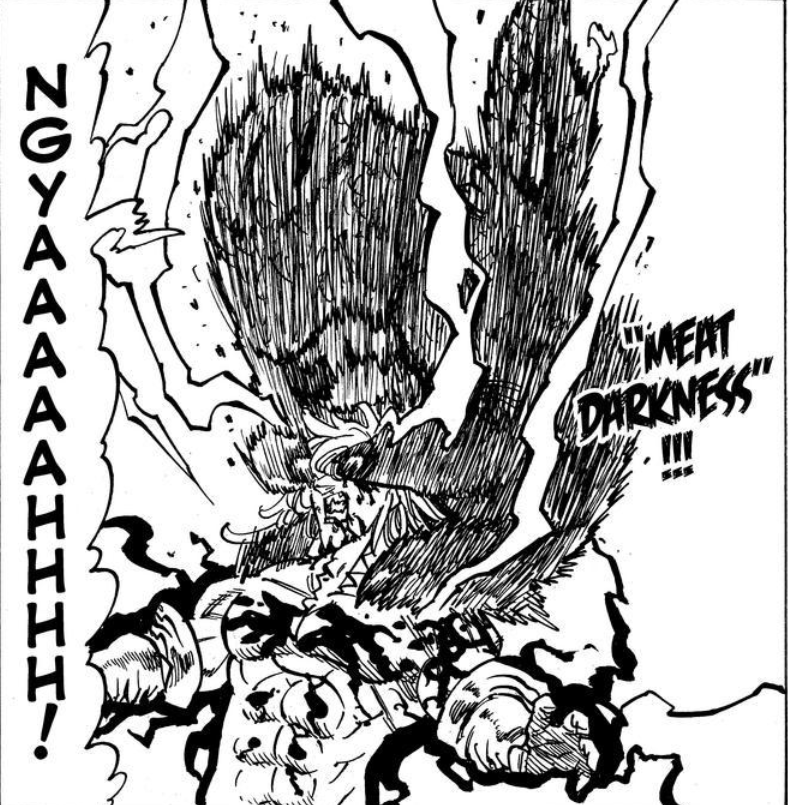 Worst panel in the manga right there. Him being in fight scenes just completely breaks the dramatic tension. Same as the BS Chandler 'seal lick' moment. Just why. Why do you have to utterly destroy any shred of dramatic tension with this one dimensional character Nakaba. Make him stick to cleaning up the leftovers plz.
Last edited: