MH Senpai
神のごとし / Kami no Gotoshi / Godlike
JoJo's Bizarre Adventure (2012)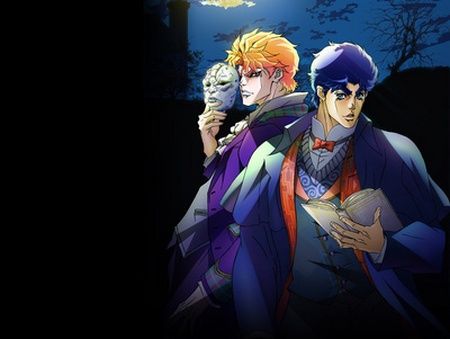 Title:
JoJo's Bizarre Adventure (2012)
Episodes:
unknown
Status:
Airing
Aired:
Oct 6, 2012 to ?
Producers:
David Production
Genres:
Adventure, Action
Based on a manga:
JoJo's Bizarre Adventure Part 1: Phantom Blood
(and possibly later parts too)​
Summary:
Jonathan Joestar, a young wealthy son living in Victorian England, has his life destroyed by a recently orphaned Dio Brando, who was taken in by Jonathan's father. Dio, who plots to drive Jonathan to insanity and inherit the Joestar fortune, becomes an unstoppable vampire that Jonathan must fight.
Comment:
Surprisingly entertaining start, I thoroughly enjoyed it. The characters are weird but likeable (or you love to hate them), the voice cast is doing a pretty nice job and the animation is something out of the ordinary. Well probably everything about the series is out of the ordinary so if you're in for something refreshing, new (or rather old, as this manga is from the 80's) and special you should definitely give this a try!