Intl Translator
有名人 / Yuumeijin / Celebrity
Joined

Aug 2, 2011
Messages

3,366
Reaction score

455
Gender

Male
Country
K Project
Anime
About
Set in a world where history has taken a slightly different course from the one we're familiar with, K follows the story of a young boy whose life is caught in a psychic war between seven kings with unusual powers.
Main character, Yashiro Isana, aka Shiro, is having lunch with a cat on one of the school rooftops. After his lunch break, Shiro goes on an errand for his classmate Kukuri to prepare for their upcoming school festival, only to be chased by some intimidating-looking men.
Whilst each of the Kings and their followers are warring against one another, Shiro gets caught as he seems to resemble someone involved in the war. From the moment he is involved, his life changes completely.
Status:
Weekly & Half-Seasonal. 13 Episodes completed
Season 2
for another 13 Episodes has been green-lit for late 2013.
K Memory of Red
Manga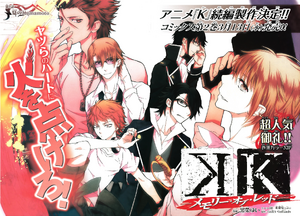 About
The story follows the Third King Mikoto Suoh, known as the Red King who created a group called HOMRA filled with extraordinary people who are the followers/clansmen of the Red King. If you manage to successfully join HOMRA, you also acquire unbelievable psychic abilities.
This is a prequel to enjoy before or after you've watched the anime.
Status:
Monthly & On-Going
K Stray Dog Story
Manga
This is another series set prior to the events that take place in the anime. Set at about the same time as K Memory of Red, this series follows the story of Kuroh before the K Project anime.
Status:
Monthly
Now Completed.
Creator: Studio GoHands
I think this is an amazing series with lots of potentional. It should be noted that this franchise came straight from an anime team as oppose to coming from either a game, novel or the most usual way, a manga.
The anime looks fantastic and seriously modern, the plot is a serious non-mainstream plot with dark twists. The way the manga's tie-in to the anime which will be coming back for another season is very nice too.
This series is worth your time.
Discussion here
Favorite character?
Favorite King?
Favorite Powers?
Your expectations for the next season?
Last edited: