Harasho
神のごとし / Kami no Gotoshi / Godlike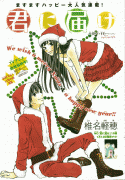 By:
Shiina Karuho
Serialized In:
Betsuma
Genre:
School life, Romance
Scanlated By:
Loyal Kiss
,
Mango Scans
RTS
This story is centered around a girl named Kuronuma Sawako who is nicknamed Sadako (ghost girl from "The Ring") by her classmates because of her scary face and demeanor. She greatly admires Kazehaya-kun from afar, he is "100% refreshing" and is able to draw in people with his personality. Unlike her facial expressions, she yearns to make friends and live as a normal student. Gradually, she starts to affect those around her, including Kazehaya-kun...
Winner of the 2008 Kodansha Manga Award for best shojo.
Last edited: