Registered User
上級員 / Jyoukuuin / Sr. Member
Joined

Jan 27, 2018
Messages

296
Reaction score

1,795
Country
If there was any hint to them actually being used, or any sensible point, I would agree. But:
1. Sunshine is an ability generated by the SD, who was cast aside even in the series where she was relevant as a villain or opponent for the mains. Even if push comes to shove, it doesn't make sense for her to decide to lend a hand, even indirectly, by lending this ability out that already bit a non-goddess character in the tuschus. If Famine is not a goddess on Mael's level, there's no point. I won't even add Tristan to this equation, since he has it straight from uncle Gowther that it's a bad thing for him and he should just deal with what he inherited straight up from his parents. Plus, it would never make any sense for the SD to try and give or allow Tristan to have it, since he's the being whose existence she should despise more than anything.
2. Sunshine was originally used by Mael who was either too dumb or too cruel to lend it back out, after regaining it. Then it was used by a very popular Sin and the revelation that it wasn't his natural power, added to the fact that not only did he never awaken anything naturally of his own but it also ended up shanking him disappointed many. If you combine that with the fact that Mel also turned out to not predominantly wield his true ability/power and awakened his real ability very late in the game, with very little lead up to it, again shows that repeatedly playing around with powers on loan, or powers who ended up not being as useful or enjoyable for their holders at it seemed at 1st glance is not a very good writing choice. And for now we don't have any hint towards any of the KoAs wielding Graces. Derivatives of the ones the main cast of Taizai used, in the case of the likely offsprings it's a lot more likely. Look at even Lancelot's possible situation; if War is indeed Lancelot, Chaos didn't even have to lend him anything, only nurture and enhance what he inherited from Ban and Elaine.
3, We saw no sign or reference to Flash, Tornado or Ocean making a comeback as an ability for any of the 4 MCs. I doubt uppity Ludociel would even consider lending his to anyone close to Melizabeth's "spawn"...as for Tornado and Ocean, Nakaba didn't bother to properly develop or make them relevant enough in the original story and in the hands of Goddesses, whom they naturally match, I don't see how they could help against the forces of Chaos, if this is their main opponent.

If they return along with their main users, I have no issue with them being re-used, same with the possibility that Famine is some clone of Escanor's and maybe, just maybe, Gold(en) Magic as an artificial ability created by Merlin or derived from Sunshine residing in Escanor's body, but not Sunshine itself and not with the same side-effects.
The only peace of hint towards SD, Sunshine, and Mael is provided within this picture: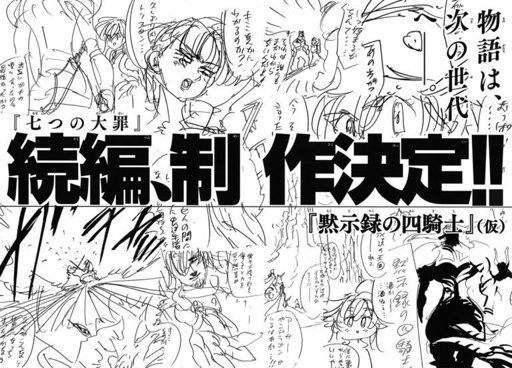 I can't call it EVIDENCE, because it's not definitive at all, but it's still suggestive of Mael's importance in the sequel among other possibilities.
There was also a revelation about a friend of Arthur at the end of NnT. What's the point of this revelation if the GC is irrelevant to the events of MnYK? I don't agree with you about SD and her role in NnT. Considering all the events in late NnT, I think SD is more of a MnYK character. Her clan will also be more important in the sequel. What Nakaba told us about that man is a key to enter the domain of GC in MnYK.