Manga Editor
上級員 / Jyoukuuin / Sr. Member
Joined

Jun 17, 2006
Messages

336
Reaction score

15
Age

32
Gender

Male
Country
_________________________________________________________________
[mod=First post edited to provide info on series ~nm ][/mod]
_________________________________________________________________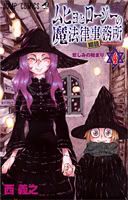 Title :
Muhyo to Rouji (Muhyo & Roji's Bureau of Supernatural Investigation) ムヒョとロージーの
Mangaka :
Nishi Yoshiyuki
Original Publisher:
Shueisha
Serialised in :
Weekly Shounen Jump
Genre :
Shonen, Comedy, Supernatural, action
Status :
13 Volumes On-going
Licenced by :
Viz
Summary
Due to the annual increase in crimes committed by ghosts, laws were made by the spirit world. It is the job of Muhyo and Rouji's Magical Law Consultation Office to enforce those laws...a series with nonstop laughs and heartpounding action. Check it out…unless you're too scared.
(taken from Jump-scans)
Edited Manga Groups
Shiraku
(All chapters available for download)
Get your previous & latest chapters at
SHIRAKU Edited MangaS BOARD
Downloads
#lurk (IRC)
---------------------------------------------------------------------------
[Shiraku] is picking up this project where jump-scans left off too. Thanks to yoropiko for the awesome translation and to delete for the awesome typesetting.
*Quote from the jump-scans thread:
What is it about? It is GSI Ghost Scene Investigation enjoy it guys
*end of quote
So there you have the story in a nutshell. Enjoy.
Its been a while, however:
Chapter 20 is released!
Get at it
our site
(or IRC)
Last edited: