MH Senpai
MH中毒 / MH Chuudoku / MH Addicted
Joined

Mar 31, 2006
Messages

5,646
Reaction score

561
Gender

Male
Country
Narutimate Accel 2
System: Playstation 2
Releaste date: 12/20/2007
Price: 6800 Yen
Development: cyberconnect2
Official websites:
cyberconnect2
||
Bandai
Narutimate Accel 2 FAQ
Scans
Translation
(condensed translation) << (I didn't translate the big text, since they're just those promotion tagilnes, unless you guys request)

Planned Release Date: December 2007
The game will feature the famous opening movie for the Shipuuden anime.

<Sasuke-Naruto/Kakashi pic description>
Naruto and Kakashi builds a team and attacks Sasuke...!? New information will be divulged in the next issue.

<Kyuubi Naruto/Sasuke pic description>
Sasuke challenges Naruto and his overflowing Kyuubi powers, with his own high-speed taijutsu. Who will win?

<"Scoop" text>
The ultimate evolution is achieved through the new "Narutimate" as two combatants clash!!
The intensity of battles in Accel 2 increase! With the magnificent ninjutsu and ougi clashing, the battles are sure to be fun. Naruto and Sasuke's great new ougi are something not be missed!

There will be 62 characters all in all! With all the playable characters add up to a huge number! And Uchicha Sasuke, as well as "Shippuuden"'s new character will be added to the already huge roster! Please wait patiently for more updates!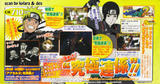 Summary
There aren't really any important information here, I think. It just says that you'll be able to launch an attack using your support character(whom you can pick; not pre-set), continuing the main character's attack string, and thus making a combo. They call it "NaruCon" (con = combo)
The game itself will also appear on the Tokyo GameShow on September 22.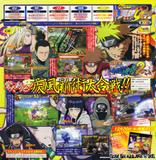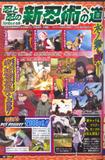 *NEW*
Videos
#1
Narutimate Accel 2 Promo
#2
Live on TGS #1
#3
Live on TGS #2
#4
Longer Intro + Ougi Promo
#5
Narutimate Accel 2 CM 1
#6
Narutimate Accel 2 CM 2
#7
Narutimate Accel 2 CM 3

#8 Narutimate Accel Release Trailer



Videos after the release:



Narutimate Accel 2 Ougis / Specials 1
Narutimate Accel 2 Ougis / Specials 2
Narutimate Accel 2 Ougis / Specials 3

Narutimate Accel 2 Intro
Narutimate Accel 2 Cutscene 1
Narutimate Accel 2 Cutscene 2
Narutimate Accel 2 Cutscene 3
Narutimate Accel 2 Cutscene 4
Narutimate Accel 2 Cutscene 5
Narutimate Accel 2 Cutscene 6
Narutimate Accel 2 Cutscene Outro

Previews

Gamespy [ENG]
Famitsu 10/13 [JP]

*NEW*



New Characters:

* A total of 62 characters in the complete game
* TS Sasuke
* TS Ino
* TS Chouji
* TS Kiba
* TS Hinata
* TS Shino
* Sai
* Yamato
* Orochimaru (updated)
* Kabuto (updated)
* Real form Sasori
* Chiyo (upgraded with puppets)
New Gameplay Mechanics:
* NarutoCon (A assist system for combos).
* Team Jutsus & Team Ougis
* New Items
New Levels
* Orochimarus Lair
* In front of the Akatsuki Hideout
* New Konoha stage (from TGS Demo)
* Entrance to Orochimarus Base
* Konoha Gate (maybe a updated version of a previous stage?)
* New tunnel like stage in the picture with sai on the cc2 page (maybe danzou meeting place)
* Akatsuki Lair (seen on the scan with real sasori)
* Bridge where Orochimaru and Team 7 fought
A super big thank you to Kylara for scanning so much for us and p1noypr1de for translations ^^
Last edited: