Harasho
神のごとし / Kami no Gotoshi / Godlike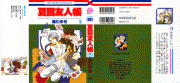 Natsume Yuujinchou
(Natsume's Book of Friends)
By:
MIDORIKAWA Yuki
Genre:
Fantasy, Supernatural
Serialized In:
LaLa
Scanlated By:
Transcendence
and
Ashitaka x Taiyou
RTS
Natsume's just an ordinary kid, except he can see spirits just like his grandma Reiko could. Reiko used to bully the spirits and bound them to her will in the "Book of Friends". Now that Natsume has inherited this book, a never-ending stream of spirits is coming after him to retreive their names from the Book. With the help of a spirit "cat" (who says he just wants Natsume to die so he can have the book), Natsume spends his days dissolving the contracts that bind the spirits and trying not to get killed.
[hr]
An unbelievable, genre transcending manga. Natsume is a modern fairy tail about loneliness, isolation, finding people to love, and learning to trust them. Comparable to Mushishi in rich, vibrant beauty and depth while appearing to be a simple story. A must read for all manga fans and one of my favorite series of all time. Adapted into an equally brilliant anime.
Last edited: