MH Senpai
有名人 / Yuumeijin / Celebrity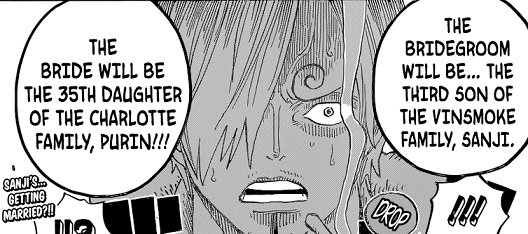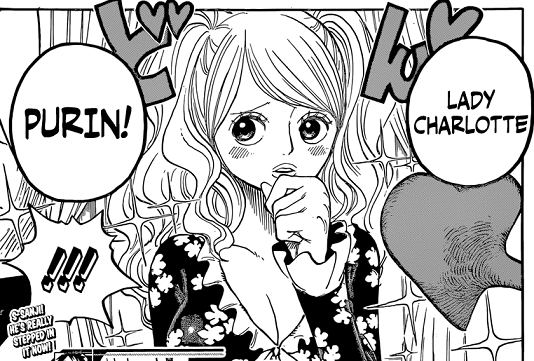 When we were in Zou Island, Capone Bege came announcing the arranged marriage of Sanji and Purin, and took Sanji away. Everyone was totally shocked by the news. So was the bridegroom-to-be! The bride was unknown to Sanji and the Straw Hats. Who is Purin? Big Mom's daughter? So she is the notorious pirate and yonko's daughter? Sanji's father and Big Mom arranged the marriage?
What???? Hey, wait a minute ....... you mean I'm going to marry someone I've never seen before? And she is the yonko's daughter? Are you kidding me? Is she beautiful? Can I see her panties? Hey you, Brook! Stop it! She's gonna be my bride. I bet she's a HOT chick!
Congratulations on your marriage, Lady Purin! The wedding is just right at the corner, please do get some rest and take a break from all your work. All of us are sincerely wishing you the best from the bottom of our hearts.
Are you blessing Sanji and Purin's marriage that they will be happy ever-after? Or you are not! You are gonna be the greatest and most powerful
Wedding Crashers
, go uninvited and making sure that the wedding cannot take place. What are you going to do to crash the wedding? What are your reasons for doing so? How are you going to do it? What if you are caught? Someone challenges you? Fight or flight? Will you fight back, or you will run away? How do you plan to escape? Do you have accomplices? What will they do? Did you crash the wedding at the end?
Oh....c'mon...c'mon...don't just stand there, show us what kind of Wedding Crasher you are!
Here you are at the reception .......
​
Welcome to Sanji Vinsmoke and Purin Charlotte's Wedding!