MH Senpai
MH中毒 / MH Chuudoku / MH Addicted
Joined

May 18, 2006
Messages

6,104
Reaction score

1,283
Gender

Hidden
Country
Official Movie Site
Trailer 1
(old)
Trailer 2
(shows new footage)
Trailer 3 (thanks to Super-chops from AP)
(new one)
Movie to come March the 3rd, 2007, aka 03-03-2007
It's out!!
Download links:
RAW torrent
(
Screenshots of this RAW
)
Vegapunk RAW
(link to VP downloads page)
Greg said:

Worst/Most Disappointing anime film I have ever seen.

Ever.

This coming from a man who suffered through the Utena movie.

The Dr. Slump skit was the BEST part. Well, no, that's a lie, the announcement for Movie 9 WITH FRANKY was the best part but if it turns out like this pile of horseshit then it's nothing to get excited over.

Just to give you a general idea, I've seen episodes that look better than this.

I dunno who they sourced the material out to but no one knows how to draw ANYBODY. And not in the cool Movie 6 way, a bad unintential way.

In fact, the only person with consistant/decent animation throughout is Vivi and her limpid eyes. 90% of the budget went towards Vivi's eyes, 5% to Pell's exploding scene (which was actually cool) 4% went to making a big fucking deal over the now boring as fuck and plain annoying X-mark 'Nakama' bullshit scene that has officially jumped the Monda, and 1% evidently went to everything else.

But you know what? Shit animation doesn't bother me. It never has. So what? The overwhelming majority of Japanese (more accurately Korean) animation in this day and age looks like shit anyway. It's so goddamn clean and sharp that the personality and feel of animation has completely left the scene.

The problem is, the story. And not lack of story mind you.

Oh no folks, because when they said they were gonna change it a little at JUMP Festa, they sure as hell meant "a little". Picture all of Arabasta. Now remove the following (in no particular order):

Ace
Marines
Rainbase
Kappa
Vivi's Complete Flashback
Spider's Cafe
2/3 of Operation Utopia
Kung Fu Dugongs

Then imagine packing everything else the fuck into basically an hour and twenty minutes. EVERYTHING. We're talking about Luffy catching Mr. 2 to the raising of the fists.

I was COMPLETELY baffled (and continue to be) in trying to figure exactly for what audience this film was conceived. There is VERY little altered. VERY FUCKING LITTLE!!! I'm not screwing around when I say that. Stuff that DOESN'T need to be in there IS! That in mind, why THE FUCK would any fan in their right mind want to see exactly the same story!!!!!!????????? BECAUSE THAT'S EXACTLY WHAT IT IS!!!!!!! And the fights!!!????

This is insane.

This is the kick in the nuts.

The movie packs so much in, that if you WEREN'T a OP fan you have no hope. There is no chance for survival. Coherency is lost. In fact, the only way to follow the story is to have read the comic or watched it on TV, which again, if you have already done, WHY PAY 18 GODDAMN DOLLARS TO SEE THE SAME STUFF BUT WORSE!!???

Ok, example. We see Usopp and Chopper paired off against MeriKuri and 4. That's all, we just see them basically facing each other.

When we come back, Lassoo is hurling balls, holes are everywhere and MeriKuri in her mole/human form is dragging Usopp around.

WHAT!!!!??????

If I hadn't read the comic, the movie would literally have driven me to the point of insanity. 1 and Double Finger are handled the same. Out of nowhere, Zoro is cutting a man to no effect. Why? No explanation to be found. The only one who actually explained his powers was 2 because of his scene on the boat.

Another point, since there was no Rainbase, the first scene with Croc and Luffy is actually at their first showdown in the comic in the middle of the desert.

They begin talking like old enemies when they've never met.

HUH!!!???

Furthermore, Croc never showed signs of psychic powers, but he manages to find them for no goddamn good reason in the middle of the desert. HUH!!!!?????????

If reading this frustrates you just imagine me sitting there dumbfounded in my seat.

So what did the film actually change? I didn't sit there with a notepad but here's from memory.

Again, no Marines, no Ace. When we see them first on land in Arabasta they're heading for Yuba.

No Rainbase from Yuba, they head instantly for the Rebels before Luffy makes his decision and then split up.

No ocean crossing.

Instead of an arm, Luffy's leg is dried up.

Croc's hook no longer visibly pieces through his side. It makes a bulge in his top.

Sanji is present for the Mr. 2 fiasco on board the ship. When he goes to be touched, he tells 2 not to touch him.

Surprisingly, 'Okama Way' is left on 2's jacket. More on this phenomenon later.

The crab takes the crew right up to BW at the city entrance. The squad doesn't come in until Kaloo is down for the count.

Each crew member ends up with their opponents right away. So Sanji and Eyelash are with 2. (oh, unless I missed it, they just start calling Eyelash by name randomly instead of actually saying it's his name)

The fights are DRASTICALLY abridged!!!!! DRASTICALLY!!!!! Each fight has about three scenes. The match-offs, a few exchanged blows, and the finish. Some of these are REMARKABLY short like Nami's. Since the film moves as fucking warp speed, I figured they were trying to give more time to fights. Nope.

Instead of blasting Double Finger through a building, the final blow shoots her into a bridge which she bounces off of. You've got me on this one. It makes about as much sense as taking off 'anchor'.

An extra scene is added where Croc brings the mummified pirate (the piggy guy) to King Cobra whom he addresses as "Mr. Cobra". This was a much needed scene in the manga to give them some more interaction.

No battle between Luffy and Croc as the palace. Total removal of the Mizu Mizu moves. In fact, total removal of water, only the first time when he manages to grab Croc. He fights entirely with blood.

Kohza is injured by Croc at the palace, there is no attempt made to stop the rebellion.

Kicking Claw Squad is totally out.

Pell comes in to rescue Vivi from Croc when they meet the first time instead of Luffy switching places. This is where Sunday's power is revealed....well....not revealed but seen.

Pell is not seen being shot down. It's only related as a flashback.

As some have already pointed out, elements from their second fight were included in their 2nd/final encounter in this film.

There's an interesting/quirky scene I enjoyed which actually showed Nami untangling Double Finger to get her Tact back. I liked that a lot and felt the manga could really have used that. Very brief but one of those, "Oh yeah, she'd have to do that wouldn't she.", moments.

No Igaram. His wife does everything including the double. No mention is made of him.

No bounties.

No meeting with 2 before the escape.

No Mr. 3.

This did it. This just blew my fucking mind. Despite the piece of garbage ending with the X scene, no Robin joining or even hinted at joining. Okay, all well and good......okay.....then....WHY DID THEY SHOW HER SITTING ALONE AFTER THE EVENT HAVING FLASHBACKS TO OHARA!!!!?????????

I shit you not. Despite her being dumped for the ending, she has a flashback to Ohara burning along with Sauro laughing. THE FUCK!!!????

So those are the scenes that stood out. Obviously there were plenty more corners cut and tiny things tweaked here and there, but overall that's what it was.

So what was good about it?

The opening was awesome. Just downright awesome. Pell flying through the sky with Vivi for the opening was wicked. Unfortunately, slowly but surely you begin to realize that corners are being cut, like a flat scene zoomed in and panned on that should have been animated. From there it all just goes downhill. Fast. Lines are read quickly and often without ANY impact on the viewer. The movie moves at a lightning pace and would easily leave anyone not well-versed in OP in the dust.

Next, leaving in Okama Way was awesome, but then why change it to begin with? Then why leave out the skewering but show blood splattering from soldiers who get their faces mauled? And Sunday's Clutch is more painful-looking than it has EVER been.

They do this effect several times throughout where they pause the animation and overlay a painting of the scene at 'emotional'/important parts like end of battle, etc. The screen pauses and sound stops. This effect works briefly but they pause SO LONG that I actually thought something was wrong with the film. Seriously, you will crack up when you see it. You'll just be like, "Uh...hello? Movie?" Where did this work? One scene and one scene only. Zoro defeating 1.

It was bloody wicked. It needs to be a wallpaper ASAP. It's disgustingly sweet.

And as for the money shot, Luffy beating Croc....I'll be honest...it was pretty damn cool. It definitely was. No denying that. But here again is the problem. The movie moves so damn fucking fast, it's over before you even know it! I mean, Storm never looked more vicious. Croc gets his shit served to him. And someone actually had a bright idea to add something unique *gasp* to the final blow by having Croc sent up through a spire before shooting out into the sky.

Oh and Pell's explosion is cool. The film is basically fellating Pell fanboys. He gets a better scene than ANY of the crew ('cept that one Zoro still-frame)

But anyway, yeah. That's the film in a nutshell. A rushed, disgusting-looking rehash.

In order to see how this film COULD have been, go watch the 10th Anniversary DB film. That took familiar characters and events yet changed them just enough to make it a cool standalone story with plenty of emotion, action and coherency.

This is just the world's longest Arabasta AMV without decent music.
Posters from Battle Frank @ ArlongPark forums:
Battle Franky said:

From what I gather, it'll be a total rework of the Alabasta arc in film form. It's set to come out in the Spring of 2007.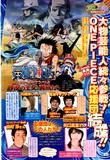 Opening
posted by Alexander Anderson over at AP:
"Compass" by Ai Kawashima
(if you want a taste of her voice, clicky
here
)
From what I've read on APforums. it seems it'll be a recap of Alabasta arc with new footage. A somewhat twisted recap.
Last edited: