Registered User
初心者/ Shoshinsha / Beginner
Joined

Dec 6, 2007
Messages

2
Reaction score

1
Gender

Male
Country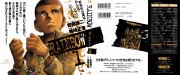 Rainbow
Written By:
Abe George
Art By:
Kakizaki Masasumi
Genre:
Prison Drama, Tragedy
Serialized In:
Young Sunday (2003-2008) Big Comic Spirits (2009-2010)
Mangaupdates
Anime Discussion Thread
2005 Shogakukan Award Winner for best manga
---
Hi, I'm trying to gather all the fans of Rainbow manga by Abe George and Masasumi Kakizaki because I really like the manga.
Maybe if there is a lot of people that like it there will be more group that wants to translate it. I read in mangaupdates.com the series is currently up to vol 19 but Manga-Fiends and Manga-Sketchbook's project on the manga's only up to vol 1..
description from mangaupdates.com:
Six minors (16 or 17 years) answering to the nicknames of Joe, Mario, Suppon, Baremoto, Biceps and Cauliflower are put into a reformatory for offences such as aggravated assault, swindle, flight, etc. Their stay in hell begins immediately. Accomodated by a doctor paedophile, they are placed under the monitoring of a despotic and brutal crew. Companions of cell of certain Sakuragi (called Anchan), the tension flares up between the band of buddies and their new "friend". A brawl breaks out and our six prisoners are done rossés by mysterious young man thanks to his boxing talent.
The story will not only follow the lives of these seven characters surviving in their hellish environment, but also their disillusions due to the rejection by the outside world and by their close relations. This is about the extraodinary and invincible friendships between these young men.
I've read only up to vol 3 of the series from the publisher in my country but I really like the series and wish there's more hype for this series so it gets scanned and translated more quickly
The story is really good..I'm also looking for anyone who can provide the raws of this manga so maybe I can try to find a translator and get it scanlated. Thanks!
Last edited by a moderator: