MH Senpai
有名人 / Yuumeijin / Celebrity
Joined

Dec 30, 2005
Messages

4,997
Reaction score

39
Age

35
Gender

Male
Country
News
Raruto Chapter 01 in English is out
Get it here
Official English Title: "You Damn Ninja!"
Chapter 02 in English will be out on Monday, June 5th
Official English Title: "The Trial of the Hams"
Chapter 03 in English will be out on Monday, June 19th
Official English Title: "Ninja Assassins"
A translation of the first opening of Raruto can be found here:
http://mangahelpers.com/forum/index.php?topic=3942.0
Raruto's Staff

Main Translator:

KageMane

(visit his forum: http://narutoya.myfreeforum.org/
)
Proofreader/Translator:

mageofdeath


2nd Proofreader/Typesetter/Translator:

rykarreolacr


Coordinators:

rykarreolacr

,

Jesulink

(the author of Raruto)


[size=10pt]

Just what the hell is Raruto?
Last year, November the 30th to be exact, a Spanish guy called Jesús García Ferrer aka Jesulink, started drawing a parody of the famous manga "Naruto" by Masashi Kishimoto.
Jesulink said he was inspired of doing so by others parodies of Naruto that were getting very popular, like Haruto, Canuto and Joputo; and of course by the legendary Dragon Fall, the best selling parody ever made, that was published some years ago.
Last week, chapter 10 of this amazing doujinshi called Raruto, surfaced the Web, and the same Jesulink still can't believe the success his parody is having.
Receiving thousands and thousand of downloads by Spanish speakers from all over the world, Raruto became the best parody of Naruto and it's probably the funniest one.
It's also worth mentioning that Jesulink's art is amazing, the images alone transmit humor, since the characters are chibi-like and big-headed; this style is known as "Super deformed".
The humor in Raruto has been defined American-like, like the one in cartoons such as South Park, The Simpsons or Family Guy.
The English version was in Jesulink's mind since the beginning, but it wasn't 'till a couple of weeks ago, that the project actually started.
The official Raruto's Website is
www.raruto.bitacoras.com
That's right guys!!! The first chapter of Raruto in English is coming in the next few days!!!! Wait for it!!!
I'm in charge of the project...
By the way, those are Raruto characters on my signature!!!
And now the covers of the manga so far (in Spanish of course):
Chapter 01: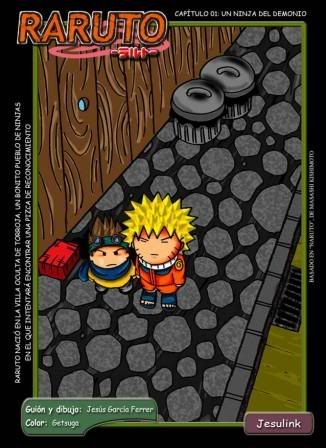 Chapter 02: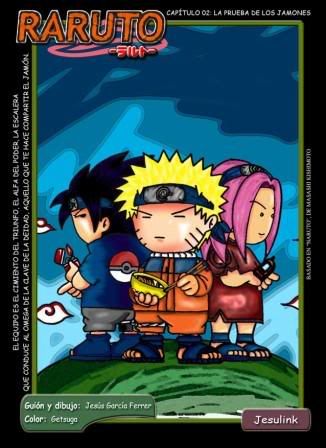 Chapter 03:
Chapter 04:
Chapter 05:
Chapter 06:
Chapter 07:
Chapter 08:
Chapter 09: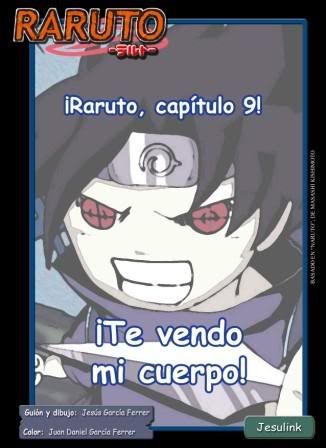 Chapter 10:
Chapter 11:
And now, the first opening of Raruto!!!!!! (yeah... it even has an opening)
http://www.megaupload.com/?d=WT243I08
Enjoy