Registered User
中級員 / Chuukyuuin / Member
Joined

Sep 7, 2006
Messages

149
Reaction score

34
Gender

Male
Country
Behold, another week...new Shippuden...life is good.
This chapter...well, it's quite surprising. There's a reason it's called the AWESOME Chapter.
Naruto 343: Heartless​
Cover
Creepy Sasuke...staring at you...PEERING INTO YOUR SOUL...
Eh, it's a portrait. What more do you want? Anyway, colorists, HOOOO!
Page 1
So many fallen...all of them alive, apparently. This speaks greatly of Sasuke's skill if he managed to incapacitate them all without killing them. But there's old Orochimaru, saying that Sasuke can't do anything if he doesn't kill his emotions. Yeah yeah, we've heard it before.
Page 2
Sasuke only intends to show no mercy to Itachi.
This is quite promising. Sasuke has vowed to only kill Itachi. So he still has a core of humanity left within him. There's hope!
And ooh...Orochimaru admits that Sasuke was better than he was at that age!
Page 3-4
Holy CRAP! There's hundreds of them! He took them all out without killing them! Geez!
No wonder Orochimaru wants his body.
...okay, that sounded wrong. XD
Page 5
Team 7, sans Yamato, at Ichiraku Ramen. Naruto isn't ambidextrous when it comes to utensils, apparently. Can't see Ichiraku Teuchi's new assistants though...
Page 6
Well, there's a definite downside to
Futon: Rasen Shuriken
. He used it three times (well, twice, if you don't count the one he used with the Kage Bunshin), and his arm's fractured in multiple places. Just like Chidori, which takes tons of chakra to use, this new technique even has a downside to one who has enough chakra to use at least ten Chidori!
I'm glad Kishimoto puts limits into strongest of all techniques. Chidori can only be used less than five times a day due to how much chakra it uses. Mangekyou Sharingan takes TONS of chakra (leading to Kakashi being hospitalized for days...and if Itachi's words are to be believed, it also leads to eventual blindness). Orochimaru's jutsu to switch bodies can only be used once every three years. Naruto isn't like DBZ, where Goku can use Kamehameha whenever he feels like it. Until he runs out of power, which he replenishes by dying his hair blonde and yelling a lot. :P
And what's Naruto enjoying? Close proximity to Sakura?
Page 7
Ah.
And despite his injuries, he's still focused on Sasuke. That's what he's enjoying...and in a way, they are getting nearer to him. He's closer and closer to crossing that bridge...
And I bet Kishimoto threw those bottom panels in for the NaruSaku fans. Just a bone and nothing more...
Page 8
Especially considering this page. XD
Sorry Naruto, Sakura's not going to feed you. It's Sai! "Why the hell are you the one feeding me?!" He recalls from a book how a true friend always helps a friend in need! Then Naruto retorts that before doing that, one needs to know the atmosphere (aka, what are the circumstances?) of the situation.
Ah, comedy. How joyous. And I can't recall the last time Naruto complained about ramen being too hot. o.o
And here's Kakashi! And he ends up being the one feeding Naruto.
XD
Page 9
Poor Kakashi. He's been in the hospital so often, it's a strange sight to see him outside. If Naruto and Company hadn't showed up, it seems Kakashi would have ended up using the Mangekyou Sharingan against Kakuzu.
This leads to what would've been a cool victory, but it would've hospitalized Kakashi. Again.
Page 10
Kakashi speaks once more about how Naruto is now either equal to or past Kakashi. Perhaps he refers to it in terms of jutsu strength...or maybe he's talking about how Naruto will be once he reaches Kakashi's age?
But here we have a warning. The greater the jutsu, the deadlier its effect on the user. Remember this Naruto!
Page 11
...Orochimaru's new hideout is a hole in the ground.
Am I the only one who found this hilarious?
It seems Orochimaru's body is reaching its limit. This seems to be a universal problem with old snake-face. It also struck me as odd that Orochimaru would be dying just from having his arms sealed. No jutsus, to be sure...but to the point of dying? Now we have a reason; apparently, the longer he stays in a body, the more his spirit seems to 'corrode' away at it. This brings Dante to mind from the Fullmetal Alchemist anime; in FMA, Dante had used the Philosopher's Stone to transfer her soul from body to body over several centuries. However, with every switch, her soul would cause the body to decay even faster.
Perhaps the same is happening here. We can only hope!
Page 12
Standard evil laughter. Wonder how much he's anticipating the transfer to Sasuke's body...
And Kabuto looks oddly suspicious. Why...?
Page 13
An energy sword! Orochimaru's being attacked!
Page 14
An unknown chakra type...? Even Orochimaru's never seen this before! A new mixed element, like Mokuton is a mix of Earth and Water for Yamato, and Hyoton was a mix of Water and Wind for Haku?
Door's sliced open. Who is it...?
Page 15
What the?
SASUKE?!
o.o
Huh. Guess we know what that jutsu was Orochimaru told him not to use...or not. After all, Orochimaru's never seen this chakra type before, so it seems this 'chakra sword' was made by Sasuke alone. So we're still in the dark about what it was that Orochimaru told him not to use...but besides that, dude! Sasuke's attacking him!
Page 16
Seemed Orochimaru expected this...because apparently, there's nothing left for Sasuke to learn from him.
And really, this final panel in the chapter says it all.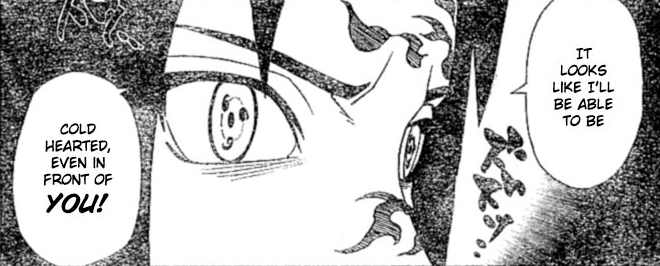 The Curse Seal's been activated, and Sasuke's done with Orochimaru.
Wow. Talk about a twist. I did NOT see this coming.
Rating: 5/5
I literally yelped when I saw page 15. I'm not kidding. It's been a long time since a chapter surprised me like this. Seriously.
This bodes well for Sasuke. If he manages to get away from Orochimaru, then it's just him against Itachi. Then after that...what's left? Rebuilding the clan? Sasuke's still capable of humanity! Looks like Naruto's goal isn't so inconceivable after all.
Seriously, wow. This chapter had humor, action, drama, and surprise. It was COMPLETE. And it has the potential to...no, scratch that. It IS a huge turning point in Part II.
To end this commentary, I leave you with this.
OMGWTFBBQ.
And that's my reaction to this chapter.
(squeals in delight for preparation for next week) Sasuke vs. Orochimaru!!!
EDIT: Looking back now, I can see why Kabuto looked suspicious. He walked out the exact same door that Sasuke broke through moments later.
So Kabuto saw Sasuke coming.
So either Kabuto will intervene on Orochimaru's behalf...or he'll sit on the sidelines and watch...or he'll help Sasuke.
The plot thickens.