MH Senpai
有名人 / Yuumeijin / Celebrity
Sahara the Flower Samurai
(or Hana Samurai no Sahara) by
SHIBATA Yusaku
A new series published in Shonen Jump GIGA by a former assistant of Eiichiro Oda, who is the creator of best-selling series, One Piece. The artwork has an Oda-esque but yet unique on its own which is reasonably good. The story also looks promising.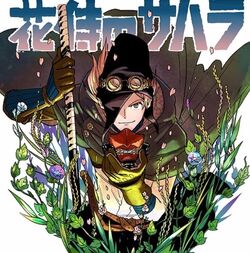 Synopsis / Summary
An unusual encounter between Sahara Sanjūrō and Yae Tokiro when Yae was trying to get across to the next town by an aircraft but was mistreated by the owner who refused to take
him
along.
Whilst at the other side of the platform, Sahara met some hungry kids and shared some of his food with them. When he saw Yae's predicament, he decided to help him. He used his sword - which was able to shape-shift to different forms of flowers or plant life - to get onto the aircraft while carrying Yae when the owner ditched him and flew off his ship. It was during this time when Sahara realised that he was grabbing on to a girl.
Unfortunately for the aircraft they got on, it was hijacked by a group of bandits. Yae was threatened by the leader of the bandits' group who took away her father's ashes and a precious live-flower which was left behind by her father.
A sudden sand storm hit the aircraft and Yae was thrown out of the ship where again, Sahara jumped out and saved her with his sword and landed safely on ground. Their encounter did not end there when they were attacked by an automated zombie warrior which was then defeated by Sahara.
The duo's journey continued as Yae made a contract with Sahara with the condition of Sahara's protection of her flower and her father's ashes until they reached her father's homeland, the Valley of the World Tree.
How will they reach their destination? What kind of trial and obstacle would they face? Who will they meet? Are they able to achieve their goal?
Let's dive into the story.
____________________________________________________________________________
The first two chapters have been out and scanlated. I strongly recommend this series. It is a good read.
Last edited: