Registered User
上級員 / Jyoukuuin / Sr. Member
Joined

Mar 12, 2006
Messages

277
Reaction score

0
Gender

Male
Country
Kuchiyose no Jutsu - Summonings are carried out by many characters in the naruto world(usually powerful characters), and usually the animals summoned is affiliated with the characters personality.
e.g. oro => snakes
Tsunade => slugs
kakashi => dogs
and so on and on.
i know Kuchiyose no Jutsu - Summonings can also be summoning of objects, weapons, walls, toads insides and also dead hokages. but just to keep it simple please lets keep it animal related ok. thank you
im just starting this thread to see what animal you would associate with your favourite charactors whom have yet to summon.
theres loads of poeple i think will be interesting. e.g. what would u associate with neji, rocklee, TenTen, shino, shakamaru, sakura, hinata sasuke, chouji, kiba, ino, sai, konohamaru, and any character in the naruto series, no matte how powerful of weak, big or small.
rocklees is one of my fav chara and i would love to see him summon the 3rd's Monkey King Enma, that would rock!!!!! or for some reason im thinking he may summon a dragon as his animal (a drunk one)!!!!!!!
and dont moan about how lee cant summon because he cant use ninjutsu and so on,just imagin he could for the sake of peace ok, thanx
EDIT
:
i think this would suit shikamaru nicely.
i was so shocked to see gai summoning that tortise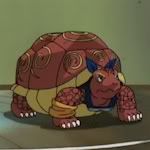 but what if his more powerful animals were like this
that would rock
for future sakura how would a rhino sounds
i picked a rhino becasue of super strength and rhinos are composed animals untill u piss them off, which results in them stomping you with super strength. much like timeskip sakura
and for neji i found this animals picture, tell me what you guys think
anyways what animal would guys love to see????????????????????????
Title edited ~ bax