Registered User
英雄メンバー / Eiyuu Menbaa / Hero Member
Joined

Mar 30, 2007
Messages

2,350
Reaction score

10
Gender

Male
Country
Well Well Well,
It wasn't long since my last commentary! *Surprise Surprise*
here's another one for you. Hope you enjoyed my previous comments, I've got a lot of positive feedback from then,
and it's because of your support I've decided to continue on commenting on One Piece. If you happen to find a lot of "strange" things in my thread, like my
"rainbow"
system and the
"Star"
rating system, please check
chapter 432
at the bottom of my signature! Anyways, I'm pretty sure Garaku would be starting his "own" version of his commentary on this chapter quite soon if not later. (I hope he posts the link in his signature so we'll know if it's released or not). As a matter of fact, I hope that you check out his commentaries, it's good to find out two different points of view in the chapter.

*Note: There will be "two" changes here in the commentary. One is that, I'll start using alphabets to mark per comment. Secondly, in order to reduce the pictures being scrolled out, especially bandwith for the dial-up users, I'll be enforcing ! Spoiler ! tags for the pictures. I really hope this doesn't bring any inconvience to you. (If it does please tell me!) Thanks for hearing me out!
LET THE COMMENTARIES BEGIN!
WHITE SILVER'S COMMENTARY!
​
One Piece Chapter 434​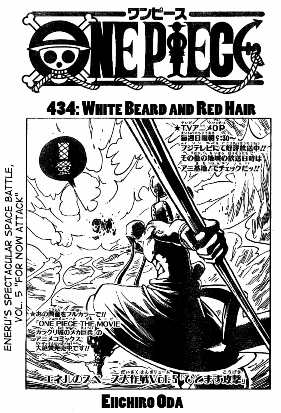 WAKE UP YOU MISERABLE B*(*&, MIGHTY THUNDER OF ZEUS ATTACK !!
​
A. The "Best" Alarm Clock....EVER......:
Looks like Enel is up to no good again, first he sees a sleeping guy and now he wants to wake him up in the most "godly" way possible. By THUNDER! From his perspective, that's just one exzzzziting way for a wake-up call!! The symbol is quite similar to Luffy's Pirate Flag, only his is a "Tall" hat. Is he a pirate of some sort? Well, we may find out in the next volume. *BITZZ* *Ouch*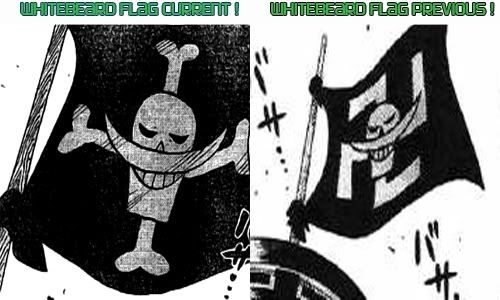 You see Padawan, that is what we call a "major" shift in the balance.......
​
B. A change of Design:
In a normal case, the original Manga keeps it's designs, while being a disturbance to some people the Animated version changes or a certain *cough* Viz *cough*. This is the first time a Manga idea or design is changed for the very same reason. According to Wikipedia, Oda's Swastika Design for Whitebeard (which is cool by the way), has made quite a disturbance to the public, in fact, it's so disturbing that not only have the Anime changed it's design he was forced to change the design in the Manga as well (which is quite disturbing to readers like me). Anyways what's done is done..





And he's DOWN for the count.... 1... 2.... oh whatever
​
C. Mysterious KO's:
Well, it looks like someone has boarded the ship, and apprently, one of Whitebeard's commanders have stated that only a "Half-assed resolution can't retain his/her conciousness from that man". Must be someone really great, just in case you haven't noticed, usually mangas (fighting) employ this "Ki" concept where an opponent would faint, lose consciousness or see violent images of death in their eyes against an Adversary who has a superior amount of "Ki/internal energy" in them. Naruto/Rorouni Kenshin/DBZ emply similar methods as well (usually it comes in a form of "Killing Intent"). Must be part of the Japanese/Asian culture. Anyways, it'ss pretty impressive, he can practically go to a "Marine base" threatening them with his energy and none would stand up (unless they have someone who can). Here's another view of what I mean: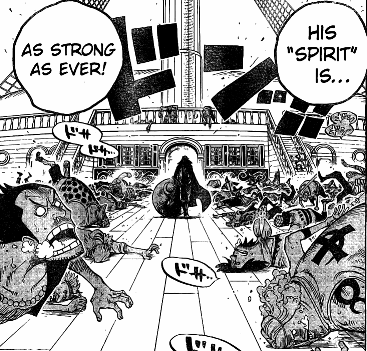 Ahhh... FOOD POISONING ALERT!!!
​
​


And who is this "mysterious" guy???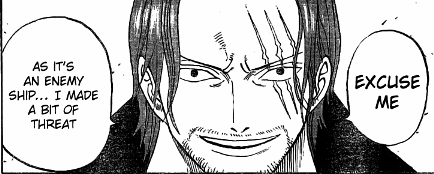 Hello Ladies.......
​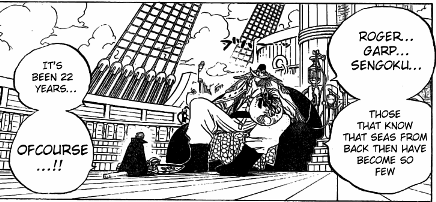 I wonder what shoe size he has????
​
D. Talk of the "Past":
Wow, it seems that these folks go way back! 22 years?? That's a long time. Some familiar names show up "Garp", "Roger" and "Sengoku"?? The Fleet Admiral??? Wow, this guy is one big shot to be mentioned. I wonder what the old days were like with him. According to their discussion, these people "knew" the seas before are a lot more than it is now. I wonder what that means? Maybe it's because there weren't enough Pirates out there occupying the sea or such and such. But I always wonder what the "era" like 22 years before. Well Shanks better have something better to say than talk about "Old Times Sake".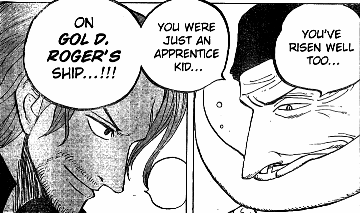 That's right! *Stands up with Pride*
​
E. WHAT!!!
:
Okay, that's something "new". *Gosh Oda you keep bombarding us US with revelations*. An "apprentice" from the Pirate King himself. Looks like I can understand why they're being so familiar between each other. I just find this quite difficult to eat but easy to swallow. And here I thought Shanks was just another "pirate". The links between the characters are almost invisible but at the same time "strong". It's really amazing for Shanks to grow in such a level, but anyways, it's a very interesting revelation. This can also explain why Buggy "knew" about Whitebeard so well.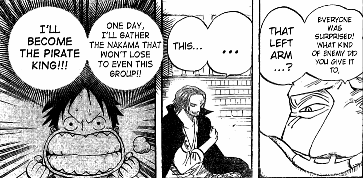 My left arm??
Like I'm telling you!!!
​
F. Yes, who cut your arm?:
That's a very big mystery the people out there (though we really know what happened). I'd bet Whitebeard would go nuts to see a lousy Eel bit off one of the 4 Emperor's Arms. The flashback about Luffy had stopped Shanks from explaining so. I guess he wanted Whitebeard to find out "eventually" the greater threat to his position as the "Strongest Man in the World" is none other than Luffy. That arm was the sacrifice of making the future Pirate King, and I think what Shanks see in Luffy is probably the same as Gol D. Roger. I'd bet he can't wait to get his hat back!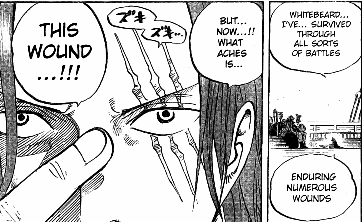 You mean "wounds"!
​
G. The "tri-scar" mystery:
You know, I *gulped* in curiousity before reading the next page. Surely this is one of the many questions fans would like to know. If you read Rorouni Kenshin/Samurai X, you'd think of the same question: "What is the history behind that scar?" (and then some fanboys go, "you know? I want that scar too"). And now it is about to be revealed. Shanks mentioned about it being "aching" more than his "other" wounds. Maybe it's because it had something to do with a really "painful" memory.

May I remind you I was gasping at this point. I nearly didn't read this chapter for some reason (maybe it's to soon to be revealed) but anways...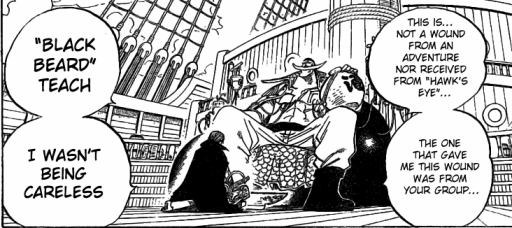 NO FRICKEN WAY!!!
​
H. BLACKBEARD????:
I was totally surprised by this revelation. One of the 4 Pirate Emperors who fought with Hawk Eye multiple times talks about a pirate who deems a greater threat than one can imagine. In other words, Blackbeard is just using Whitebeard as a camoflauge to devise his real intentions. He must be some real serious dude to do that damage to Shanks (if in fact Shanks say is true of not being an "accident"). From my understanding, Blackbeard Edward Teach is Oda's favourite pirate, that's why he included him in One Piece, honestly I just thought he'd be done over with Ace, until now. Being his favourite Pirate, he's eventually going to put him in the spotlight as the "main" villain of some sort, I don't know. Darn, he's more mysterious than the Akatsuki.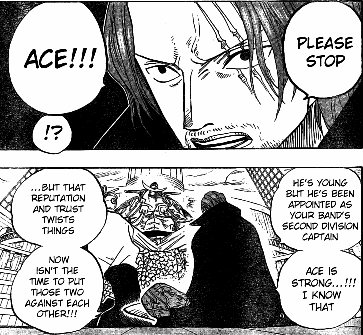 Ahoy there! Can you hear me from below??
​
I. A far more threat that we could've imagined:
Now I'm worried too. Ace, being a 2nd Divisional Commander of Whitebeard's crew just made me think that he's really a top-notch guy that can handle trouble, even guys like Blackbeard, and honestly, I've always wanted to see them meet each other while Ace teaches him a good lesson. But reality hits here, "Reputation" and "Trust" blinded Whitebeard from the real truth. Ace may not (it's difficult to say) defeat Blackbeard at all!!! Looks like Shanks have some bond with Ace just like Luffy, and he's looks really worried about the situation.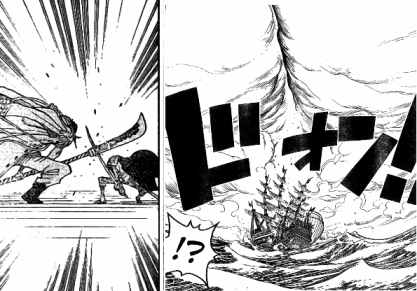 Out of that *clash* came something sweet, real SWEET
​
J. Rejection! NOW FIGHT:
Looks like Whitebeard don't approve of Shanks' concern. I wonder what do you call the weapon Whitebeard uses? But it seems real nasty to me, the power of their clash can split a cloud in half. Now we're TALKING BUSINESS HERE! So this is what it's like between Hawk-Eye and Shanks which brings the question: Who's the better swordsman?. According to this chapter, it wasn't mentioned who won against who. I wonder why Hawk-eye is considered the best if he can't take down another swordsman? Looks like we'll expecting some MAJOR action between Zoro and Hawk-eye after witnessing this scene!





Even with my "Sniper" lens, I can't FIND THE DAMN COMIC STRIP SECTION!
​
K. Latest News Report:
As much as we haven't anticipated. The World Government is not keeping secrets this time! I mean, how would they explain the destruction of Enies Lobby? Guess they're taking Luffy a lot more serious this time. That would surely cause fear and panic to wherever Luffy goes! If he has to get a bounty, it must be something quite attractive like "250 million beli" at most. I'm anticipating this guy to pit up against SogeKing. Oohh... my body is tingling at the thought! But here's the thing, is "Blackbeard Teach" the replacement of Crocodile now? Great, now he can have the Government at his side too!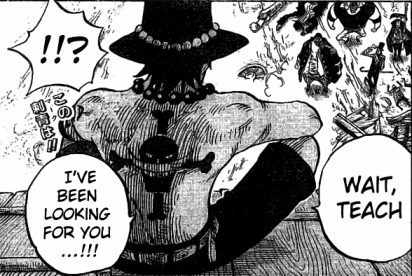 Hey Teach, looking for a "light" for your cigar?
​
L. Just when I thought it wouldn't happen so soon:
This doesn't look good. Had the conversation between Whitebeard and Shanks been removed, I would've jumped for complete joy. But now I'm really worried, this scene is "unforgivingly" familiar as "Team Asuma vs. Akasuki" one. I pray and hope there'll be no "unwanted" deaths here. I want to see MORE ACE!! Let us see what Oda has in store for us!

The cool "symbol" behind Ace's back has now reverted to the Anime version. I really hoped Oda would create something better than that!

Rating:
Bonus Stars:
Just when I thought it was over, Oda has yet again surprised us again with this chapter. It's like the whole "Enies Lobby" (which took forever) paid off with the last 4 chapters. After finding out a lot of things, it's good lot of the revealed things behind and can now completely focus on the here and now! Blackbeard may be the "main" villain at one point but knowing Oda, there's definitely something about the World Government and the ponyglyphs. The pace is getting better and better and it's more exciting as it progresses. Hope you'll tune in for my comments next week!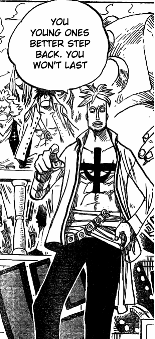 After this chapter, you may be right!
​
Credits:
Cez and Kokotas for their scans
[*]

GK

for original concept
[*]You readers out there!

​
​
​
​
​
​
​
​
​
​
​
​
​
​