Registered User
英雄メンバー / Eiyuu Menbaa / Hero Member
Joined

Mar 30, 2007
Messages

2,350
Reaction score

10
Gender

Male
Country
Hello again!
Sorry for being a bit tad-too-late for the commentary.
I had a really hectic schedule and not to mention being really tired and dead lazy! Garaku seems to be keeping up the good pace and now it's my turn to step up with the comments. Once again I thank for your support and if it wasn't for you guys I wouldn't be continuing the OP commentary. Thanks for Cez for the scans on this one, it's quite the decent quality we want. Well let's get back on to the topic shall we???
~~~ One Piece Chapter 436: Pants from Frankyhouse ~~~
​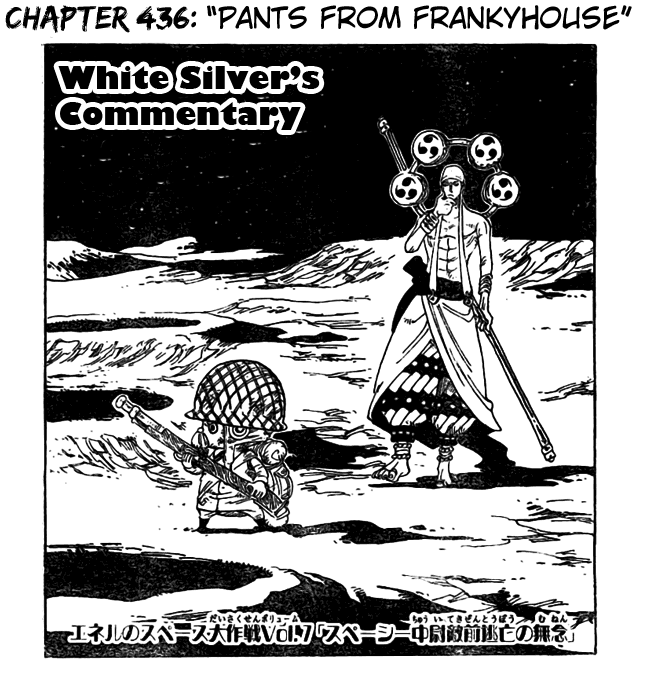 A hunting we will go.....

​
1. A moment in space Fairy Vearth:
Once again, we're in another "splash" page on the moon! Enel hasn't kicked his habit of the "gun-under-the-chin" curiousity routine. Is it a moon-mole? Or is it a creature that came up from earth? The gun doesn't look that "foreign" so I'm sticking to spacecraft here. And so what are these two cooking up in this place? And right now I'm beginning to suspect the moon ain't so lonely after all.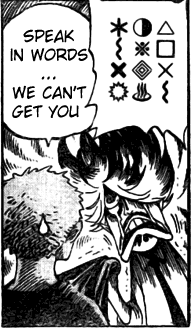 Sanji-o-glyphicks the "HARDCORE" language!
​
2. Sanji-dalically speaking....
his "upset" meter is way off the chart. Now he's a interdimentional sort of an "abstract" art.
And I agree with Luffy, that IS a huge amount for a first bounty, only they came up with the worst possible drawing possible for him. Looks like he'll be in the dark or the visible dark for the mean time. Zoro's comments really do give Sanji the extra pressure he needs. You'd think Sanji be pleased to see the bright side of the bounty, well I guess dignity and honor has more value to him or else we wouldn't see an all-exclusive portrait to the Moseleum as the most "prized" painting of all time! <--- LOL!

Or it could be that Oda has a thing for "WingDings" font...




Looks like the amateur needs to work out his "instruction" manual..
​
3. The unnatural occurence:
: Well well well, if it isn't things going bright for Sanji-kun. On one hand, we have the most interesting bounty picture, on the other we have a picture that has been taken completely in the dark. Strange how these things happen. Well it's good to know that the Strawhats are considered "Exceptions among Exceptions". The goverenment is aiming high on this once, they're probably going to be the most notorious pirate group to ever sail the seas! With the 4 Emperors and Dragon at their hands, they're probably most worried that Luffy may stand out from the group and being their worst possible enemy since Gol D. Roger.




The "King of Kings"! Grand Revelation of the New Pirate ship.
​
4. And a NEW Nakama appears:
You know, this ship is very "Strawhat" like! It resembles a little bit of Going Merry only that it's Grander than ever before. I myself would love to take step inside that monumental of a ship. Yes, I think this is the one that take Luffy and his crew to their dreams. Oda has not forgotten the whole essence for the Mugiwara Pirate Ship. Every since Going Merry went, I was expecting something a bit more "pirate-like", looks like he has retained that idea and took it to the next level. And as of now, we have yet to see what is to be discovered within this ship.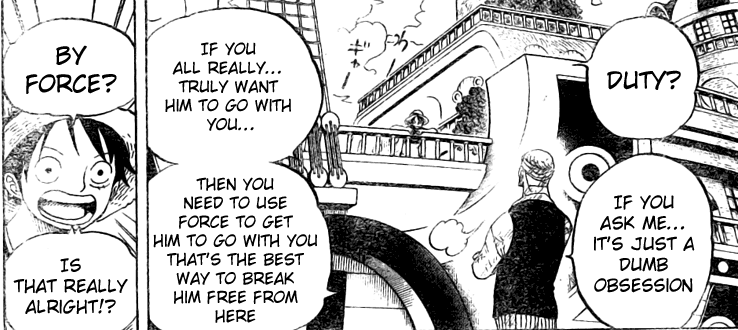 Dude, the FORCE has always been with Luffy.....
​
5. Get back the missing Padawan:
You know if you look back a bit further, you'll see that every one of Luffy's crew has been taken by FORCE! Ussop on the other hand was forced to join, and we can see why he was the odd one out. Anyways, Luffy is very strong in that department, and if you know him, he'll chase you to till the end of the earth to make you his Nakama. *cough* *cough* Enies Lobby arc anyone..... I wonder what type of method Luffy intends to retrieve his once before Enemy. Ironic isn't it? this is this same guy that was responsible for messing up Ussop in the first place. Not to mention they have the strongest bonds to their ship. I really hope Ussop comes back!!




I don't like the sound of that......
​
6. The "prized" possession:
Oo Oh, looks Franky's crew are getting a little too concerned for their boss! You really can't get good men like that nowadays, they're going through fire and ice in this one, and they're prepared for the consequences at all costs! Insulting the boss is one thing, but taking his underwear off is another story. Which reminds me, how long has he been wearing that underwear does it have anything to do with the "cybernetics" beneath it???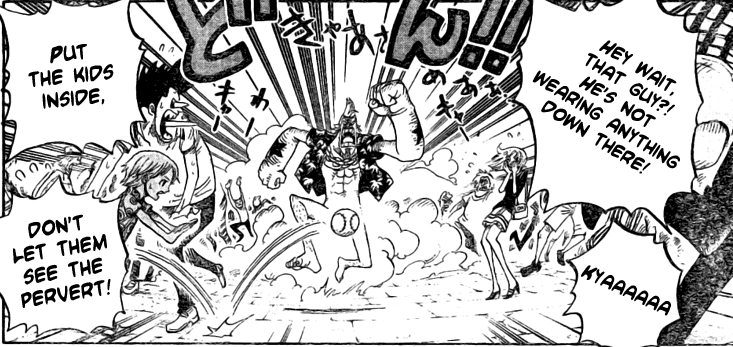 STREAKER ON THE LOOSE.........

​
7. The "naked" truth:
EEekk.... doesn't this guy feel any shame or what? And the ol' prop as the censorship for the privatees. The Franky brothers are definitely gonna take some hits on this one. Really BIG hits! Such sacrifice for the sake of their boss, such shame for the sake of their boss. Well anyways, this is probably one of those hilarious scenes in the One Piece World. Running around town till the end for Luffy and his crew.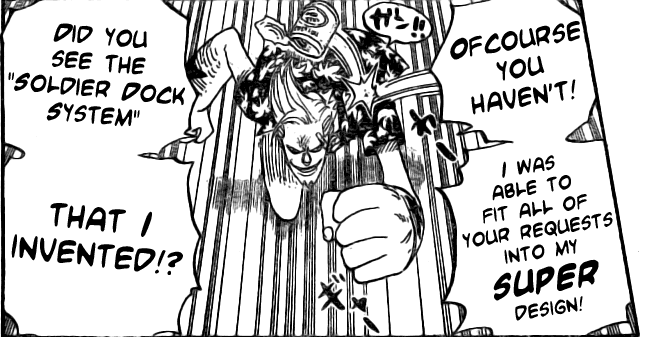 Oh, so there's another secret within the ship??
​
8. More surprises to come:
This ship is beginning to look like one of those gadgets that could do possibly anything. Looks like Franky has never stopped being in the creative department on that one. Sounds like him alright, after seeing all his Battalion ships, he might even stash a secret weapon on the ship.

Here's my guess on this one: This ship is actually "Pluton" in disguise. I don't see how or why Franky should burn the blueprints that easily, he's probably memorized it in his robotic brain of his. Knowing his love for increasing the firepower of his ship, I'm saying we're not seeing the last of it. Eventually the governement may have found somebody other than Robin to translate the Ponyglyphs, it's good that there's something to it for the sake of the "plot".




What about Salt Water fish huh???
​
9. A miniscule "All Blue":
Looks like Sanji-kun would be getting his dream quicker than expected. If I remember correctly, All-Blue is a sea where the fish from all Four-Blue's gather up in one area. Well, considering this aquarium at hand, all he has to do is capture fishes around the world. I'd bet this will be the most favourite place for Sanji. Not to mention......... [whisper]it's Luffy-proof [/whisper]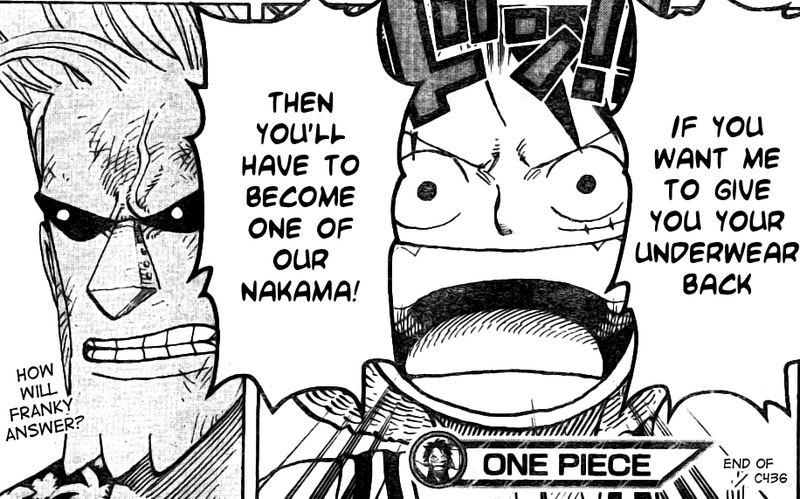 I'd put that underwear down if I were you, who knows how long he's been wearing it!!

​
I guess it's pretty obvious at this point
that eventually Franky will come to the decision of joining the crew. What I'm really worried about is Ussop, nothing would be the same without our old Sharpshooter. And from the looks of things, they're probably going to leave without him.


Rating:
I've been really friendly with the past few chapters, but I'll say that the revelation of the new Ship and Sanji's priceless portrait just made this chapter worthwhile. The STREAKER part got all the humor needed, but I believe almost half of this chatper is focused on the chase with Franky. Oda could've done a little more on Ussop but nonetheless, this is a great chapter.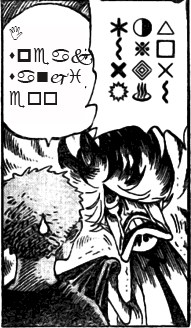 Translation: Yes I can speak Sanji-o-Glyphics too!
​
​
​
​
​
​
​
​
​
​