Registered User
英雄メンバー / Eiyuu Menbaa / Hero Member
Joined

Mar 30, 2007
Messages

2,350
Reaction score

10
Gender

Male
Country
Once again another late commentary for One Piece, forgive me I've been quite busy lately. It seems that Garaku is quite busy at this point, he said that he'll send a triple commentary (which is a lot). Well since nobody is taking over I'll be doing it at this point, it would be quite late though, due to the late scans and such.
Thanks to Yoneikai for the scans on this one, and the quality is very decent! You may notice some of the screenshots here that are "edited" for humor purposes. Anyways let's go!
~~~ One Piece Chapter 437: NAKED BUT GREAT ~~~
​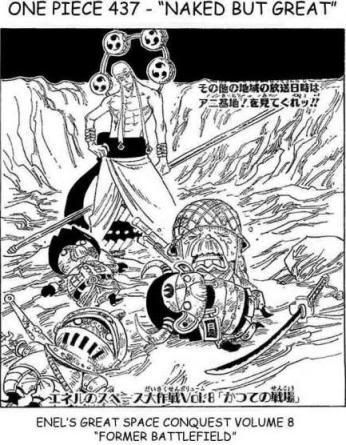 And then there were/was 4 1!
​
1. Space Cadets in a whole different variety:
This got me thinking.... Who'd ever thought there'd be the same type of creatures on the moon, in different types as well. Looks like is at his "confused" look again. Looking at the "moon-moles" as I would like to call it. We've got a knight, samurai and a cowboy and they're all lying down as if they were being struck by lightning. Oops, has Enel got something to do with this? Or is there another "creature" lurking on the moon.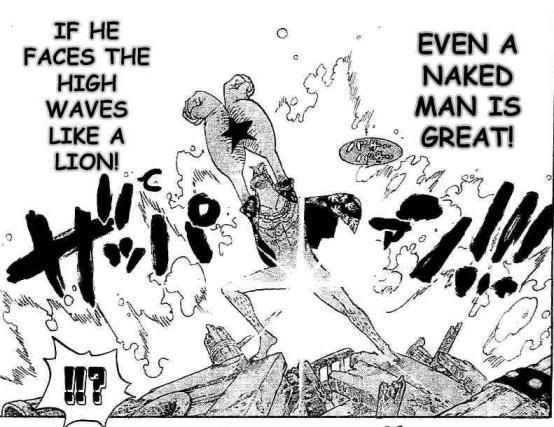 Speedos' new masqot!
​
2. Streaking out for picture:
As bold as Franky might be, I think that's crossing way over the line. Nakedness to prove his machoness, that attitude sort of reminds me of Gai, but the more extreme version of that. Notice the water splashing through the rocks as the character makes a pose in between. Quite popular for the manga comedic effect, though this is a bit more literal. Anyways it does seem that removing his underwear will not make Franky change his mind about leaving Water 7. Talk about stubborness.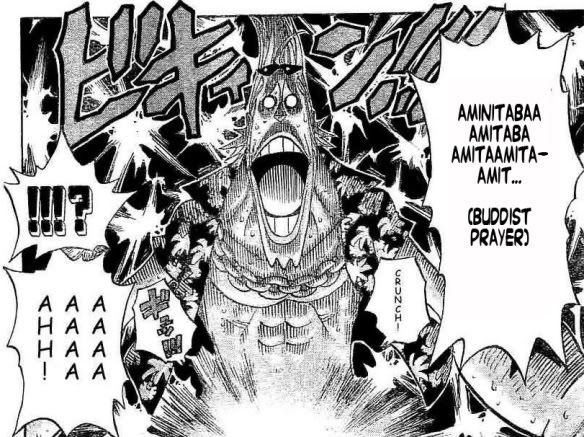 *Picture is edited*
​
3. Oooohhh, that's gotta hurt!!
Talk about "crushing" nuts. Well that's what he got for being stubborn. I wonder if his nuts are actually robotified as well? Seeing the look on his eyes, I'm guessing not, so that's another weakness to look for aside from his back side! Talk about Robin gettin her hands down and dirty. I wonder what's inspiring Franky to withstand that kind of immence pain and pressure.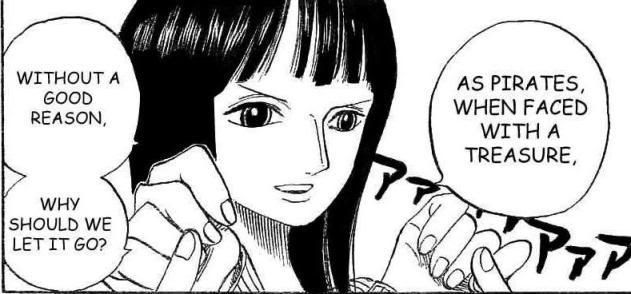 Treasure? You mean the Family "Jewels"?
​
4. Well she's got a point
about the treasure. Without letting go, hmm....... I wonder if she likes it? Some extreme methods are enforced right here, heck I'll agree to almost anything if someone grabbed my nuts and threatened me! Who'd ever thought removing Franky's underwear would cause so much complications and problems. But what exactly is Franky thinking right now, I can't imagine.




Well currently we're seeing your fated situation...
​
5. Franky's dream:
This is what I love from Oda's work, he has the time to go and do some flashbacks to add to the effect of the story. We've understood a lot about the characters because of the flashbacks, I feel we're getting a lot more in One Piece than any other manga I've read. There's the "Splash" page that tells a side-story of the current event, on the other hand, Oda puts in a mini-story through the flashbacks in the characters, and they aren't limited to the main characters, even the bad guys like Lucci had a little side-story regarding his entry to the CP9. And best of all, he can still manage to keep the pace of the storyline (although it's quite slow for the past 2 chapters).




Soft hearted man/cyborg.......
​
6. Don't blame yourself:
Franky may seem like a bad guy at first, but he's very committed to the people of Water 7, and it's kind of sad but strong to take in all the blame for what happened to his master. Iceburg must have realized this that Franky is the most devastated after his death even though Tom-san has forgiven him. Franky doesn't want to accept that and still blames himself for that day. It's a good thing that Iceburg is getting to him, he really does care for Franky even though they weren't that friendly with each other as kids.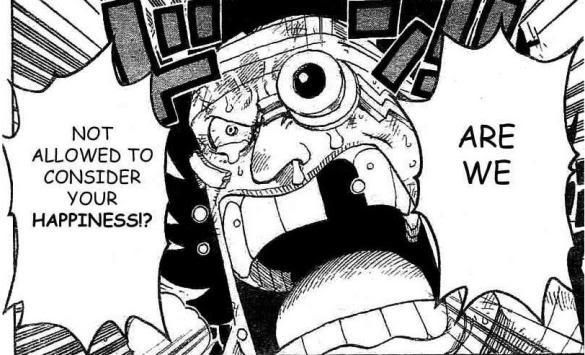 Why did you steal his underwear then?
​
7. True Nakama:
Franky is popular within the group, they'd go high and low for their boss, it's amazing how Franky is able to have such faithful ones with him. A charismatic dude who loves trouble still has a heart for guys, even his young brothers. Franky keeps blaming himself too much even the group is unable to take it seeing that he is taking the burden for himself for the sake of his friends. I guess they wanted to share the burden knowing that their boss is in real pain.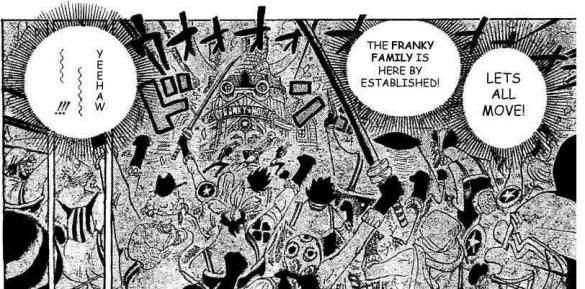 From humble beginnings..
​
8. Memories from the past:
Once again we're witnessing the same effect again to increase the dramatic effect from the manga. We're looking at Franky starting to recruit a crew starting the Franky Family that is standing today. All the fights with the pirates and picking up strayed people to join his gang in a few pictures tells the whole story already.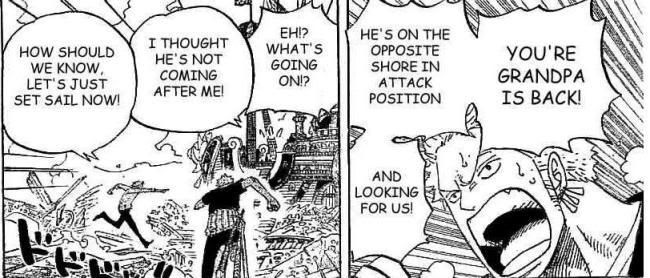 Looks like Luffy's Grandpa hasn't had enough...
​
9. An unexpeted twist:
Who'd ever thought his Grandpa to take action very soon. Looks like HQ has discovered the situation and asked for Luffy's Grandpa to attack the Strawhat Crew. And here their boat is completed, it would be a shame if it was shot down by the larger Marine Fleet. The interesting bit is when we may discover the "secrets" of the new ship.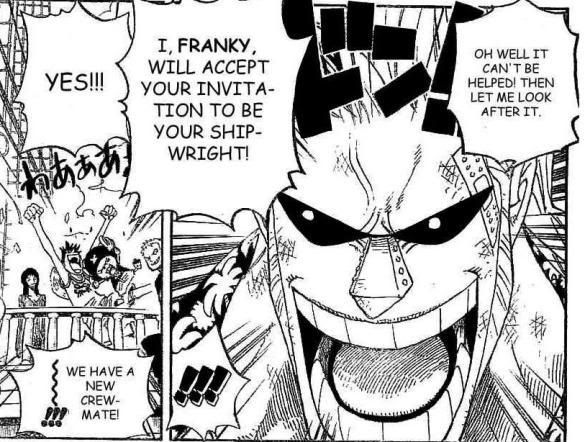 A new crew finally
​
Give yourself a pat in the back:
For those who believed that Franky would be the next crew member, well here you are smiling with pride. I too expected this, it's about time their crew started to expand. And sooner or later Luffy may have an entire fleet matching even Whitebeard. Or maybe he'll keep the crew as minimal as possible. A new ship and a new crew member. But wait... what about Ussop? Is he on his way to Elbaf? I hope not, well unless he's with his crew, but I think this is all part of the "plot" for the "New World" arc that is about to be.



Rating:
Once again, the chapter is not that much different than the previous one. It's quite a shame though, Oda could've at least gone further in the previous chatper. Well, anyways we can expect something very awesome for the next chapter, for there are 3 "Cliffhangers" at the moment: Whitebeard vs. Shanks, Ace vs. Blackbeard, and Luffy against his Grandfather once more. Nothing special, but the "twist" at the end made it a lot more interesting.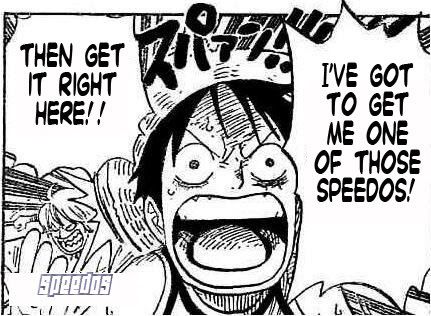 New Speedo Ad!
​
​
​
​
​
​
​
​
​
​