Registered User
英雄メンバー / Eiyuu Menbaa / Hero Member
Joined

Mar 30, 2007
Messages

2,350
Reaction score

10
Gender

Male
Country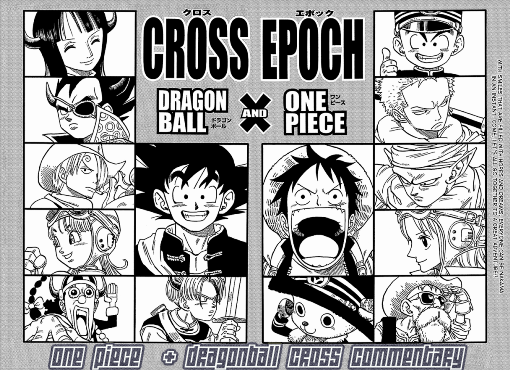 HO HO HO,


It's been awhile since my last commentary, and frankly speaking I'm beginning to like my "Commentary" job! Thanks for all your support and without you guys I would NEVER EVER continue my One Piece Commentary. And guess what, Christmas is arriving very soon, and I hereby present you a super SPECIAL commentary "Christmas" Edition!

Yes you've heard it! Two COMMENTARIES for the thread of ONE! A special "CROSS EPOCH" commentary and our One Piece 439 Commentary! Much love for KEFI (for the HQ quality version for the CROSS EPOCH) and Franky house scanslations for Chapter 439!

Looks like Oda and Akira have combined forces to give us a special edition (for christmas) with a combination of Dragon Ball and One Piece. Something we've only HEARD in the PS2 and other "gimmicked" titles! Now then, let's get started.

*Note: Double Commentary means more graphics here, apologies for the slow loading*




~~ One Piece Chapter 439: "Walk more Slowly"

​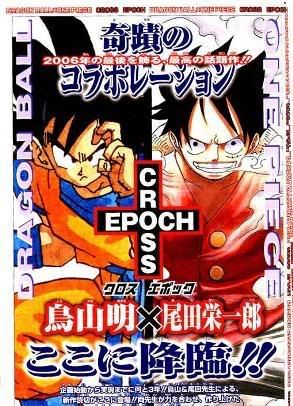 CROSS EPOCH COMMENTS!!!!
​



Here we have a special story regarding One Piece and Dragonball. Obviously a cross over between the the two mangas. It is very interesting to see Luffy and Goku in the very same page, much more a story. Their identities here are not the original ones though, you'll see what I mean as I go through each comment. Too bad we don't get to see a "Splash" page to the event of what happens to Enel and the mysterious shadow, anyways......





They chose the worst possible idiot as KING!
​
1. Mr. Satan the King of Hell:
Who can ever forget the ever bragging, show stealing, credit taking Mr. Satan himself. Here we have the *cough* greatest *cough* martial arts master, in the world! As a King of some sort. Not much is known about this king only that he rules a certain area at some point. As well as giving happiness to the people. A talent that he somewhat posseses! I guess he is fit to be a king at some point!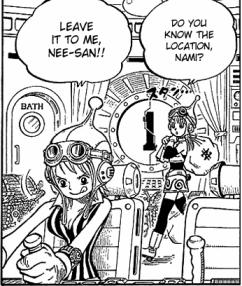 Galaxy Angels on the loose.....
​
2. Galaxy Thieves
to be exact. Looks like Nami has rubbed a bit of herself in Bulma. Since one is born rich, the other steals. Now they're both in space taking some loot from some bank of a sort. Speaking of space, Enel happens to be there. Oh well... Not much is known about their weirdness, but iit's a rare treat to see Nami as a space cadet thief!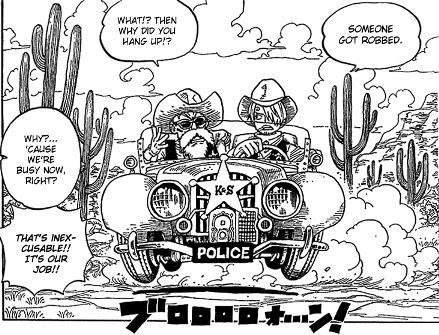 The Police Perverts.
​
3. Kami Sennin and Sanji:
Oh yes, what better way to introduce your two very horny characters than to put an old-geezer and a love-chef as police officers on their way to stop Nami and Bulma. Too bad we don't get to see some "perverted" scenes about them. You can imagine the possibilities they both would do for a hot chick. One hides in the bushes, the other is direct and more prone to danger. But nevertheless I can help but chuckle at the thought of it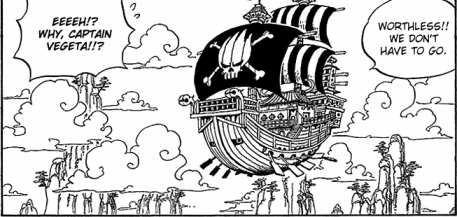 That Jolly Roger spells BAD NEWS!! Start running for cover....
​
4. The STRONGEST pirate imaginable:
Here's the the irony of this. If you watched the first episode of DBZ, you'll notice that Saiyans are considered "space" pirates, they take over and sell planets instead of treasure. And here we are with the MEANEST looking Jolly Roger you've ever seen, and obviously Captain Vegeta is out here to cause some disturbance the world has ever faced.

A pirate ship that can fly, not to mention a bad-ass Saiyan lurking around in the innards of the ship. Makes Pluton and Poseidon (though we have not seen them) look like minature play toys at the sight of the ship, even worse VEGETA! Not to mention his "hot" temper!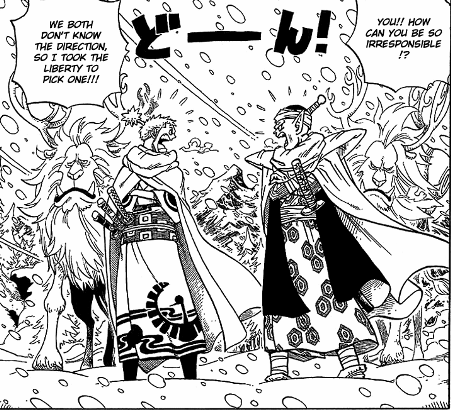 Piccolo as a swordsman? Now that's something new!!
​
5. "How to get lost, a basic guide by Zoro":
Piccolo has definitely lost some cool points here, but here's the up to his "Style" points. Zoro has still maintained his 0% sense of direction ability here. They are both stuck in some ice-capped mountains with a bunch of strange *smirk* *ccckkks* Raindeer I mean RainLions *LOL*. Again, the similarities between the two are almost identical except one doesn't have the same sense of direction of the other, not to mention being "devoted" to being Number 1 at something.

Let us hope Zoro does not get into the bad side of Piccolo lest he experiences his "Special Beam Cannon"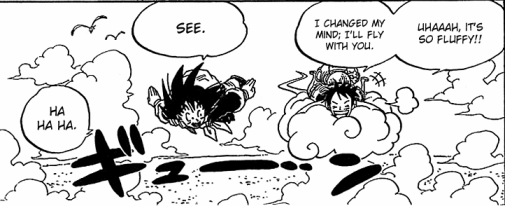 Goku and Luffy in a Fluffy cloud
​
6. The MAIN HEROES:
Ah yes, the main chracters of their own respective series teaming up for the very first time! We can see the similiarities between them such as their love FOR FOOD! Although Luffy is being a bit more extreme at this point carrying a meat stick on their travels. Goku is looking as cool as usual, while Luffy is still in his traditional red vest and blue shorts.

Now here's the thing. For Luffy to stay afloat on Goku's Kinto Cloud, he really does have a pure heart! And he is probably the only person in the Mugiwara crew to ride it with the exception of Nico Robin I believe.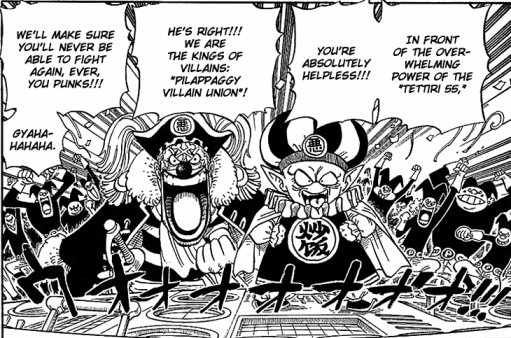 Common Villains...... how Lame!
​
7. Memorable but short lived:
This is quite true to most of the comedic "bad" guys you'll see in the Anime World. They come at countless times only to get their ass kicked miserable (for that is their true purpose). But they do always come bringing trouble of some sort, some complicated and other plans that would eventually fail at some point. This may not be the case for Buggy, unless we see him in the "New World" to get his ass beat by a B300 million Luffy. Keep note of the title because....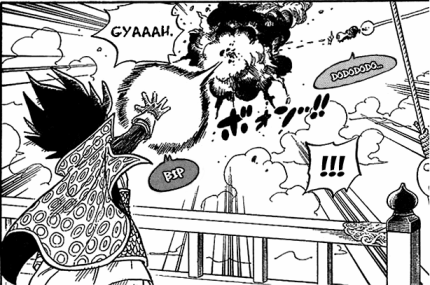 Check out this "Ki" blast you miserable punks!
​
8. Exterminating the useless baddies:
Remember what I said in my previous "comment"? That wasn't quite long till Captain Vegeta has used one of his "ki" blasts to destroy that sad excuse for a home base. Not even Buggy's Split Fruit won't work here! Alas, the end to a great team, of Pilaf and Buggy!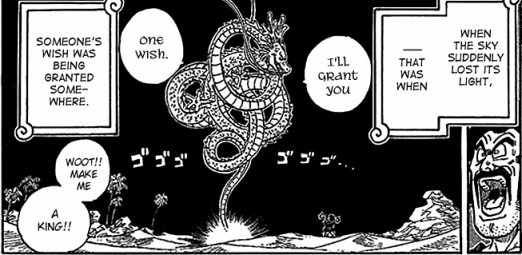 Had Luffy been here, that would've been the end of One Piece
​
9. Another Familiar Character:
Aaaah yes, the heart of the series in Dragonball, our favourite Wishing Dragon Shenron. Looks like we've found our answer to the mystery of Mr. Satan's Royalty. And now he wishes to be "King" again, which is a complete waste. It's not like it's gonna last for a year. But then again he is your one and only idiot aside from Luffy! Good thing they're not together, that would've caused MAJOR problems!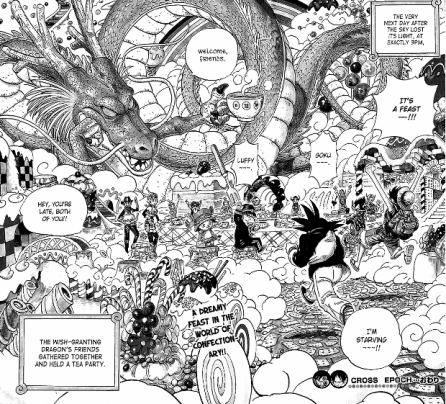 PARTY..
​
10. A Tea Party:
So it boils down for a happy reunion of all the characters in this chapter we've seen so far. Not much of a story here except a series of funny Random events here and there. I guess the Author's purpose is just to put the characters just for show!



AND DONT' GO AWAY WE STILL HAVE OUR

ONE PIECE COMMENTARY!!

​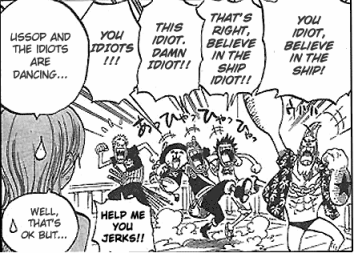 The "idiot" domino effect....
​
1. Idiotic Reunion:
And once again, we're seeing Luffy, Chopper, Ussop and our new idiot Franky to join the crew. Doing their famous arm-on-shoulder-leg-kick happy routine, they ALL seem to forget the situation that nearly destroyed them a few minutes earlier. Much to the annoyance of Nami, Zoro and Sanji, a lot carefree members on board spells disaster, although we know very well that won't be the case!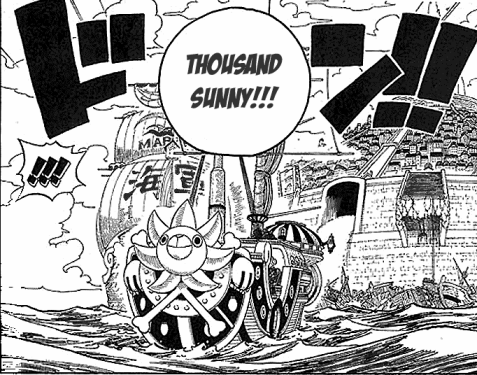 My guess was "Simba"!!
​
2. Thousand Sunny:
Oda has great taste when it comes to names. He must have spoken it out a hundered times before he made one for this ship. It fits the ship perfectly as much as Going Merry to hers. And so we have found out the the answer behind the name. Since it is Franky's dream to sail the boat a "Thousand Oceans just like the Sun" according to IceBurg. Now we can now say that this ship won't meet the same tragic demise as Going Merry. Built with the tree of Adam plus the ingeniuity of the GREATEST carpenters to exist in the Grand Line, we have yet to discover it's secrets. And guess what, they're pulling down the sails, I wonder what's their plan....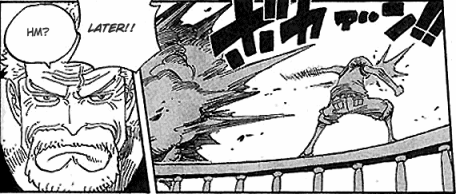 That is NO "Ki" blast!!
​
3. Retaliation from Grandson:
Don't let the CROSS EPOCH cloud your minds just yet, that looked like a well known stance for a "ki" blast, plus the smoke and all, very convincing, HEHEH! Luffy is DEFINITELY not gonna take this threat from his Grandpa hands down, and he's out there with style, openly defying his Grandpa as a Pirate as opposed to his Grandpa's dreams of making Luffy to a marine.

As family members, they don't let the rules of "Family Bonds" apply to them, as we can clearly see, Grandpa is going all out, and he sure packs a mean punch!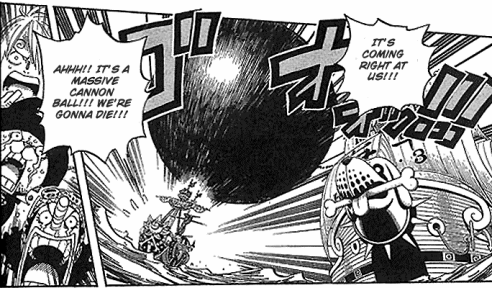 OKAY, WHERE THE HECK DID THEY KEEP A THING LIKE THAT?????
​
4. Gigantic Ball of DOOM:
It is quite understandable had this been done for "comedic" purposes. Gigantus Cannon Balls don't just come out of a ship that looked like it had no place for it. And from that point of view, it seems LARGER than Thousand Sunny itself! Luffy's Grandpa sure has a LOT of strength within him, and I mean MONSTROUS! I wonder what the Olympics get to say about it, but anyways, that was just too extreme if you ask me. It would've been the end of the Mugiwara Pirates had it not.....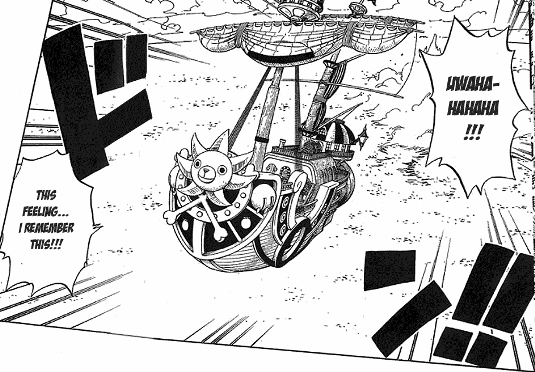 LOOK UP IN THE SKY, it's a BIRD -- NO, it's a plane, WAIT it's THOUSAND SUNNY!!!
​
5. The FIRST Secret:
Bet you are all jumping for joy at this part. No wonder they sails had been pulled down, that would've caused a slow down for the ship. Franky had designed this ship to be like him, using Cola's as the power source to blast it 1 KILOMETERS from it's current location. SUPER MEGATON AWESOME 5 OVER 5 STARS on this one! Best escapad EVER! Poor Government dogs won't be able to comprehend this one.

This scene makes me reminise about the last voyage of Going Merry. I remember how it's escaped from the clutches of death when Franky pulled of his "Coup de Vent". Now it's a special feature added to the many ship's secrets we have yet to see.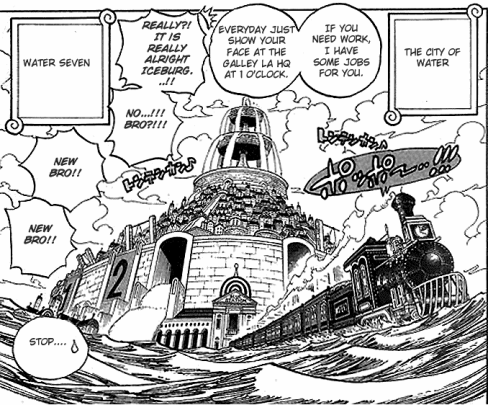 *Posted at w7jobs.com* Looking for skilled carpenters to make city AFLOAT, contact Iceburg at bakaburg@water7.com
​
6. Another Grand Carpenter Invention:
Tom-San should be very proud of two of his apprentices. He raised them in such a way that they would do wonders the world has ever seen. Franky has created the gretest ship and Iceburg is about to do the impossible by turning a city into a whole Floating ship! I just cannot begin to fathom at that thought. I wonder if it can cross the 4 blues and the Grandline. Maybe it would just be a floating island with no special features whatsoever!




The way you're smoking, you better hope your lungs don't crush first
​
7. Marine Captain "Re-entered":
Ah yes, who can forget our FAVOURITE Marine. This guy is a whole dedicated "not-by-the-book" type of guy who will catch any criminal at all costs. What's so interesting about him is his INTENSE determination to fulfill his goals. After losing Luffy (with the abrupt disturbance by none other than his father, Dragon), plus the event in Alabasta, it sure is frustrating to see Luffy raise above the ranks of some of the deadliest criminals ever faced in the Grand Line. It's interesting how this "New World" is put together. More islands and Deadly Pirates ahead, plus there's Whitebeard and his Crew. What crazyness would we see yet??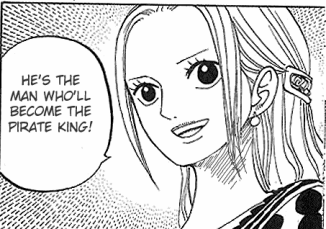 You said it Vivi-chwan
​
8. Nakama's Faith:
Let us not forget that Vivi is also a member of the Strawhats, althought not a traveling companion, she still has faith on that "once" an impossible dream for Luffy. Seeing as the bounty rose, much more to the surprise of her father upon finding out "Mrs. All Sunday" is now a part of the crew. Surely expected as it is once that Vivi was on the enemy side as Miss Wednesday.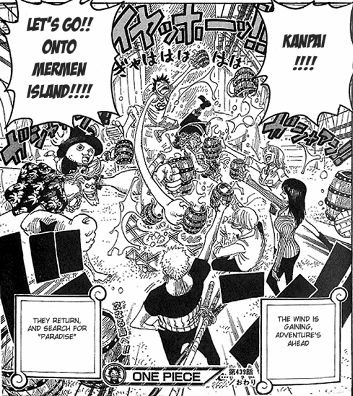 Merry Christmas, and welcome aboard two new NAKAMA...
​
Final Comment Celebration:
Ah, so it has come to this again. As both mangas "Cross Epoch" and Chapter 439 have the same ending. A party for a great successful day, and also a great Merry Christmas to all those who viewed this commentary! Let us hope to see what brings in the next chapter...


Rating:


Bonus Stars:
WOW, that was one LONG COMMENTARY! I've spent 2 hours on this one, not including selecting and re-editing the pics for you. You know that this is great, having Dragonball and One Piece combines, plus this chapter brings us to more interesting things like one of the few secrets we are about to see within the Thousand Sunny. Boy do I hope to see the all the happinings, much more to our current cliffhangers between Ace and Shanks! I hope you enjoyed this commentary as much as I did.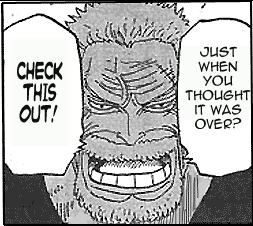 Here's my way of giving out a special Christmas present to you all.
​
Ah Ah Ah..... there's a bonus for all of you right here. Yes, added to the two commentaries I present to you an interesting video I have caught in the web. CHECK IT OUT TO SEE WHAT I'M TALKING ABOUT!!

MERRY CHRISTMAS TO YOU ALL, AND CLICK THE LINK BELOW FOR YOUR SPECIAL GIFT!!
​
​
​
​
​
​
​
​
​
​
​
​
​
​
​
​
​
​
​
​
​