Registered User
有名人 / Yuumeijin / Celebrity
Joined

Feb 11, 2011
Messages

4,339
Reaction score

4,764
Gender

Male
Country
Introduction​
Note: The numbers in brackets corresponds with the chapter it's sourced from.
⁽¹⁾ = Image from Chapter 1.
Context: General Demonstration of Haki​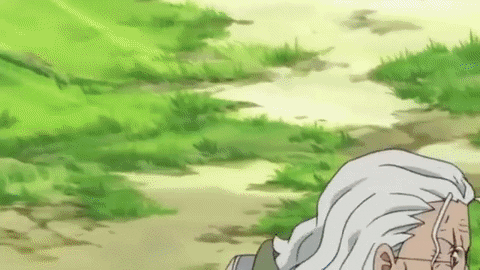 Oda is pretty unorthodox in the way he informs us readers, he scatters titbits of information which when collected and pieced together produces a picturesque and deep understanding of the concept allayed. Understanding through syllogism rather than being spoon-fed the complete briefing requires patience; this forms a greater interactive experience between both reader and the story which makes this story enthralling.
Ironically complementing this subtle and vulpine delivery of information, he employs hyperbolic visuals to accompany his brief explanations; it allow the reader to form an in-depth understanding. In the case of Haki, this is achieved by pitting
significantly inferior opponent
against
vastly superior opponents
leaving us with a contrast; juxtaposition gives richness to understanding.
Raleigh (
and others alike
) whose outburst of King's Haki usually results in
loss of consciousness
; it's then easy to conclude that King's Haki ability is to primarily induce unconsciousness. We lose the nuance of visuals if not understood with reference to the description as context for the witnessed event.
Observation Haki:
Rayleigh displays his evasive prowess against the Elephant.


Sandersonia haughty in character easily weaves her way past this flurry of blows.
If we allow visuals to take precedence without the reference to given definitions as a form of context, we may assume Observation Haki is the ability to evade attacks.
Against a revved up Luffy, this ability is seemingly non-existent.

When we take the definition of Observation Haki (
the ability to foresee voluntary actions
⁽²⁵⁷⁾
) as basis for interpreting visuals, we ascertain that evasion is not the result of this power, but a possibility from being able to foresee premeditated actions; achieving evasion depends on relative speed, reaction and circumstance - the fundamental basis of this power is simply to foresee future actions.
Armament Haki:
Sentomaru deflects Luffy's attack


Similarly, Marigold's Haki deflects Luffy's attack.
If we only rely on the visual aids alone, we might come to the erroneous conclusion that Armament Haki's deflect attacks.
Armament Haki doesn't result in any deflections here.

However, when we come to the understanding that Armament Haki
⁽⁵⁹⁷⁾
being being compared to armour, this is referencing the fact that it's hard. It becomes quite apparent that the hardness that subsequently led to Luffy's weak attack being deflected as opposed to being led to believe that it's ability is to deflect.
To simplify my point, visuals and definitions are a dichotomy. All visuals need be interpreted in tandem with definitions.
Introduction​
Source: Chapter 597 & 599​
We're told that the Pirate King will be decided by those possessing King's Haki which implies that it is (
or should be
) a fearsome power
⁽⁷¹⁷⁾
.
The embellishment accredited seems inconsistent as King's Haki
appears
to be a mere fodder knocking tool given the many have concluded to be so, and is our general perception that it is aesthetically ostentatious and in utility rather dull, anticlimactic and superfluous giving the impression that it's somewhat overhyped.
Contradictory to this, we're given a different paradigm (
or pushed towards it
) by Rayleigh warning Luffy sincerely expressed that King's Haki must not be used until it can be controlled. Why? We'll soon find out. Nonetheless, one can't help but feel there is more to it besides knocking out fodder as it's been exercised against powerful foes too.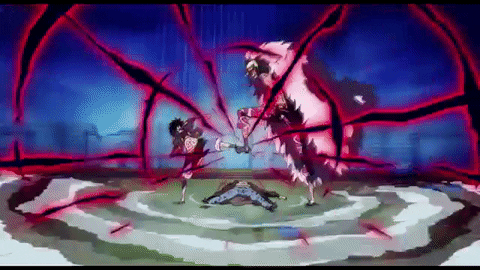 Pretext​
Before defining King's Haki, a short and brief pretext is due. Zeff, succinctly condenses the consequences of feeling intimidated (
lacking determination or conviction
); intimidation is the gateway to defeat or death in battle
⁽⁶⁵⁾
. Rayleigh's remark complements Zeff's by adding that the act of not doubting is strength which in reverse can be interpreted as the act of doubting is weakness
⁽⁵⁹⁷⁾
.
What is Supreme King's Haki?​
First, I think one should contemplate on who a king is in general. A king is an figure-head who exercises unconditional power over his subject. Reverence and awe reverberate off the king. Most importantly, this air of superiority worn by the king demands the unbridled fear and reverence of his subjects regardless of loyalty or the lack thereof. Perhaps, we'll see if there's a relation between this definition... this concept... and that of King's Haki.
The manga explains it as the power to
intimidate
, and the potency of this power is measured by the user's
spirit
⁽⁵⁹⁷⁾
. This definition provokes questions; what does unconsciousness have to do with intimidation? Wouldn't it be better to describe this as the power to induce unconsciousness? It does come across that way. How else can this phenomenon be construed?
Robin gives us the answer; one can be intimidated to such a degree that they fall unconscious
⁽⁴⁹⁵⁾
; it's comparable to someone who loses consciousness to a phobia such as needle phobia (
trypanophobia
). If one notices in the
top-left
Demalo Black panel, he says he felt "shivers" which denotes
fear
. This soporific effect or lull into unconsciousness seems to mask the nuanced distinction that this is a consequence of
intimidation
.
Note: Other translations describe King's Haki as the power to overwhelm, or overpower the will of the opponent. Will can be defined as determination, and the method by which determination can be weakened, overpowered or overwhelmed is through fear which makes "intimidation" the most apt definition.
I think it's also important to note that an unconscious person cannot feel intimidation; perhaps this is a defence-mechanism to avoid such powerful feelings. It requires being conscious to evidently express intimidation or fear and to acutely discern it, e.g., one knowing their lines, but forgetting them out of stage-fright. Inherently, it's a
Psychological power
; this begs the question that what effect does fear have in the heat of battle?
2 Degrees of Supreme King's Haki effect​
There are 2 degrees in which people will react as a result of being intimidated by Supreme King's Haki:
Against the weak spirited, King's Haki will intimidate so much that the opponent will lose unconsciousness which are Robin's exact words ⁽⁴⁹⁵⁾ .
Against the strong spirited, though they may carry-on fighting, they're fighting with fear handicapping or suppressing their determination to win, fight or even fight back at all ⁽¹⁾ .
King's Haki is only a fearsome power if it can't be resisted. Everyone including animal and man that have been exposed to Conqueror's Haki have always pulled the
disconcerted-expression
which implies they were intimidated .
Source: Chapter 569 & 570
When 2 King's Haki users clash, it's in my opinion reminiscent of 2 people (
or forces
) pushing each other - if you're pushed and don't push back, you will fallback (
in the case of King's, one will be intimidated
). The clashes we're acquainted with have been equally matched, therefore, there's no out outcome from the clash.
With the premise that put forth, I am of the belief that whomever is exposed will be inevitably intimidated regardless of their strength. The only role strength of will has against King's Haki is staying conscious, but lest we forget that we mostly express intimidation while conscious.
Supreme King's Haki narrative at Amazon lily​
The Gorgon sisters have unequivocally established that they were superior to Luffy before he used King's Haki or Gear 2nd. At this point, they're unaware he has a trick up his sleeve, so they're quite confident in their ability to manhandle him.
Isn't it odd that despite proving and showcasing their superiority, that they suddenly deem him a threat
⁽⁵²⁰⁾
after his brief outburst of King's Haki? Bare in mind they have no idea of Gear 2nd; his physical capacity is nonexistent.
This indicates that fear is truly a powerful weapon to impose in battle as iterated, and note that they do state: "
nothing to be afraid of
" because they were initially afraid, but only after affirming that he can't control his King's Haki.
I think it bears pointing out to the significance of their taking orders from Luffy (
a male
) without even consulting the Empress Boa Hancock. It again hints at how fearful they must have been from the outburst.
Supreme King's Haki narrative at Marineford (Shanks)​
Shanks stepped into Marineford with King's haki; Coby was about to meet obliteration by Akainu and was resolved to die; Shanks intimidated Coby into unconsciousness out of mercy for his valour; on the other hand, Akainu's expression reveals the distressed look implying he was intimidated
⁽⁵⁷⁰⁾
;
this expression
is common even amongst animals who have been intimidated by it.
There aren't many examples of fear in battle; though, this isn't King's Haki at work, we get a glimpse or even, a raw display and ramifications of fear.
Zoro cuts Monet with a small slash which alerts her to the reality that Zoro has no qualms fighting women as wrongly assumed; he could decide to kill her on a whim as predators are naturally prone to; this frightening realisation to his capricious nature is enough to pit her into a state of macabre.
He then feigns an attack which Monet presumes would be accompanied with Haki; fear disrupts her ability to fight and she ends up losing control of her abilities, composure and ultimately... her ability to even fight properly - her defeat at that moment was concluded
⁽⁶⁸⁷⁾
...
This is superb and well orchestrated kidology & contrivance; King's Haki ability to intimidate isn't orchestrated but supernaturally enforced and unavoidable. This is what makes it such a highly-regarded power.
The effect goes without saying, it emulates the reverential and intimidating disposition that a ruling King possesses over his subjects whether they truly deserve it or not.
Situations requiring Supreme King's Haki​
King's Haki is only used sparingly as far as we've seen in the Manga. Most likely because it can't be used very often? and probably depends on the level at which the user possesses it; Rayleigh suggest he could use it more than once, but doesn't do so as not to draw any attention towards himself which suggests and increase in one's capacity will increase ability to use it with less constraints
⁽⁵⁰⁴⁾
.
Conclusion
Source: Chapter 570​
King's Haki based on what's been shown intimidates people to various degrees. It's potential is great and will probably be used a lot more as Chinjao has stated; it's going to be key in determining Pirate King, not just purposed for taking out fodder as can be easily assumed.
Extra Information​
Luffy vs Joker.

Luffy vs Chinjao.

Luffy at Marineford.

Luffy vs 50,000 with wind raising dust into the air.
This is why when Shanks used King's Haki on Whitebeard's ship, the wind pressure was so strong that it dented the Moby Dick. The dent wasn't the intention, but was there to indicate how strong his King's Haki was which is why Whitebeard stated he was using it at its fullest intensity
⁽⁴³⁴⁾
.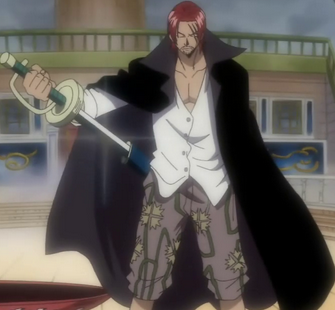 Note: Before reading, it's best to read exactly what CoC does

HERE

before reading any further. Miniature sized numbers in brackets refer to the chapter the image is sourced from. E.G. ⁽¹⁾ = Image from Chapter 1.
The general anecdote goes something along the lines of... Shanks boarded the Mobydick with his Conqueror's Haki activated; some people lost consciousness due to not having the will to remain conscious in his presence, while the others (apparently) were strong-willed enough to remain conscious. Some key details have gone amiss, and therefore contributes and inherently births a misconstrued story. The aim is to point out these missing details, and then give the actual (apologies if this sounds arrogant) narration in light of the actual context.
Before Arriving​
Before Shanks stepped aboard the Mobydick, Marco and Jozu warn all the newcomers to stay back (away from Shanks
⁽⁴³⁴⁾
), but some being rightly inquisitive felt the need to question pre-emptive safety measures at a rather untimely period
⁽⁴³⁴⁾
.
His Arrival​
Shanks has arrived, it's therefore, too late to stand within the outside of the unprotected zone
⁽⁴³⁴⁾
. As Shanks confidently makes his way though the enemy ship to meet Whitebeard, a wake of newcomers are falling by him, due to his overwhelming Conqueror's Haki
⁽⁴³⁴⁾
.
What If...​
What if these unfledged newcomers had stayed back as Marco had said? Marco is no fool, he's a veteran, would make sense to assume had they promptly acted on his instructions, they'd still be standing, otherwise, why else would Marco propose they stay back?
Newcomers​
We know the newcomers in Shank's path were knocked out, however, there are other newcomers too. The other newcomers are the people all looking shocked and asking questions; they've never witnessed such a power before. Marco being a good leader reassures them to remain calm; the meeting of 2 Emperors is makes for a very volatile and tense environment as is evident.
⁽⁴³⁴⁾
.
Marco is also not telling Jozu or the other veterans to remain clam, they're all familiar with Conqueror's haki, unlike newcomers. Therefore, it can be inferred that there are newcomers scattered all over the ship; the newcomers who gout knocked out were just in the wrong place at the wrong time. Many of them are standing in the area that Marco pointed out as a safe zone which is why they're still conscious
⁽⁴³⁴⁾
.
Where Are...​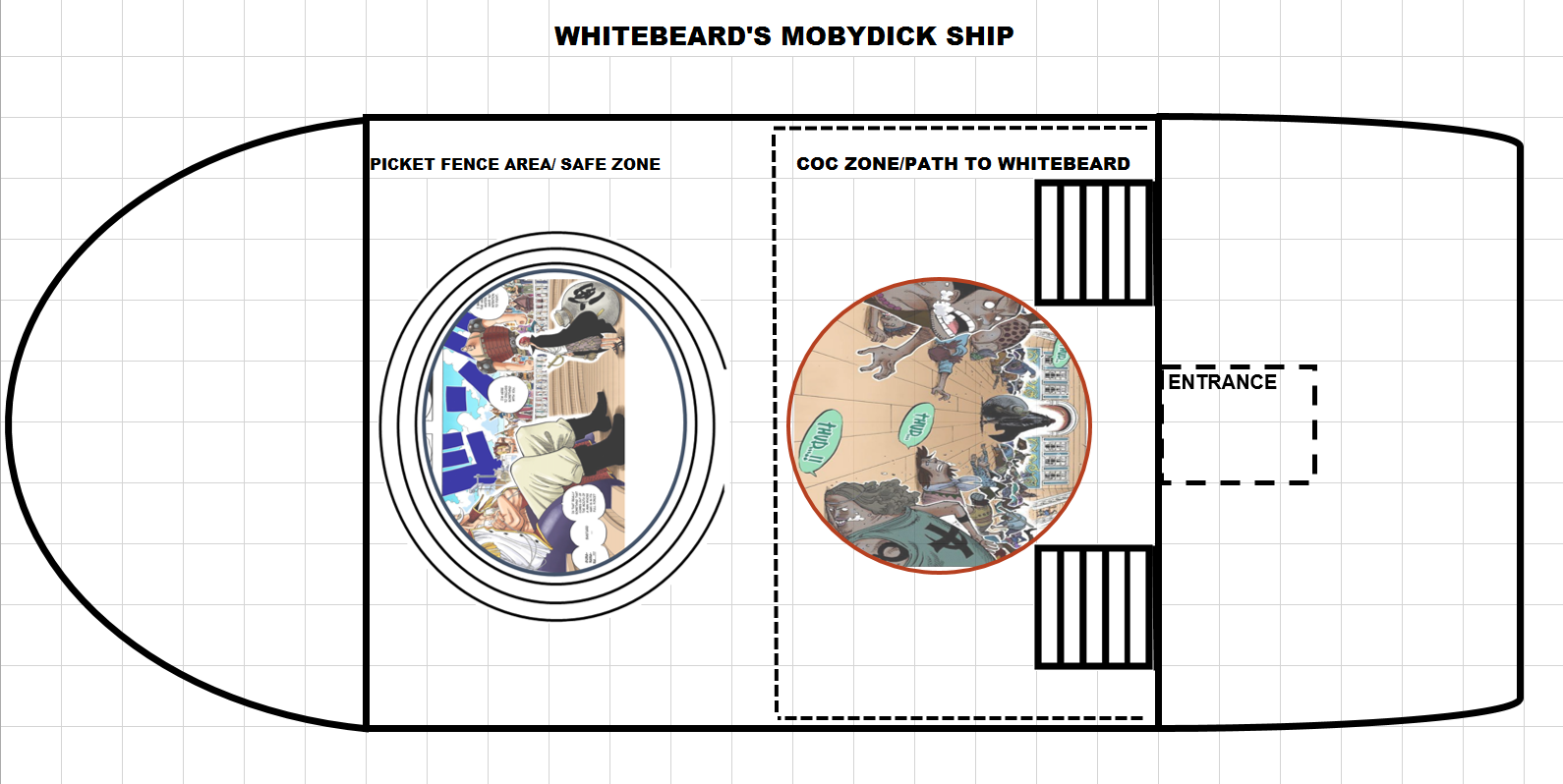 Marco and Jozu? Initially, we see Marco and Jozu at the bottom of the stair
⁽⁴³⁴⁾
, it's important to take note, that these stairs are by the Picket Fence which can only be found opposite the Ship's entrance. It's only because the entrance is a stretch of open floor space, that we find some Newcomers
⁽⁴³⁴⁾
at the far widths of the ship.
As Shanks draws ever closer to Whitebeard, the Whitebeard Veterans and Newcomers edge back further away from the bottom of the stairs to just behind Picket Fence. Based on the layout, we can ascertain that Marco, Jozu and the Newcomers are all in the Safe Zone.
How Far was Shank's Haki Spread?
If Shank's Haki was spread throughout the entire ship, there would be no newcomers for Marco to tell to remain calm because they'd all certainly have lost consciousness if that were the case,this means it was only active to within a restricted area which was the route he took to get to Whitebeard
⁽⁴³⁴⁾
.
And if one remembers, Shanks said he didn't come to start a war, he was just ensuring his own safety being on an enemy ship and simply have a discussion with Whitebeard
⁽⁴³⁴⁾
.
Conclusion​
The point of this is to show that, the reason Marco and Jozu weren't fazed by Shanks's Conqueror's Haki is because Shanks only restricted his Haki to within a certain area of the ship. The area Marco and Jozu were stood (including the newcomers beside them) was out of the range of Shanks' Conqueror's Haki. Were this not the case, the newcomers beside Jozu and Marco would have either fainted, while Jozu and Marco would have been intimidated; being that neither happened, it's safe to say, Shanks's Haki most definitely wasn't extended to where they were.
Last edited: