Artist
有名人 / Yuumeijin / Celebrity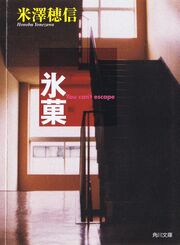 Hyōka (氷菓, lit. Ices) is a mystery novel by Honobu Yonezawa. It is the first volume of Classic Literature Club (古典部Koten-bu) series. Five volumes were published between 2001 and 2010. A manga adaptation drawn by Task Ohna was serialized in Kadokawa Shoten's Monthly Shōnen Ace from January 26, 2012. A 21-episode anime adaptation produced by Kyoto Animation and directed by Yasuhiro Takemoto began airing on April 22, 2012. The first episode premiered on April 14 at a special event at Kadowaka Cinema, Shinjuku. An OVA episode, based on a plot written by the novel author, will be bundled with the third volume of the manga in January 2013.​
The Hyouka (Classics Club) series (〈古典部〉シリーズ) by Honobu Yonezawa
Volume 1 - Hyouka 氷菓 - You can't escape / The niece of time
Volume 2 - The Credit Roll of the Fool 愚者のエンドロール - Why didn't she ask EBA?
Volume 3 - The Kudryavka Sequence クドリャフカの順番 - Welcome to KANYA FESTA!
Volume 4 - The Doll that Took a Detour 遠まわりする雛 - Little birds can remember
Volume 5 - The Approximation of the Distance of Two ふたりの距離の概算 - It walks by past
Last edited: