Registered User
下級員 / Kakyuuin / Jr. Member
Joined

Dec 1, 2005
Messages

65
Reaction score

1
Gender

Male
Country
Hey ! Long awaited Naruto chap 338 is finally out and no review out yet ? Not that I'd blame GK (he'd ban me…) I wrote one once and it took a hell of a long time. So I thought I might write a review for chap 338 and here it is !
1. Whew! Thank god for real ninjas!
​
This picture really gives the feeling of previous chapters: Kakashi is completely beat up after tons of fighting, ninja saving and plenty of kicks and near death encounters but after a simple sigh of relief, he's back in the fight, Sharingan eye and all.
On the other hand, we have Chouji, who did try to help and is a bit beat up but completely out of it and Ino, with just a bit of dust on the cheek and all smile, as if the friends she had been expecting have finally arrived for a cup of tea. She even respects etiquette by calling Sai Sai-san.
Now can somebody explain what the hell she's doing out there? Her uselessness in this battle has been a major disappointment for many, she was supposed to be able to compete with Sakura who is now one mean kunoichi. Well this fight isn't over and let us hope that she'll show us some moves.
Anyhow, beat up Kakashi is always a nice sight (aren't we plain mean to love it?) and Konoha's public hospital for ninjas will once again be delighted to welcome their most dedicated client.
2. Pick a mirror and take a look at yourself you rotten three-headed zombie (monkey)!
​
Kakuzu really shouldn't comment on Naruto's appearance don't you think? I mean look at him, his cheeks are sewn up, he hasn't got a nose, he's spewing tendrils from his mouth and he's got two odd masked monsters sewn to his back! Not to mention that he already lost two hearts today! You really shouldn't complain about a bit of dust on his clothes and face, mister!
Hmm. That point being made, the duel has been issued, the challengers confronted. We'll see next issue if Kakuzu lives to regret the challenge. (At least he'll put a little heart in the battle for a change…)
3. Kyuubi crashes in?
​
Oh well, seems like the fox is out of the bag!
Kakuzu, tu ne le sais pas encore mais tu es déjà mort!
(You may not know it yet but you're already dead!)
I think this pretty sums up the spirit of the chapter: everything points toward the kill: Naruto's determination, Yamato's speech: "actually, just watch", Kakuzu's underestimation of Naruto and Kyuubi's eyes.
Naruto was supposed to become stronger than Kakashi with this jutsu, it seems he's already there and beyond already. This chapter will hopefully be the introduction to the real post time-skip Naruto. Many people have been complaining that Naruto hasn't really shone post time-skip but I think that Kishimoto didn't want to ruin his growth by showing it too early. 90 chapters might seem like a lot for a proper introduction but it took a lot of courage to postpone his first real fight like that.
Kishimoto really did a lot of foreplay for this fight so expect a memorable, all-out fight in the next chapters, this one won't be interrupted or anything, now is the time for Naruto to shine!
4. Taste death you scurvy undead fiend!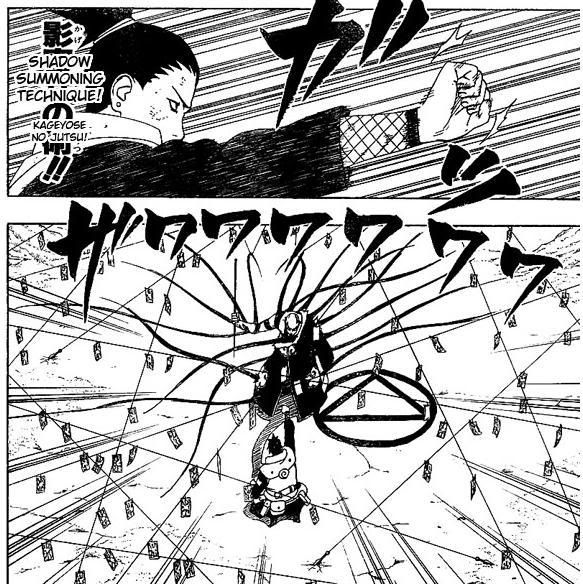 Seriously this panel is great, with the shadow summoning and all. He can now summon shadow tentacles from his extended shadows to seize countless strings? This could be very convenient in defense to counter countless kunais for example (better than coffins anyhow…).
One thing does surprise me: how the hell can Shikamaru still pull out such techniques? He should be long out of chakra or else he ate a few of Chouji's pills! But that doesn't really bother me: he has shown a great fight against Hidan and he deserves the kill.
5. Mastermind plan successful!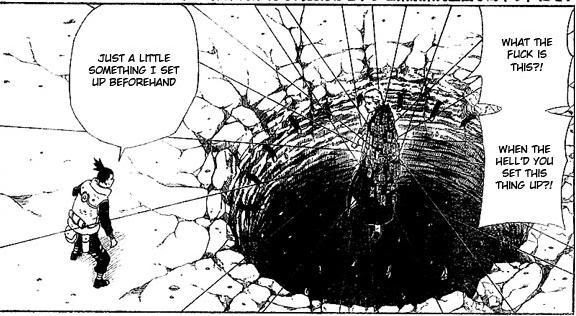 That's one thing I like in Naruto: the 200 step plans are planned by the good guys and that's cool because it means they have a chance to work as opposed to their evil counterparts. And when it comes to 200 hundred step plans Shikamaru just shown us one right now and don't expect to see one in the next 100 chapters or so (Naruto's plan will be simple for example: pound Kakuzu in the ground with new jutsu while a few bunshins star as the pom pom girls of the fight).
But seriously, how did he dig that hole? He couldn't know precisely enough what route the akatsuki pair was going to take to reach Konoha so the hole had to be dug after Ino found the pair. Did they dig the hole on an interception course the akatsuki had to reach a few hours later? And where are the shovels?
6. No mercy!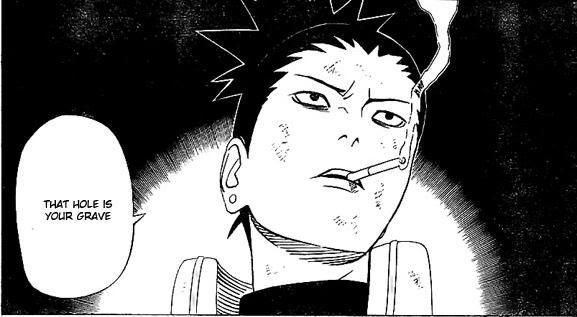 This chapter really looks like a showdown in between characters: first Naruto outstaring Kakuzu's taunts and now Shikamaru pronouncing a death sentence on poor old Hidan. You have to wonder how many people have threatened and cursed him over the years, no wonder he has a bad temper.
This is yet another great panel: the seriousness in Shikamaru's face is great! Kishimoto really spent time on facial expressions this chapter and he once again demonstrates that he's great at it.
7. You may destroy my body but as long as I have teeth you're going down!
​
You have to give to Hidan that he's no coward: here he is, blood gushing from his mouth and open throat, covered by explosive tags, all tied up over a bottomless hole and he's still cursing and threatening and all. Immortality really doesn't help building a survival instinct it seems…
Before Hidan disappears from this story, I'd like to give him the yearly curse award of deranged villains: he's blessed us with many a deranged sentence (" I want her to kill me, just to get this over with, seriously") and I have to admit this last one is my personal favorite:
"I'll never die… Even if you destroy my body and I'm left with nothing else than my head… I'll escape somehow…And when I do, I'll find you and bite your fuckin' throat out!"
Now that's one fine set of last words! Kishimoto would be a terrible writer if he lets them go to waste by having Hidan survive the blast (unless it is to let Hidan's head indeed bite Shikamaru's throat out…)
8. Will of fire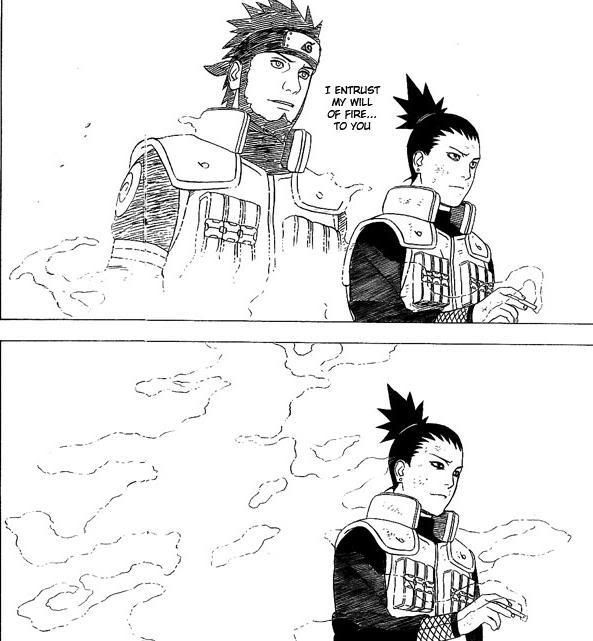 Now that he has given his sensei his farewell, it seems like Shikamaru is at ease at last. He has matured in this fight and did not give in to senseless sacrifice. He stuck to his plan and it seems that this time around everybody will come back home alive.
The artwork in this frame is great: Shikamaru's eyes and half smile are a perfect mix of sorrow and relief as his sensei can now rest in peace as pointed out by his vanishing in smoke.
OR the whole scene could be as somebody pointed out in chapter 338 discussion a sign that Shikamaru is under Hidan's genjutsu:
It would be a very tragic but yet awesome moment:
Imagine Hidan yelling
"Ha! I fu**ed you bad this time! And you really thought your dumb sensei would come to say goodbye!
Who's the retard now! Ha Ha!"
9. Dead man's last cigarette?

This cigarette really looks like a gift from the grave: Asuma's last cigarette thrown in to Hidan and it really doesn't look like Hidan requested that one!
Stupid joke aside, we see fear at last in Hidan's eyes, he sure doesn't seem confident in this panel as it seems not only his life will appear in a flash. Oh well, art is a bang and he won't just lose an arm or a head in that one. I suppose it settles his bickering with Deideira on who's the most amateur…
10. Bye Bye, Hidan!
Well I guess we won't be seeing Hidan any time soon. I like the 3 fold panel but something's missing…
Ha! I guess it's Hidan's cursing head flying in space screaming he'll be back and that next time the victory will be his.
One thing that confuses me is why Shikamaru is that close to the explosion. I suppose he didn't dare go further but he isn't even keeping Hidan in his jutsu anymore. Couldn't he have taken a few steps back? I suppose Kishimoto wanted a close-up with Shikamaru and the explosion and Sakura is arriving anyway.
Conclusion:
This chapter was very nice: I liked the fact that it opposed Naruto's rebirth to Hidan's death. It is a very bad foreshadowing for Akatsuki and for Kakuzu in particular. I like the way Naruto's duel with Kakuzu was introduced: if they had started fighting this issue I would have felt things were a bit hurried. It's a big fight, let it be well introduced. The other half of the chapter was both poetic and action paced (Hidan did explode).
But most of all I loved the art in this chapter, especially the expressions of the characters. The first blurry scans had left me with a good impression of the chapter, but nothing great. It was really when the quality scans came out that I really discovered this chapter.
Overall this is a chapter I have thoroughly enjoyed and I would rate it 5 on 5.
The only downside is Chouji and especially Ino who weren't active enough in this battle but they should have fought before and I can't blame this chapter for what should have been done before.
I would like to thank Yume for their very nice scan that I used for this review (and for all those that they did before too).
Feel free to comment, I'll answer when I'll have the time, hope you enjoyed!