Registered User
初心者/ Shoshinsha / Beginner
Joined

Jan 1, 2006
Messages

10
Reaction score

0
Gender

Female
Country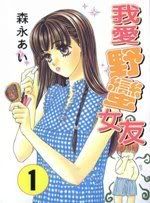 This manga is called Boku to Kanojo no XXX, but you might have heard of it under ADV's title as Your and My Secret. They licensed it, released the first volume...and it was never seen again.
Summary from ANN:
High schooler Nanako Momoi may be petite and adorable, but she is far from sweet, she is obnoxious, violent and has the table manners of a wild boar. Akira Uehara, a dainty, feminine boy has, for some mysterious reason, developed quite a crush on her. One day, Akira stumbles upon Nanako's grandfather, a man best described as a mad scientist. He is performing an experiment on Nanako, but Akira manages to get in the way and suddenly finds that he and Nanako have switched bodies. Akira, the now dainty and feminine female, is desperate to get back into his old body, especially after one of his long-time friends starts flirting with him. Switching back may prove difficult, though. It looks like Nanako is starting to enjoy life as a guy.
Switching bodies is certainly nothing new and it might not sound interesting, but the author takes a new twist to the story. Personally I love it and recieve a lot of laughs that I highly recommend. You really have to feel sorry for the main character, Uehara. He gets death threats from the girl you like if he does anything to her 'pure body', while she goes off with random women. Not to mention his best friend takes interest in the new 'Momoi'.
There are some scans out there, but truthfully, they are slow at best. Like from Animescans under My Barbaric Girlfriend which has the first four chapters out:
http://www.animescans.net/my_barbaric_girlfriend.html
--that is if you are willing to sample a few chapters and prefer to download the chapter individually
Anything-Asian.net uploaded some of the manga as well. But at best, it's still the first four chapters of the first volume, another incomplete volume 2 and the first 3 chapters of Volume 3.
http://savefile.com/projects/1064812