Translator
英雄メンバー / Eiyuu Menbaa / Hero Member
Joined

Apr 12, 2007
Messages

1,118
Reaction score

1,447
Gender

Hidden
Country
Higurashi no Naku Koro ni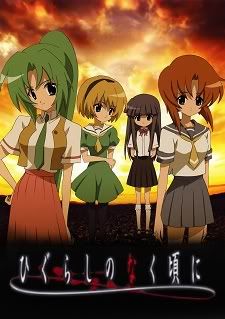 Episodes:
26
Status:
Finished
Aired:
Apr 5, 2006 to Sep 27, 2006
Producers:
Geneon Universal EntertainmentL, Studio Deen
Genres:
Mystery, Horror, Psychological, Thriller
Summary:
After moving into the quiet town of Hinamizawa, Maebara Keiichi spends his days blissfully in school often playing games with his local friends. However, appearances can be deceiving. One fateful day, Keiichi stumbles upon news of a murder that had occurred in Hinamizawa. From this point on, horrific events unfold in front of Keiichi, as he soon learns his close friends may not be all that they seem. Based on the amateur mystery game by 7th Expansion, the story is told in a series of different scenarios.
Thoughts:
It's psycho-horror, but I got to admit the music is beautiful (esp. last ep closing song). What's going on?? How could they get such great soothing music on such a horrible, gory mess? I could only stomach one episode...barely.
Is there something I'm missing by skipping this show? Let me know your opinion.
Last edited by a moderator: