Registered User
中級員 / Chuukyuuin / Member
Joined

Dec 15, 2005
Messages

142
Reaction score

38
Age

41
Gender

Male
Country
_________________________________________________________________
[nami] First post edited to provide info on series [/nami]
_________________________________________________________________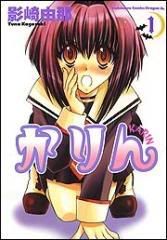 _________________________________________________________________
Summary
This is about a "Vampire" that produces to much blood and it's pretty funny anime/manga. The manga has some more serious issues delt with, but they follow a simular path though the "love rival" in the anime is pretty funny.
Anime Downloads
bittorrent anime link:
http://www.animesuki.com/series.php/704.html
the manga is for download on #Karin @ irc.irchighway.net
Downloads
Volume 1-4 download links from rykarreolacr:
1:
http://rapidshare.de/files/11216310/Volume_01.zip.html
2:
http://storeandserve.com/download/173696/Volume_02.zip.html
3:
http://www.megaupload.com/?d=Q9GG90T7
4:
http://www.sendspace.com/file/ebpk5n
Raws
This is the raw of volume 5:
http://storeandserve.com/download/173756/karin_v5.zip.html
Summary from Hanashi.org
: Mangaka: Kagesaki Yuna
Genre: Shounen, Comedy, Fantasy
Description:
Karin is not your normal high school student. Even among the members of her vampire family she is different. Instead of sucking blood, her blood multiplies! And ever since the transfer student Usui Kenta showed up her school life has been turned upside-down. Why is it that whenever she gets near him her heartbeat goes crazy? A vampire romantic comedy that's sure to make you laugh!
edit: Narutofan Plus has it for download as well
Last edited by a moderator: