Mr. Elite
九千以上だ! / Kyuusen Ijou Da! / It's Over 9000!
Global Moderator
Since the discussion about main characters flared up again, I decided to look into the topic a bit more. I'm using definitions from
Dramatica
(to the best of my abilities anyway) since it's rather extensive for an online resource. Any quotes used will be from there unless noted otherwise.
"There is only one Main Character in a story. [...] Now before we go on, we'll note that there can be many Main Characters in a completed work, but there will be only one Main Character in a completed story. This is because a work is the finished product an author puts before an audience. It may contain a single story, several stories, or several partial and complete stories all woven together or at least nestled in the same fabric of storytelling. This means that a book or a movie, a stage play or teleplay, may have no Main Character at all, or it may have many. But for any single story in that work, there will be only one Main Character."
Now, Main Characters are part of the Subjective framework of a story, so why am I bringing them up in a topic about Objective Characters? Mainly to establish the distinction between a story and a completed work. NPoT will at some point be a completed work, however, several complete stories and several partial stories will be combined in it. As far as this topic goes, I'm only concerned with the complete stories (because let's face it, there are way too many characters to cover the partial ones).
So let's jump right into analyzing the Objective Characters. For starters, if you read the article linked above, you will see that there are three levels of complexity to this: 8 elements, 16 elements and 64 elements. I'm using the 16 elements one because 8 is a little too simple for our purposes and I had the strong urge to jump out of the window when attempting the 64 one (which means I might do that at a later point in time). For the 16 element complexity, also described as Complex Characters, we have the following types to consider:
"PROTAGONIST
Action Characteristic: Pursues the goal. The traditional Protagonist is the driver of the story: the one who forces the action.
Decision Characteristic: Urges the other characters to consider the necessity of achieving the goal.

ANTAGONIST
Action Characteristic: The Antagonist physically tries to prevent or avoid the successful achievement of the goal by the Protagonist.
Decision Characteristic: The Antagonist urges the other characters to reconsider the attempt to achieve the goal.

GUARDIAN
Action Characteristic: The Guardian is a helper who aids the efforts to achieve the story goal.
Decision Characteristic: It represents conscience in the mind, based upon the Author's view of morality.

CONTAGONIST
Action Characteristic: The Contagonist hinders the efforts to achieve the story goal.
Decision Characteristic: It represents temptation to take the wrong course or approach.

REASON
Action Characteristic: This character is very calm or controlled in its actions.
Decision Characteristic: It makes its decisions on the basis of logic, never letting emotion get in the way of a rational course.

EMOTION
Action Characteristic: The Emotional character is frenzied or uncontrolled in its actions.
Decision Characteristic: It responds with its feelings with disregard for practicality.

SIDEKICK
Action Characteristic: The Sidekick supports, playing a kind of cheering section.
Decision Characteristic: It is almost gullible in the extent of its faith—in the goal, in the Protagonist, in success, etc.

SKEPTIC
Action Characteristic: The Skeptic opposes—everything.
Decision Characteristic: It disbelieves everything, doubting courses of action, sincerity, truth—whatever."
These elements can be represented in so-called quads: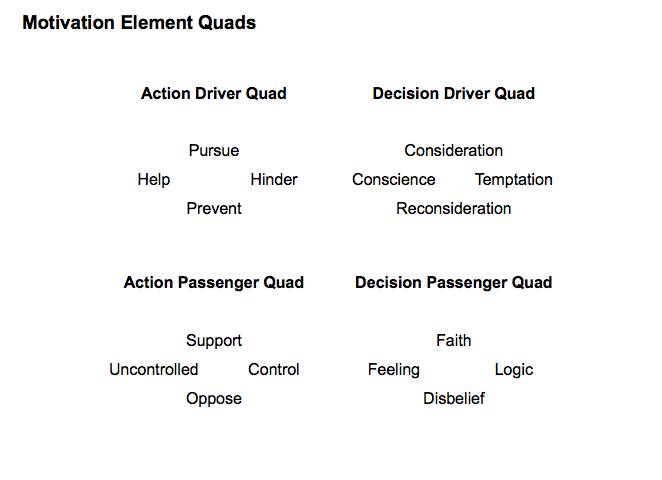 You will notice that the elements are arranged in a way that diametrically opposed ones are opposite of each other. When dealing with a story of archetypical characters, each character's action characteristic will correspond to their decision characteristic, however, that is not required and characters become more complex by switching the characteristics around.
To start filling out these sets, we first have to think about what the characters are trying to achieve and in which cases these issues are elaborated on enough to form a complete story. In my eyes, there are currently two complete sets:
1. Ryoma's Story
2. Tokugawa's Story
Note that I'm not saying the stories themselves are complete, just that we've been introduced to all characters necessary to create the 16 grid framework.
Ryoma's Story
Surprising to probably no one, Ryoma is going to have a complete story is NPoT. His goal has shifted a bit throughout the series, but can overall be summarized as "Become a Japanese representative and win the WC." With that in mind, let's have a look at our first quad:
Action Driver Quad
| | | |
| --- | --- | --- |
| -​ | Ryoma​ | -​ |
| -​ | Pursue​ | -​ |
| Mifune​ | +​ | Kurobe​ |
| Help​ | +​ | Hinder​ |
| -​ | Byoudouin​ | -​ |
| -​ | Prevent​ | -​ |
As we've just established, Ryoma's the one PURSUING a goal. I've counted Byoudouin as antagonist here because partway through the story, Ryoma's goal shifted to "Beat Byoudouin (to take revenge for Tokugawa), become a Japanese representative and win the WC." Because Byoudouin obviously doesn't want to be beaten, he's the one who is actively PREVENTING Ryoma from achieving this goal. I don't think Byoudouin is 100% set in stone here, but it's the interpretation I'm going with for now.
Besides Ryoma and Byoudouin, we have the two coaches in this quad. Kurobe has evicted Ryoma from the official camp twice, thus HINDERING him in achieving his goal whereas Mifune has revoked that eviction both times.
Decision Driver Quad
| | | |
| --- | --- | --- |
| -​ | Ryoma​ | -​ |
| -​ | Consideration​ | -​ |
| Atobe​ | +​ | Ryoga​ |
| Conscience​ | +​ | Temptation​ |
| -​ | Ryoga​ | -​ |
| -​ | Reconsideration​ | -​ |
Let's look at this quad next. The interesting addition to the driving characters here is obviously Ryoga, representing not just one, but two elements. Ryoga wants Ryoma to RECONSIDER becoming a Japanese rep because he'd much rather have his brother play alongside him on the US team. And how does he achieve this? By TEMPTING Ryoma with the possibility of defeating Byoudouin by changing teams, in other words, he changed Ryoma's goal to "Defeat Byoudouin and win the WC."
On the other side, Atobe is a (so far) very weak counter balance to Ryoga. In the deciding moment that led to Ryoma's eviction, he tried to make him reconsider what he was about to do - note that this isn't meant in a moral sense since Ryoma's decision certainly wasn't immoral, but rather in the sense that it made it harder for Ryoma to achieve his original goal. It'll be interesting to see if Atobe's influence becomes more noticeable in the future.
Finally, let's check out the Passenger quads. I'm combining both of them since they feature the same characters:
Action & Decision Passenger Quads
| | | |
| --- | --- | --- |
| -​ | Sakuno​ | -​ |
| -​ | Support – Faith​ | -​ |
| Kintarou​ | +​ | Kurobe​ |
| Uncontrolled – Feeling​ | +​ | Control – Logic​ |
| -​ | Hsers​ | -​ |
| -​ | Oppose – Disbelief​ | -​ |
As you can see, the passenger quads are made up of mostly minor characters which may point towards the prominence of some of the driver squad characters. First of all we have Sakuno as the Sidekick - there aren't many characters who directly cheered Ryoma on from the sidelines, but she got him back on his feet in her short appearance and might currently be the only one who truly believes that Ryoma can achieve his original goal by the end of the series.
There weren't many choices for the Skeptic in Ryoma's story and ultimately only Sasabe and the other minor HSers came to mind. They didn't approve of the MSers being in the camp in the first place and didn't believe they had any right to be there. That includes Ryoma of course. Reason is undoubtedly Kurobe who remains unemotional the entire time and judges every situation according to the rules. Finally, Kintarou represents Emotion - do I have to explain this one? Probably not considering he embodies it almost every time he does anything.
And that does it for Ryoma's story. I think it's mostly on hold for now and will pick up again towards the end of the series, but the major players probably won't change a lot. One interesting aspect is that Tokugawa isn't included anywhere in the set I made. There are one or two places I could see him in, but overall I feel that the other characters have a greater right of being there, so I've left him out for now.
Tokugawa's Story
The second complete set in NPoT and possibly even first complete story of the overall work is Tokugawa's. His goal was to "Defeat Byoudouin and become No. 1 in Japan." He might get a second story later on during the WC, but I think this one's pretty much complete. So let's check out the driving forces, again starting with the...
Action Driver Quad
| | | |
| --- | --- | --- |
| -​ | Tokugawa​ | -​ |
| -​ | Pursue​ | -​ |
| Oni/Irie​ | +​ | Byoudouin​ |
| Help​ | +​ | Hinder​ |
| -​ | Byoudouin​ | -​ |
| -​ | Prevent​ | -​ |
Since the first set got pretty long already, I'll try to keep this short. Tokugawa wants to become No. 1 and Byoudouin wants to prevent it, thus establishing them as protagonist and antagonist of the story. In addition to trying to keep his spot at the top, Byoudouin also HINDERS Tokugawa further by trying to prevent him from even challenging him multiple times. Finally, Oni/Irie, while two characters, serve exactly the same function here by first saving Tokugawa from getting crushed by Byoudouin and later training him.
Decision Driver Quad
| | | |
| --- | --- | --- |
| -​ | Tokugawa​ | -​ |
| -​ | Consideration​ | -​ |
| Tokugawa​ | +​ | Ryoma​ |
| Conscience​ | +​ | Temptation​ |
| -​ | Byoudouin​ | -​ |
| -​ | Reconsideration​ | -​ |
Tokugawa and Byoudouin represent the typicial protagonist - antagonist relation in this quad as well. Furhtermore, Tokugawa is also Conscience since he never wavers in his conviction regardless of what anyone else tells him. Interstingly enough, Ryoma is Temptation in this story. While he doesn't do it on purpose, he is the reason Tokugawa made a harmful decision which ultimately led to him failing to achieve his goal.
Action Passenger Quad
| | | |
| --- | --- | --- |
| -​ | Oni/Irie​ | -​ |
| -​ | Support​ | -​ |
| Byoudouin​ | +​ | Tokugawa​ |
| Uncontrolled​ | +​ | Control​ |
| -​ | Ryoma​ | -​ |
| -​ | Oppose​ | -​ |
Most of these are pretty straight-forward. Tokugawa, despite being very emotional in a way stays calm the entire time. Byoudouin on the other hand lashes out whenever someone opposes him. Oni/Irie actively Support Tokugawa in his challenge whereas Ryoma is the one who is ultimately the most opposed to it. Again, there's no ill will in Ryoma's actions here, he's just trying to step in when Tokugawa is injured.
Decision Passenger Quad
| | | |
| --- | --- | --- |
| -​ | Tokugawa​ | -​ |
| -​ | Faith​ | -​ |
| Tokugawa​ | +​ | Byoudouin​ |
| Feeling​ | +​ | Logic​ |
| -​ | Byoudouin​ | -​ |
| -​ | Disbelief​ | -​ |
Compared to the Action Quad, Byoudouin's and Tokugawa's positions are switched in the Decision Quad. Byoudouin acts in any way possible to maximize his chances of victory whereas Tokugawa's Feelings make him lower his own. Tokugawa is also the only one who has unwavering Faith in his own abilities to take the top spot whereas Byoudouin acts as Skeptic, first criticizing Oni and Irie for hindering their own careers for Tokugawa's sake and then Tokugawa for doing the same for Ryoma.
As you can see by them filling in most of the elements on their own, this story is centered very strongly around Tokugawa and Byoudouin. The other interesting part is that as far as Tokugawa's goal is concerned, Ryoma is actually aligned with Byoudouin here, so in this story he was half Contagonist, half Skeptic.
---
That's it for completed stories or (in my eyes) close to completed ones. I currently see potential for two more completed stories in NPoT. First, Byoudouin's story of leading Japan to the championship. Second, Tezuka's story of turning pro. Depending on how much these will be explored in the future, NPoT will probably end up with three or four complete stories and tons of partial ones.