Registered User
中級員 / Chuukyuuin / Member
Joined

Sep 7, 2006
Messages

149
Reaction score

34
Gender

Male
Country
Yo. Thought I'd try my hand at the comments for once. See how it turns out.
Well, first of all...I took a look at some of the discussion threads, and everyone's like "DUDEWTFOMGNARUTOSUCKAGE" or something to that effect.
Allow me to offer an alternative viewpoint.
NARUTO 340: "A Hazardous Bridge"​
CHAAAAAARGE!​
1) Into Battle!
Ah, to see Naruto dive head-first into the conflict again. It tickles the heart.
Well, he is showing a bit more restraint with his Kage Bunshin. I remember in struggles with Kimimaro, Zabuza, and Sasuke that he went for Mass Shadow Clones and didn't do so well. Splitting up chakra too many ways is a no-no.
Though I wonder how long Naruto can keep that Rasen Shuriken going. I mean, he needed two clones to help formulate the Futon: Rasengan. So can he keep it going with one hand only?
Seriously. How does he talk with those things in his mouth?​
2) So that big thing hurts people, right?
So Yamato stops Chouji from interfering. Understandable, considering the destruction we witnessed from Naruto's "50% jutsu". And judging from the sounds they heard when the Rasen Shuriken formed in the last chapter, it's something to behold. Considering it's a shuriken, does it create a vortex when hitting a target? As in, a vortex that morphs into a tornado, thanks to the addition of wind to the cutting spiral? Think of it as a tornado of blades erupting within you upon contact. It'd certainly leave a mess. That's all I can say.
Kakuzu is trying to be cautious now. I wonder if he's wondering where Hidan is now...?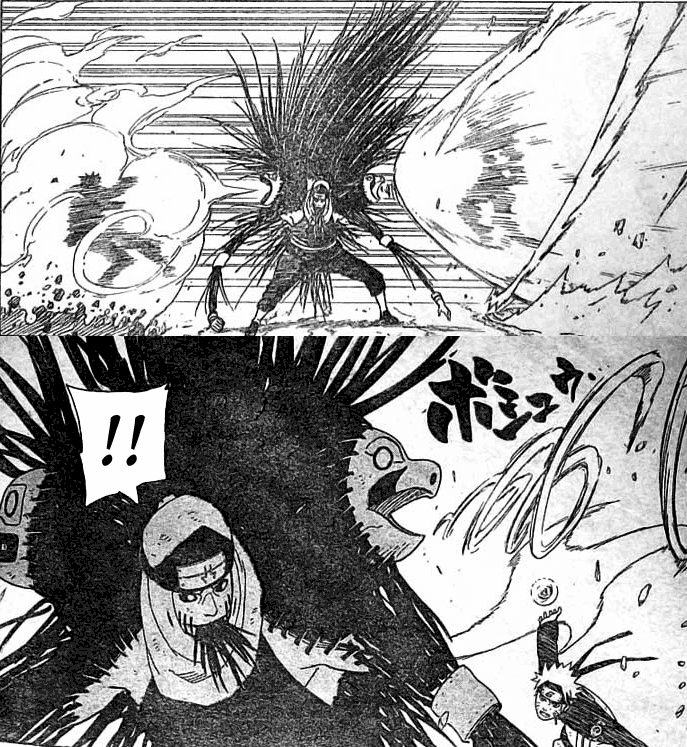 Don't turn around!​
3) Gotcha!
Naruto uses the Kage Bunshin as a distraction, and he manages to get behind Kakuzu for a final blow.
You have to wonder, seeing as how Naruto can feel and experience what his Kage Bunshin endure once they go 'poof', does he feel them "dying"? It's something to think about. I mean, there has to be more than a few reasons Kage Bunshin is a forbidden kinjutsu; perhaps it might have to do with what you feel when you "die"? Maybe that's why, all the way back in chapter 1, Naruto was laying on the ground, all beat-up-looking when Iruka found him. He had experienced the pain of a Kage Bunshin dying. Maybe Naruto's just gotten used to the feeling of dying...guess that's why he never holds back in battle. Or why he's always been a bit gung-ho. He knows what it's like to die.
Just a little food for thought. And here comes the blow...!
*facefault*​
4) D'OH!
And here it is. The moment that caused everyone to roar in anger and agony. :P
Honestly, I don't get the fuss. I can understand, seeing a desire to see Naruto overpower and demolish an enemy at least once. I personally think that's an endearing aspect of his character; he, the future Hokage, the "dead last" of his graduating class, having a jutsu go kaput on him. Not only is it funny (Come on, admit it!), but it speaks of how tremendously hard it is to control a Rasengan with Futon added in. I mean, it took three Narutos to create the Futon: Rasen Shuriken. And the Yondaime Hokage died before he himself could create Futon; Rasengan.
And if anyone remembers Ebisu's lesson from way back when (before Jiraiya), Naruto has horrible, horrible, HORRIBLE chakra control. How much that's changed is anyone's guess.
That's right, you'd better run!​
5) Yamato to the Rescue!
Ah, Mokuton jutsus. What would we do without you?
Yamato showcases his awesomeness yet again! It only points to how powerful the Shodai Hokage had been during his prime. Though I wonder, how did the battle between Kakuzu and the Shodai Hokage go? We've inferred that Kakuzu endurred quite a bit of damage, but did the Shodai get wounded at all? This only makes me more glad that Naruto's jutsu didn't hit just now; the idea of Naruto defeating a shinobi that had stood on equal grounds (maybe?) with just ONE move doesn't quite feel right. Not just yet, anyway. I mean, he became a ninja at 12...and he's, what, 15 now? Not quite long enough to start regularly beating down S-Class ninja with one blow. Yet. X3
Though you have to wonder if Kakuzu's thinking,
"Where have I seen this before...?"
*smacks Ino*​
6) THAT Naruto again...
I'd like to direct Ino to
this picture
.
There. I said it. I mean, she hasn't even done anything in this battle! So shut up.
Anyhow, I like it when Naruto's face is drawn like that. It's "Classic" Naruto. He's still 15; I'm not gonna expect him to mature immediately. It'd be unrealistic. Though this brings to mind all the other times where Naruto was decried as the "dead last" in his younger days. Though Chouji raises a good point; why not throw the Rasen Shuriken? Though Yamato explains why he can't throw it, it'd be nice if he developed to where he COULD throw it. It just makes logical sense. So what if it brings the Destructo Disc to mind? Does Naruto LOOK bald to you?
But this provides a nice lead-in for this...
Now if only we had background music...​
7) Why He Fights
And a reminder of what Naruto's ultimate goal is: Hokage.
His is a spirit that never gives up. No matter how often he's put down, no matter how often he's underestimated, no matter how badly he gets beaten, he'll always stand back up. Because he'll achieve his dream, no matter how much pain he must endure. Akatsuki won't be able to stop him.
That's why I don't care if his jutsu didn't land. Because I know he's not going to stop fighting until he's physically incapacitated or dead.
In the end, Akatsuki won't stop him (hopefully). And neither will this guy.
I wish I had cool backgrounds like that...​
8) An Insurmountable Road Block? Or Just a Dangerous Bridge?
Uchiha Sasuke.
For Naruto to reach his goal, he'll have to first bring Sasuke back. That alone may be more of an impossible thing to achieve than beating Kakuzu, at the moment. Yet Naruto knows that it'll be a hard confrontation; that's why he's begging Kakashi and the others to let him fight. He has to reach his limits and surpass them; Kakuzu is that limit right now. In a way, Kakuzu is the roadblock to Sasuke; if Naruto can't beat Kakuzu, there's no way he'll be able to stop Sasuke (Yes, I think Sasuke, as he is now, is stronger than Kakuzu. Just sayin'.).
So kudos to Kakashi for letting him fight. In the next chapter or two, I think we'll see some payoff.
RATING: 4/5
I really liked this chapter. It strikes me as being true to Naruto's character; his jutsu going kaput is just another limit for him to get past.
So do your best Naruto!