Registered User
上級員 / Jyoukuuin / Sr. Member
Joined

Jan 14, 2012
Messages

393
Reaction score

417
Gender

Male
Country
Some may think Kaido, Big Mom, Shanks or Dragon are impressive. But I believe there's plenty of evidence to support the idea that Oda saves the best for last.
This is an improvised Top-5 list. I'm not entirely sure about the order... so if you want to make amendments or if you have your own suggestions please feel free to express your thoughts down below.
5. MILK
Milk was introduced to us later on in the story, during the Thriller Bark arc, and right away he stole our hearts with his selfless desire to help people around him. Milk is a very interesting character, who has demonstrated to us a rather powerful ability to heal cracked bones and force teeth regeneration. Mind you that dentists in daikaizouku jidai (the era of pirates) are an extremely costly affair. Granted, he's more of a support character but I wouldn't write him off as weak. Bone injuries can hinder one's fighting abilities greatly so Milk is an ally you should never take for granted. He's got much potential and could probably surpass Shanks by the end of the series.
4. LUFFY'S FLIP FLOPS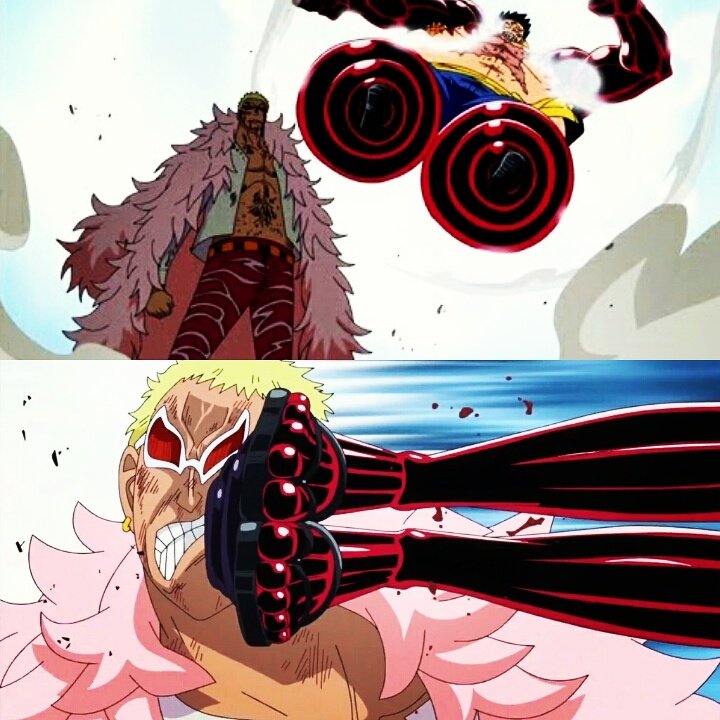 Now some may say: "what are you talking about, when did these guys do anything significant?" Well, it may not be of much significance, but may I remind you that during the Luffy vs Doflamingo fight Luffy threw them off right before entering the 4th Gear but a few panels later they magically reappear on Luffy's feet! Wow! Now that's what I call speed! Certainly faster than Kizaru. I would even argue that they straight up teleported themselves on Luffy's feet. Mind-blowing ability and that is without a devil fruit!
3. DOFLAMINGO'S SUNGLASSES
Of course this list would be incomplete without Doflamingo's badass Sunglasses in it. They just won't break! Not even hakied up Gear 4th attacks had any effect on them! Even Big Mom had to use haki to block Luffy's blows. But these god dam glasses withstood several powerful hits from Luffy with no sign of them receiving any damage at all. Keep in mind that Doffy started wearing them way back in his childhood, and they're still in perfect condition. At the very least Kaido's level, most likely higher.
2. STAIRS THAT KILLED KUINA
Stairs is a very unique character. While unable to move he's feared by many. Stairs is so strong that his mere presence was enough to take Kuinas life, he didn't even have to do anything, he just... Existed. And Kuina wasn't just some pushover, she showed enough strength and skill to defeat adult swordsmen. Stairs is so strong that even after all these years, despite the fact that he took his daughters precious life, Koushiro (or any of his students, friends, or even all of them together) cannot subdue the guy.
1. ROGER'S WOODEN SHACKLES
Wooden Shackels is tremendously powerful. More powerful than any other thing or being in the story! We know for a fact that Gol D Roger was a master of Haki and allegedly the strongest pirate to ever live. And without a doubt under normal circumstances he could easily break free from these cheap-looking wooden cuffs, but these particular ones seem to be on a whole different level. They're no diamond handcuffs so it must mean that they can only rely on haki for hardening. And to think that Wooden Shackles could suppress one of the strongest beings in One Piece universe for such a long period of time... Truly terrifying!