MH Senpai
MH中毒 / MH Chuudoku / MH Addicted
Joined

Nov 17, 2005
Messages

7,348
Reaction score

11
Gender

Female
Country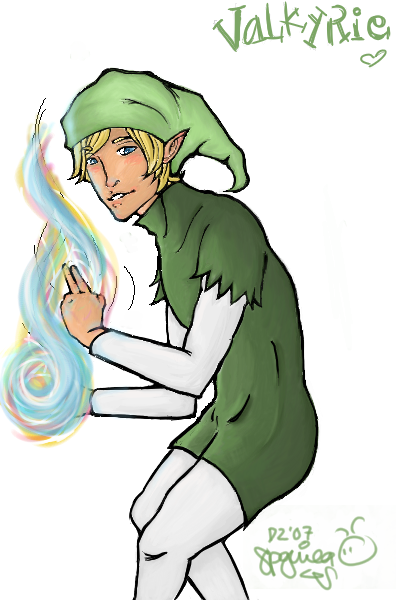 Valkyrie, my gay elf
During the Dubai Shopping Festival last winter, we went to the Denmark pavillion and bought this cute little toy. It's this elf, with the most adorable blush EVER.
I named him Valkyrie because...I can. Then I remembered Valkyries are female, so I wntee him to be a female.
But my brother and my cousins insisted he was male. So I figured, hey, if he puts on such hard blushes, he must be gay.
Ta-da!
My gay elf <3
http://img106.imageshack.us/img106/7910/valkmagevk0.jpg
The dude next to him is Santa Valkyrie >.> One of my cousins' toy. She named him after mine >.>
***
And...this was done, like, months ago
Waay before. Er....somewhere around...April? I think the thing that annoys me most is that my colouring style has changed and...erm. It was hard to follow-up
Hence, the dreadful looking hand. And...the other...even...er..more dreadful looking hand. >.>
*runs away*
Dedicated to my fellow mods, and forum-goers at MH who are well aquainted with Valkyrie. Most especially, Raru-chan
If...he's still here.
I have no idea. How long have I been gone? >.>
Valkyrie the gay elf (c) DZ
***
dA link 8D