Registered User
英雄メンバー / Eiyuu Menbaa / Hero Member
Joined

Mar 30, 2007
Messages

2,350
Reaction score

10
Gender

Male
Country
Hello again,
Chapter 438 of One Piece is finally here, and the comments are now ever so ready! During the past few weeks, the rate of the scanslations have dropped dramatically. Not so long ago, OP scans usually come a day after the RAW is released. Nowadays we have to wait as long as 3 or even 4 days just to get a scan, for now we'll thank "Mr. Prince and the cleans by Kage/Kayjay". So if there is any scanslator to volunteer and help for the scans many (especially I) will most gladly appreciate it, especially if we have to keep our commentary going. Ain't that right "folks"??
ALRIGHT LET'S GET STARTED SHALL WE!!
~~~ One Piece Chapter 438: "PRIDE" ~~~
​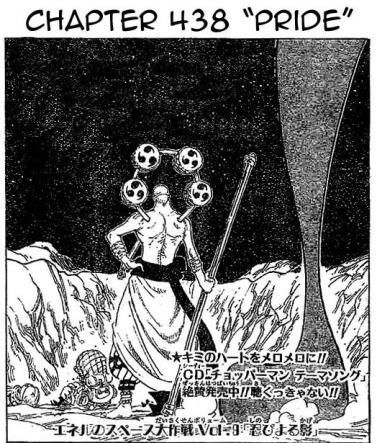 *Conspiracy Theory: "Why no one landed on the moon!"* They didn't mention of shadows lurking there.....
​
1. Another Villain turned Hero:
Here's a thought, "splash" pages of Oda's work certainly tells the side of a character in the most different way possible. Here we have Enel (whom we all hated and loved his ass being kicked) turning out to have our support against the mysterious villain of the moon. Boy does Oda get creative at this point. I wonder what on earth is a nasty shadow lurking around in th e moon. One thing is for sure, Enel is gonna have to do "ownage" here, and to our depair.... supporting him all the way.

E-N-E-L, GO ENEL GO ENEL..... GOOOOOOOOO ENEL!! *splits legs*

A small review on the Moon/Fairy Vearth mini saga:


Enel Lands
Sees a ladder in a crater
Meets a mysterious creature
Does the Lightning "wake-up" call routine
Moon mole revealed
Searching for Moon mole's Nakama
Nakama includes: Knight in Shining Armour, Viking, and a Cowboy

So, I guess the moon ain't so lonely after all....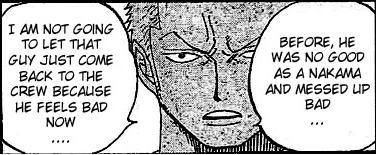 Killing Ussop Bluntly....
​
2. Stern words from Mr. Zoro:
Let me guess what you're thinking..... Zoro has spoken like a real captain should. As we all know, Luffy is a very soft hearted pirate, much more a captain. Zoro has the intesity, the iron core feelings and leadership to be a captain. However Luffy possesses a Captain's heart and instinct (pretty much RAW stuff), trusting and putting his mates in importance with point-blank decisions are some examples of it. It is quite difficult and stressful for a captain to be put into a dilemma thinking about doing one of the other but Luffy gives an Okay-go without hesitation. Reckless, but nevertheless he has the power and abilities to make his decision right, which is Confidence and Faith.

Because of this, even Rob Lucci of the CP9 recognized his status as a true captain by saying "You really are cut out to be the boss, I hope a certain idiot (Spandam) could hear that". Enough said, totally agree. But then we can also imply that Luffy just acts out of a child's or immature behaviour, since he and Ussop (including Chopper) are the most child-like out the pirate group.

Remember the time where kids wanted to become pirates, that's Luffy and Ussop living out their dream (because they had the strength and power to compensate) but mentally speaking, it's a refreshing experience to see Zoro stomps his foot down and says the inevitable. "NO MORE CHILDISH BEHAVIOUR!! WANNA BE A CAPTAIN? NOW START ACTING LIKE ONE!!!"

I agree on Zoro on this part, like I said previously, Luffy and Ussop are living out kids dreams and not thinking maturely. You can't just say "Oh right, I messed up, no problem I can come back". This is a good change to the heart, and I can see Luffy right now being the captain he is supposed to be.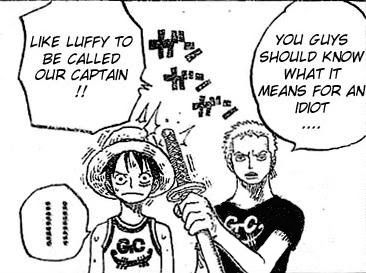 And to think the crew managed to survive at this point....
​
3. Elaborating further:
Zoro gives the "bold" statement... "AN IDIOT FOR A CAPTAIN". Most people would die rather then serve a empty headed leader. Even though Luffy may not possess having intellectual thoughts yet, RAW nature takes over, and the thing about RAW stuff is that you've got the material, but it still needs to be cleaned and molded into its true Nature. And as of yet we won't be seeing that for a pretty long time.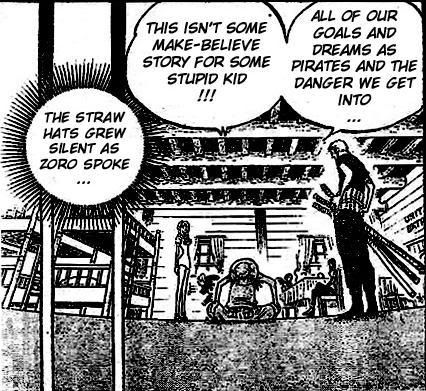 But it is a make-believe story by Oda-sensei *ho ho ho*
​
4. Dreams vs. Reality:
Ya hear that punk? I've already mentioned in Comment 2, that no longer Children's dreams should be put into place, time to kick that s*it out and start being a grown-up. You may now notice that this chapter is beginning to sound like a novel, the Narrrator speaks of the Strawhats growing silent, which is a bit more interesting to the point. Well that is that, this is one of the first BIG problem a captain like Luffy has to face. But like I said earlier, he is of RAW material, they don't get thrown out, they get cleaned and molded, just a little at a time. This is what I truly love about Luffy, he makes the more "mature" step of doing the right thing. All he needs is guidance to where he should go.

*Talk about having no sense of direction both physically and mentally*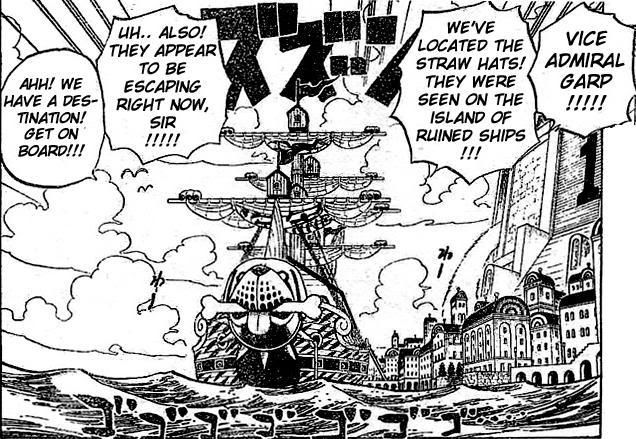 How much is that Doggie by the window??*arf* *arf*, the one with the Gi-gantic saaailllsss??
​
5. Battle of the Monkeys:
Oh boy, looks like Luffy is already in deep trouble! Just when his newfound ship is completed, it's gonna get BUSTED so early in the series.... of course we know that won't happen, YET! Not as long as the new Nakama Franky comes to the rescue, we may very well see quite soon what secret stuff is hidden within the ship. And knowing Franky, there's bound to be some kick-ass weaponry in the storage, juuuuuussst for emergency cases. LIKE THIS ONE!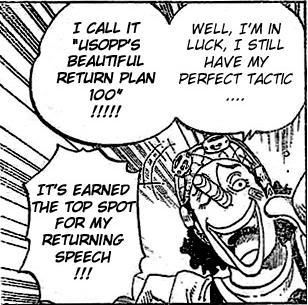 And here Zoro was just talking about cleaning up your act
​
6. Meanwhile, back in Water 7......
Ussop starts out again with his nonsensal garbage up to this point. Now that the Mugiwara pirates have set their hearts according to what Zoro says, being kept in the dark really won't help at all, especially to one of our favourite Sniper Ussop. Looks like he's finally beginning to regret the day where he left the crew for Merry, like a child who wouldn't give up his favourite toy. The crew LOVED merry but Ussop has taken it to an obsessive point we're things could go really wrong.

I still could remember the time where Ussop left, it was just heartbreaking at that point. We were all wondering "Why why..... we loved Merry too, but don't you think you're taking it a bit too far". Not to mention Ussop's child-like mind to take in that "Ship-Spirit" during the Enel arc, was quite understandable. But nevertheless when you think like a man, you got to do what you've got to do. Hopefully, Ussop may change in this point as well, he may act like a coward, but to step forward in boundaries an ordinary coward could not cross marks the true essense of being a man or human or you know what I mean... Like Luffy he is also of RAW material waiting to be molded and cleansed!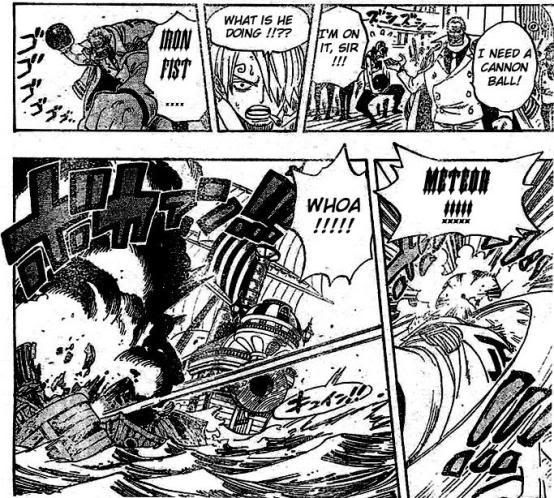 The human cannonball effect: Much more devastating than your average cannon. Order now before it's too late!
​
7. And this is why
Garp is not allowed in the Shot put Olympics section. Talk about your daily "Fist of Passion", who'd ever thought it would come to this point. Not only is the cannonball's power more devastaing and fast, but the flexible aspect of the arm could make a difference in the effect. My my, isn't Garp a bit TOO serious to take Luffy in so badly. One word from the HQ and *bam* he goes straight to the point. Now we have another thing that Luffy and Garp have in common. Point-blank decisions!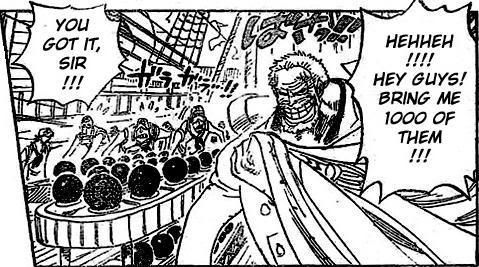 Hey wait a second, I thought pinball machines only have 3 balls??
​
8. Could this get any worse?
One... was bad enough, two could've been worse but 1000! He sure hell has a lot of firepower within him. And did he just mention that his strength wasn't as good as it was during his younger days? I just CAN'T imagine, and no doubt this man has cornered the King of all pirates numerous times. A threat to be reckoned with, and man he sure has no mercy to the likes of his Grandson. Well, it's gonna be a sad day for the ship to be completed and demolished on the same day.

That Fist Garp uses, may have some sort of relation to a Devil's fruit. He keeps calling it "Iron Fist", has he eaten an Iron-Iron Fruit to make his hands as thick as Iron? Could explain a few things... but then again, this can be all amounted to hard training. I mean really hard..... Turns out that this even was triggered by a Den-den Mushi picking up the conversation between Garp and Luffy. But come on.....

Monkey D. ?? Just HOW MANY people in the world have that name? Do they really need that to confirm Luffy's relation to Garp? That's just plain weird, well we also have Mr. Admiral lying down in lazyness watching all the crazy stuff that goes by.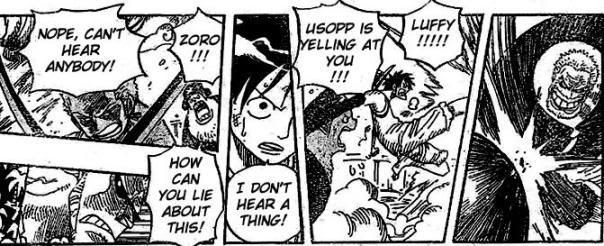 Well duh... they can't hear anything with all the "racket" Garp is making!!
​



9. Now or NEVER! Wow they're really getting cold at this point. Sacrificing a lot to make sure a member is worthy to become one's Nakama. So painful yet you could see them care a whole lot! They aren't even a bit distracted by Garp's multitude of Meteorite Cannonballs on the loose. Resisting such havoc is quite a feat for the Mugiwara. But then again, 1000??? That's a whole lot of fist power and endurance.



*Going back to Ussop...*



Ussop is the most humanly character I have ever seen in a novel/movie/comic book. His feelings are just what normal people would do in heavy situations. His thoughts and behaviour are the core to his character and someone like him would probably never exist another story again. Anyways, as Ussop cries for forgiveness, he is beginning to reminisence about that past. The part where he left the crew! As the crew are now holding on to their new resolution, will Ussop realize that childish behaviour will no longer be tolerated and start being the "Brave Warrior of the Sea" as he should be??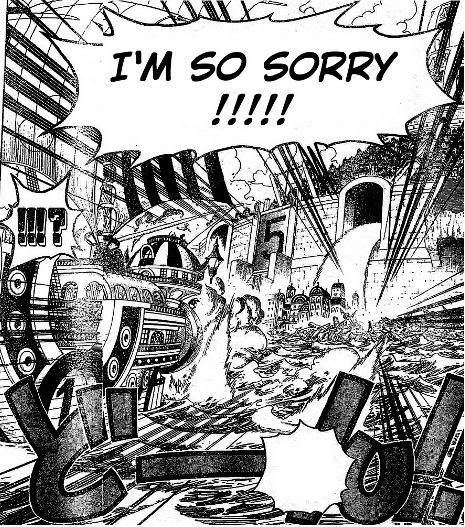 Hey, you've just used up a third of the picture frame!
​
10. Apologizing in a manly way:
Just the way Zoro wanted. Zoro may look like the steel hearted of the group, but we can clearly see that he cares about Ussop so much he'll take risks to help him achieve his dream. After all the countless cries, Ussop finally realizes that a simple word such as "Sorry" could be so difficult to express. And now that he does, what is Luffy's answer to this?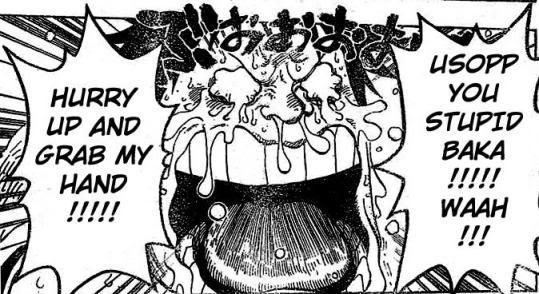 There's a serious water leak in Luffy's head. Call the PLUMBER!
​


Well, let by-gones be by-gones. Admit it, you're just as happy and tearful as Luffy when Ussop came back. You know that is a better alternative than him going to Elbaf alone! Besides, what can they do without their Sniper in need. Luu lluu lala luuu!



Rating:
. 5

4.5 for this one. This is slightly better than the last 2 chapters, but nevertheless he didn't give us the caputured moment like he did with Going Merry's farewell. It's good to feel Ussop back to the crew, but had his pace gone steady, we might become a bit more aware of the current situation, too much crying in the past few chapters. Really didn't give out the emotional effect as it should be. But once again we are at the heart of action between Luffy and Garp, a new comrade, a lost Nakama returned and a whole new adventure waiting, AT THE NEW ERA!!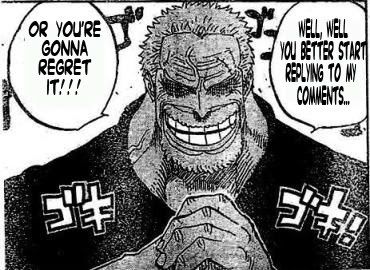 Don't look at me, he SAID IT!!
​
​
​
​
​
​
​
​
​
​
​
​