Registered User
初心者/ Shoshinsha / Beginner
Joined

Dec 30, 2005
Messages

47
Reaction score

4
Gender

Male
Country
_________________________________________________________________
[mod=First post edited to provide info on series ~nm ][/mod]
_________________________________________________________________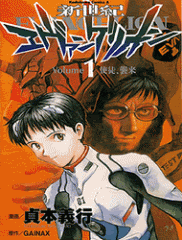 Title :
Neon Genesis Evangelion 新世紀エヴァンゲリオン
Mangaka :
Sadamoto Yoshiyuki
Original Publisher:
kadokawa
Genre :
Shonen, Action, Sci-fi, Drama
Status :
11 Volumes On-going
Licenced by :
Viz
Summary
In the year 2015, a 14 year old boy Shinji Ikari, is selected to fight against Angels using the a biomechanical weapon called Evanglions. Desperate to be acknowledged by his father, Shinji agreed. However, he discovered things in the secret organisation, Nerv, is not as easy as it seems....
Edited Manga Groups
Dhazard
Illumnati-manga
Ayanami's Manga Scans
M2Dane @ MH
~~currently at Vol 11 Chap76~
Downloads
#lurk (irc)
Mangatraders
______________________________________________________________________
NGE stage 72 by Dhazard
silverado